2011 NHRA Tire Kingdom Gatornationals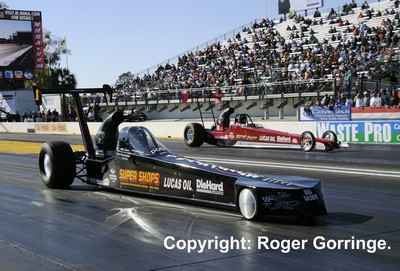 Click on any picture for large version

It was the second race of the NHRA Full Throttle Drag Racing Series held at the historic Gainesville Raceway and it ran in better weather than did the initial Winternationals in Pomona, California that suffered cold and a modicum of the wet stuff; the Gators started cool that produced some impressive numbers in several classes and as the weekend went on the temperatures rose to a comfortable and sunny high seventies to low eighties. As always, the fans packed the facility and where treated to some great racing over the four day event and thankfully only a few oildowns occurred. This event contained among the Pro categories the first race of the year in Pro Stock Motorcycles and the Get Screened America Pro Mod Series, a bonus for every race fan with all that extra race machinery on the track. Veteran racers Don Garlits and Darrell Gwynn performed demonstration races in electric dragsters all for charity in this the NHRA's sixtieth year. The event also contained some European interest as Denmark's Stig Neergaard in Top Fuel, Swede's Fredrik Fredlund in Pro Stock Motorcycle, Micke Gullqvist in Pro Mod and Ulf Leanders in Top Alcohol Funny Car all strutted their stuff among the American and Canadian racers, also in attendance were ex-pat Brits Mike Manners in Top Alcohol Dragster and Tony Morris in Super Comp.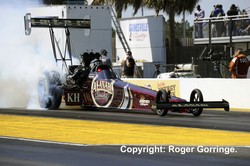 Top Fuel had Tony Schumacher lead the fray in the one-thousand foot race with a final qualifying number of 3.814/325 just ahead of teammates Antron Brown and Spencer Massey with 3.822/318 and 3.828/316, this put the entire Don Schumacher Racing Top Fuel team in one, two and three positions once more. On the bubble was Dave Grubnic at 3.926/306. There were some big upsets in round one as Doug Foley caught and passed Doug Kalitta, 3.821/312 beating the 3.872/316. Brandon Bernstein went out to Del Worsham, Clay Millican to Shawn Langdon, Winternationals winner Morgan Lucas out to Steve Torrence. Others included, Terry McMillen out to Larry Dixon, Dave Grubnic to Tony Schumacher, Dominick Lagana red lighting against Antron Brown and octogenarian Chris Karamesines out to Spencer Massey.
Round two opened with Spencer Massey winning by almost a car length against Shawn Langdon, 3.862/314 to a 3.904/311. Doug Foley's luck evaporated as in a cruel stroke of luck his parachutes deployed before the burnout negating his run as Tony Schumacher took the round with a 3.831/322.81 that was the top speed of the eliminations. Antron Brown went up in smoke about one hundred and fifty feet past the tree, his 5.614/126 losing as Del Worsham charged to a 3.867/320 win. Larry Dixon took just 3.865 seconds at 314mph to see off Steve Torrence whose 4.125/267 being no match.
Del Worsham in the semis smoked his slicks, pedalled, suffered a small fire and oil down in the lights but took a 4.453/231 as Spencer Massey in the FRAM/Prestone car who smoked his tyres first lost with a 4.898/168. Tony Schumacher laid down a 3.883/321 to win his bout with Champion Larry Dixon in the Al-Anabi machine who suffered some cylinder loss slowing him to a 4.556/158 lose to close the round.
The final ended up a classic drag race as Tony Schumacher in the US Army dragster left first followed in an instant by Del Worsham in the second Al-Anabi car, the win light came on in Worsham's lane as a 3.858/318 showed against the losing 3.866/318 from The Sarge.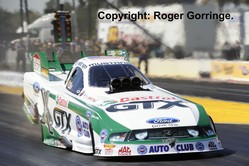 Funny Car final qualifying was led by Matt Hagan in the DieHard Dodge Charger with a neat 4.030/309 just ahead of Jack Beckman's 4.051/308 and a 4.074/311 from Mike Neff, Bob Bode sat on the bump with a 4.184/278. As in Top Fuel some big names fell in round one, a shaking and smoking Tony Pedregon went out to Bob Tasca III, Paul Lee had the chutes deploy as he shook violently against Johnny Gray. Brian Thiel went into instant smoke losing to Jack Beckman and Mike Neff defeated Jim Head in a fairly close match. Matt Hagan won as Bob Bode went out. A shaking Cruz Pedregon managed to keep ahead of a tyre hazing Ron Capps. Robert Hight managed to reel in boss John Force and win by a car length and finally Jeff Arend took a wild top end win as Tim Wilkerson went into instant smoke a pedalled to a lose.
Round two opened with a win for Cruz Pedregon, a 4.077/311 as Johnny Gray smoked the slicks at one hundred and fifty feet out. Matt Hagan started to smoke the tyres at half track but kept ahead winning with a 4.441/254 as Jeff Arend smoked the slicks and went into a series of wild wheels up pedalling tries, the 5.586/130 telling the tale. Jack Beckman ended the day for Robert Hight a tyre hazing and pedalling 4.675/212 beat the tyre hazing at half track then a sideways slowing 5.724/127. Bob Tasca III's 4.199/305 was not enough as Mike Neff caught and passed him, winning with a 4.059/312 to end the quarter finals.
Matt Hagan could not catch the better leave by Cruz Pedregon whose 4.126/306 won the day. Jack Beckman's Aaron's/Valvoline '09 Charger hit smoke at around three hundred and fifty feet out slowing to a 4.623/191 and allowing Mike Neff who was on one all weekend a 4.128/309 win
The final pitted Mike Neff in the Castrol GTX Mustang against the Snap-On '09 Toyota of Cruz Pedregon, it was Neff that led the way and never let up taking the trophy with a 4.092/310 as Pedregon followed with a losing 7.819/99 the ticket showing his up in smoke try.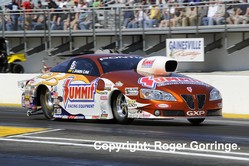 Pro Stock qualifying saw Rodger Brogdon in The Racers Edge '09 GXP zoom to a fantastic 6.495 second quarter-mile that stood as the new National Record to put him number one ahead of Mike Edwards at 6.495/213.13 and Greg Anderson at 6.495 with a 212 mph. Erica Enders who sat in fifth spot set the National Record for speed with a 213.57mph.
Round one losers included; Allen Johnson to Greg Stanfield, Kurt Johnson to Ron Krisher, NASCAR name Kurt Busch to Erica Enders in a real close call at the top end, 6.538/211 to a losing 6.541/211 – won on the startline. Vincent Nobile out courtesy of Jason Line, Larry Morgan to Greg Anderson, Bob Benza to Mike Edwards, Buddy Perkinson to Rodger Brogdon and the last out was Warren Johnson to Shane Gray.
Round two started with Greg Anderson snatching a good light leaving Shane Gray trying to catch up but to no avail as the 6.562/212 beat the 6.572/211. Rodger Brogdon managed to get ahead of the slight advantage held by Greg Stanfield and win with a 6.539/212 to a 6.568/211. An identical leave between Jason Line and Erica Enders saw Line get the win light, a 6.530/212 beating the 6.560/211. Mike Edwards day was ended before the startline as he could not fire the car allowing Ron Krisher a passage through to the semis with a 6.631/211.
Greg Anderson got the better leave and took the round win with a 6.569/212 as Ron Krisher in the Valvoline GXP admitted defeat slowing to an 18.106/44. Jason Line managed to get ahead of record holding Rodger Brogdon in The Racers Edge car and held on to win, a 6.545/212 beating the 6.931/183.
The final pitted teammates Jason Line and Greg Anderson in their Summit Racing Equipment '09 GXPs, despite spinning the tyres at sixty foot Line with his holeshot stayed ahead to make it his second win of the brand new year, a 6.554/211 beating Anderson's 6.545/212 try.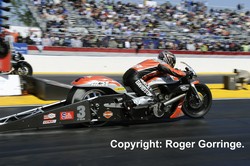 Pro Stock Motorcycle saw twenty-seven entrants trying to make the sixteen bike eliminator, it was a tough task as Hector Arana stood in pole position with an opening shot National Record of 6.777 seconds, Eddie Krawiec was not far behind, his 6.788 coupled with a stunning National Record of 199.26 mph made number two with Andrew Hines in at three on a 6.826/198. Sitting on the bump was Joe Desantis with a 7.014/190. Sweden's entry, Fredrik Fredlund was down in twenty-fifth place with a 7.255/183.
Round one losers were, David Hope to Shawn Gann, a red lighting Mike Berry to Gerald Savoie, Jim Underdahl to L.E. Tonglet, Angie Smith beaten by husband Matt Smith, Michael Ray beaten by Karen Stoffer, Steve Johnson out to Andrew Hines, Katie Sullivan to Eddie Krawiec and finally, a red lighting Joe Desantis to Hector Arana.
In round two Hector Arana easily chased down the 6.997/190 from Shawn Gann beating it with a 6.857/193. Karen Stoffer got one back for the ladies when her holeshot 6.834/196 beat the 6.947/192 from Matt Smith. Close leaves by L.E.Tonglet and Andrew Hines saw Tonglet get the nod, a 6.825/195 dispatching the 6.852/196. Gerald Savoie's weekend was finished as he red lit against Eddie Krawiec, a 6.967/190 wasted as the 6.848/196 took the light.
In a surprise move Karen Stoffer chased down Hector Arana on his Lucas Oil Products Buell in the opening pair of the semis, a winning 6.841/196 beating the 6,926/193. L.E. Tonglet on his Nitro Fish Suzuki had the lead but his 6.861/196 was not enough as Eddie Krawiec passed him in the lights with a winning 6.825/198 to end the round.
The finals had Karen Stoffer on her Geico Powersports Suzuki red light away her day as the 6.949/193 was wasted to the legal 6.847/197 from Eddie Krawiec on the Screamin' Eagle Vance & Hines '08 Zypher.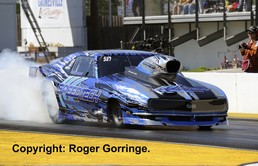 The Get Screened America Pro Mod Drag Racing Series kicked off their year with a final qualifying list that was led by Khalid Balooshi from Qatar, his 5.846/243 was ahead of Danny Rowe at 5.855/250 and Rickie Smith on a 5.878/241, whilst sitting on the bubble was Mike Knowles with a 6.042/244 in the twenty-five strong field.
Winners of round one included Brad Personett now in the Roger Burgess R2B2 team to Von Smith, Roger Burgess to Pete Farber, Ed Hoover to Mike Janis, Raymond Commisso managed the win as Sweden's Micke Gullqvist shook badly off the line. Kenny Lang beat Tim Tindle whilst Rickie Smith beat Joe Baker and Danny Rowe defeated Scott Ray and finally Khalid Balooshi beat Mike Knowles.
In round two, Khalid Balooshi ran a 5.916/241 to trailer Brad Personett's slightly off pace 6.028/249 whilst Roger Burgess was let down by his brakes, the carbon fibre ones are great at the top end but not quite so good on the start and he rolled forward gaining a red light and allowing Kenny Lang the nod with a 5.915/247. A better light by Rickie Smith coupled with a 5.926/238 beat the 5.952/248 from Raymond Commisso. The final pair had Danny Rowe chase down Ed Hoover's slight lead winning with a 5.913/248 to a 5.926/244.
In the semis Khalid Balooshi managed to catch and pass the slightly better light from Kenny Lang, the 5.911/243 beating the 5.947/247 from Lang's '53 Corvette. A close leave between Danny Rowe and Rickie Smith has Rowe get a 5.894/247 win to the 5.953/240 from Smith's '68 Camaro.
The final saw Khalid Balooshi from Qatar in the Speedtech '68 Camaro leave just after the 0.056 light from California's Danny Rowe in his '67 Camaro then run down Rowe to take a 5.912/240 win to the 5.943/246 lose.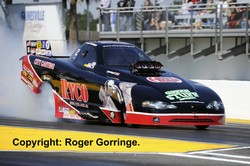 Top Alcohol Dragster had Chris Demke in his Peen Rite dragster take a great holeshot and win over Randy Meyer, a 5.294/267 beating the Randy Meyer Truck Center machine's 5.305/268. Top Alcohol Funny Car saw Mickey Ferro in the Ryco Hydraulics Monte Carlo take a 5.570/258 win over the 5.547/260 from Paul Gill in his Moduline Modular Cabinets '08 Mustang.
Competition Eliminator was tied up by Sal Biondo in Barone/Bertozzi/Biondo '06 Cavalier, his 8.157/160 beating the 8.111/163 from Frank Aragona Jr. In the International Motor Shop dragster. The Super Stock win went to Peter Biondo in the '00 Firebird a 9.758/133 as opponent Merrill Schrimscher in the '66 Nova lost with a 9.964/131. Stock Eliminator had Russell Linke take his '97 Camaro to the winners circle, a 10.632/119 beating the red light from Dan Fletcher. Super Comp saw Tom Dauber face Edmond Richardson in the final of the huge field, a perfect number each of 8.900 had Dauber just clinch the win. Super Gas was whittled down to a run-off between Jason Lynch's '88 Cavalier and Michael Ruff in his '67 Camaro and it was Lynch that clicked on the win light with a 9.922/150 to a losing 9.931/158.


---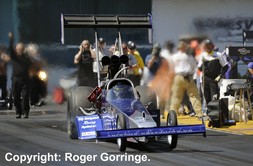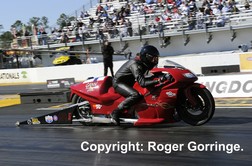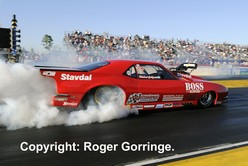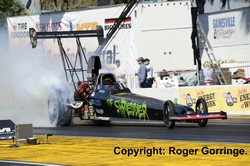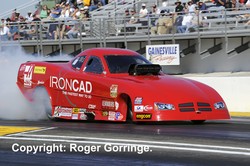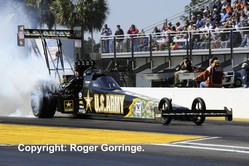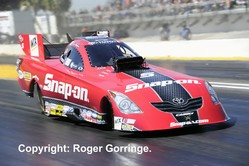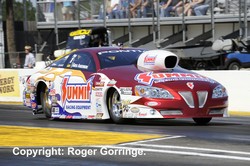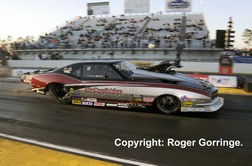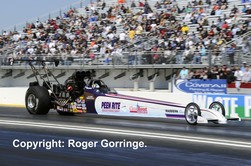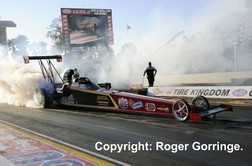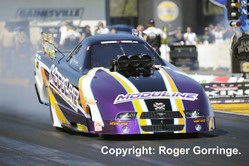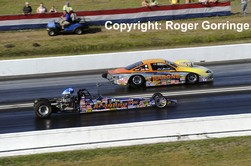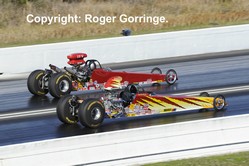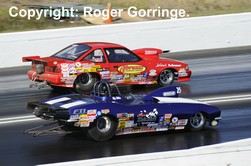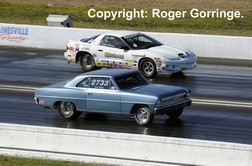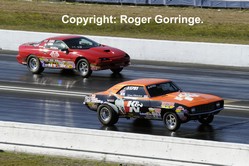 ---
Features and Interviews index
Back to News page
---