Keith Parnell on the first Eight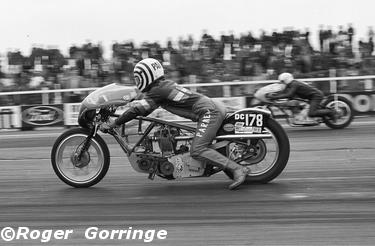 History was made at Santa Pod Raceway on 8th June 1975 when the UK's Keith Parnell recorded the first eight-second pass by a European drag bike racer, an 8.93/151 blast. Eurodragster took the chance to speak to Keith about his feat on its thirty fifth anniversary.
Eurodragster.com: Set the scene for us of drag bike racing in the early 1970s.
Keith Parnell: When I entered the drag racing scene in 1972 there were only three main competition classes: Top Bike, Middle bike and Junior, plus a class for those that didn't make the cut in these three classes. Mostly Top Bike was an eight bike field, occasionally sixteen bike for big entries. There was a lot of camaraderie in the pits and I made some good friends: John Hobbs, John Clift, Brian Chapman, Mick Hand and Angus McPhail, the Pegasus Boys to name but a few. Mostly by 1974 the Top Bike field was running in the nine-second bracket with bump spot in the high nines. John Hobbs always seemed to be ahead of the rest for absolute performance but a lot of races were very close. By the end of 1974 John Hobbs was the quickest in Europe with a 9.16.
Eurodragster.com: Tell us about your bike.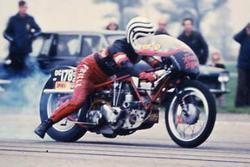 Keith Parnell: The chassis was built by Alfie Hagon for £150 and I built up a second hand Triumph Thunderbird motor with ARE 730 cc barrels, fitted a £10 AMC gearbox and used a Shorrocks blower. At the end of 1974 I decided the wheelie problems I was having needed attention and took the bike back to Alfie to have the frame lengthened by eight inches in front of the engine. At that time wheelie bars were only just coming in in the US so we were all running 'no bars'. It ran the obligatory 4" M & H slick and only used second and third gears from the AMC box. I had to keep raising the gearing to keep the front down. Power was about the 190 bhp mark on 78% nitro/methanol mix with 56 degrees of advance and 15 psi blower pressure. The poor old Shorrocks was at its limit and I often found aluminium on the plugs where the vanes were scraping out the inners of the case. With the benefit of hindsight we could have gone up on the fuel mix for more power but it just didn't occur to me at the time! Alfie was always a believer in low weight and my bike in race trim weighed 280 lbs.
Eurodragster.com: Were there many contenders for the first eight - if so, then were you the favourite to do it?
Keith Parnell: Early in 1975 Jim Reynolds wrote an article in MCN called 'The Likely Lads' - those people he thought had the best chance of the first European Eight. As I recall John Hobbs, Mick Butler, the Pegasus Boys and myself were all mentioned but Jim did write that he thought my bike, being the only single engined bike, was "at its limit" and I took great pride in proving him wrong.
Eurodragster.com: What preparation did you make for the eight?
Keith Parnell: When I wheeled the bike out in Easter 1975 the modifications soon had me running quicker and by May I had relieved John Hobbs of his European best with a 9.06/151. For the next meeting Mick decided we could speed the blower up 10%, and we fitted a 10 lb weight in front of the blower.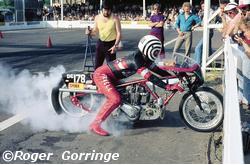 Eurodragster.com: Did the run feel any different - did you know it was an eight before you were told?
Keith Parnell: The actual run I made into the eights was a beauty. Ted Dunmow was in the other lane on Paper Tiger. As the second orange went out I banged the clutch in and out of the corner of my eye saw Ted's front wheel go skywards. I then just had to concentrate on the run. Like I said only one gear change, at 7500 rpm, that went to plan and I gunned it to the line. It took a while to get the bike stopped and I had a feeling it was a really good run. I made my way back to the timing hut which was at the end of the strip and John Hobbs was there. "You've done it - you bastard" he said, shaking my hand.
The pick-up arrived to take me and the bike back to the start line for the presentation of the trophy and a cheque for £200. Then I had to go and get ready for the final against John Clift. It was such a great day that I didn't mind if I won or lost but I was able to put John on the trailer to round the day off nicely.
Eurodragster.com: What was the reaction?
Keith Parnell: By today's performances that run was nothing special but I suppose we were still working with old technology and progress was being made at a high rate of knots over the water. John Hobbs wheeled out The Hobbit a few weeks later and obliterated my times. It was great that I just managed to grab that bit of history at that point in time.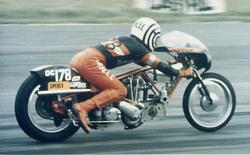 Eurodragster.com: Would you get on one of today's Top Fuel Bikes?
Keith Parnell: When I look at Top Fuel Bikes now there's no way I would get on one. The time was right in 1975 for me - 2010 is for the young 'uns!
Eurodragster.com: We know you have retired from riding but are you still involved?
Keith Parnell: Yes, I am officially retired and I have passed my beloved ZX12R on to Phil Steele. I still keep my interest going and have been to some meetings to give Phil a hand with my old bike. He also has Rouge et Noir II so must be my number one fan!
Eurodragster.com: There are a lot of us out here Keith. Thank you very much indeed for your time and Happy Anniversary!


---
Features and Interviews index
Back to News page
---