General
Home Page
Add a web site
Jeff Bull Swap Meet
Send a News Item
Site Search by Hauser Racing
2021 FIA/FIM Championships schedule
News, Coverage, Features
Latest News
John Woolfe Racing Event Coverage
OCS Paint Points Standings
Features, Interviews, Tributes
Racer Blogs
LA Racing Parts Links
Racers' web sites
Associations, Clubs
Race calendars
Results, Reports, Info
Pictures, Video
Performance Parts, Merchandise
Sponsors
Tracks, Shows
Information
Timing Data
European and UK Bests
Champions' Champions
Editor's Diary archive














SPRC membership renewal.
24th January: Many thanks to Yvonne Tramm of Santa Pod Racers Club who has reminded us of the need to renew memberships:

Now that the racing calendar has been published it is time to check whether your SPRC membership is due. You can renew by clicking here. Any queries please email me at : yvonnetramm235@gmail.com.

Swift snippets.
24th January: The Mad Welshman has uploaded to his Flickr account several compilation albums covering different vehicle types. Mad says "Despite not attending as many events last year as usual we still managed to take a surprising amount of pics, so decided to pull together a few 2020 compilation albums of different vehicle types that had the most photos, split out into Mustangs, Escorts, Hot Rods & Altereds and Anglias (all marques from stock, rodded to Outlaw!)." You can see Mad's photos by going to this link.

Jon Giles has announced he will be racing Tim Adam's Brogie Roadster in Pro ET this year, after a 2018 'retirement' that lasted less than three years. He said "Little did I know how hard it is to leave this sport and fingers crossed I won't be trying that again in the near future".

FIM-E dates, rules released.
23rd January: Many thanks to Job Heezen for supplying the dates of the 2021 FIM-Europe Drag Bike Championship rounds which, along with the 2021 championship rules, are shown at the FIM web site. The rounds are:

Pro Stock, Top Fuel, Super Twin, Super Street Bike:

30th April-2nd May: Kunmadaras, Hungary (Super Street Bike only)
29th-31st May: Santa Pod Raceway, England
10th-13th June: Tierp Arena, Sweden (TBA)
8th-10th July: Kauhava, Finland (TBA)
27th-29th Auugust: Hockenheim, Germany
9th-12th September: Santa Pod Raceway, England

Junior Drag Bike Cup 29th-31st May: Santa Pod Raceway, England
10th-13th June: Tierp Arena, Sweden (TBA)
8th-10th July: Kauhava, Finland (TBA)
9th-12th September: Santa Pod Raceway, England

Keep an eye on Eurodragster.com for news regarding the yet-to-be-confirmed rounds at Tierp and Kauhava. Covid travel restrictions may well have an impact on the racing fields.

Feature: The history of UK Pro Modified - part 1.
23rd January: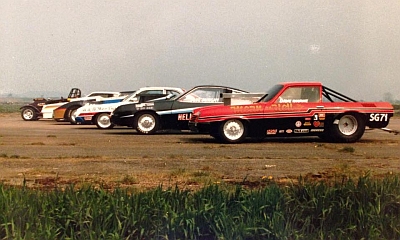 "The barely running tick over, nitrous purges and the left hand front wheel dangling a foot higher than the right past the tree. Funny cars with doors", as described by one fan. Pro Modifieds have captured the drag racing world's attention since the class originated. But how did it start, and who were the pioneers that later spearheaded some incredible performance gains with rapid engineering advances?

Our latest historical feature, supported by Lucas Oil Products describes the start of the class in the UK in detail from its origins in a number of invitational races in the mid 1980s, and includes over 40 photographs of the cars and race results for 1986 and 1987, together with car details from the period. Future parts, each covering two years, will highlight the advances, together with organisational challenges as described by Mick Harle who founded the Pro Modified Racers Association in 1988.

We are grateful to drag racing historian and director of the British Drag Racing Hall of Fame Jerry Cookson for supplying archive material. You can see our feature by clicking here or by clicking the features, interviews, tributes link from the main menu.

UK Riders' and Drivers' meeting to be podcast.
21st January: Many thanks to Santa Pod Racers Club Secretary Ian Marshall for an update on arrangements for this year's UK Riders' and Drivers' meeting:

As we are all aware, with the current Covid restrictions in place, social gatherings are not an option for the time being. Normally at this time, we would be releasing details of the UK Riders' and Drivers' meeting. The plan for 2021 is to still have a meeting as such, but this will be a podcast from Santa Pod Raceway; the date is to be confirmed, and of course, we will let you know in plenty of time when it will be, as we may not be able to do this live.

With a membership of more than 500, unfortunately we cannot have the Riders' and Drivers' meeting as a Zoom meeting, as our capacity for Zoom is 100 attendees. Also, a live podcast with comments switched on will allow non-members to interject. Hence we have no option but to have a non-live podcast and ask for all questions and comments to be sent in advance by e-mail.

Therefore it is more important now than it has ever been that any questions you wish to raise are emailed to SPRC at ir.marshall@btconnect.com so that we have the opportunity to answer any points raised during the podcast. Santa Pod Raceway CEO Keith Bartlett will also be in attendance as he would like to take the opportunity to speak to you all. As in past years, a summary of the points covered in the podcast will be published on Eurodragster.com. Supplementary questions arising from the podcast can be dealt with by e-mail to SPRC following the podcast.

Please note that the Podcast is purely about the SPRC UK Drag Racing Championships so please make sure the questions submitted are relevant to the meeting, if you could please get your points and questions to SPRC by 31st January it will help with us getting the date sorted and details out to you.

Rip Rap Racers return.
21st January: Thanks to honorary Eurodragster.com member Spencer Tramm for revealing that the Rip Rap Racers Club (RRRC) is holding another online race this coming Sunday 24th January at 6pm GMT. As before the popular online racing game 'Doorslammers 2' is being used as the platform. This Sunday's race, titled the 2nd Annual RRRC Winternationals, will be managed by Spencer kindly organising the ladders. The upper capacity is 96, which was filled on many occasions last year.

Spencer says "anyone wishing to take part is asked to add their name to the online entry list on the RRRC Facebook page by Friday night.

Nataas to chase NHRA Championship.
19th January:
On the heels of winning a second consecutive NHRA Top Alcohol Dragster world championship with driver Megan Meyer, Randy Meyer Racing (RMR) announced yesterday it will chase the 2021 title with Julie Nataas. It will be Nataas' third full-time season with RMR in the Oslo Tapet & Gulvbelegg (OTG) A/Fuel dragster.

"I'm glad to be back for another year with RMR," Nataas said. "I have become really close with the guys over the last few years. Everyone works so hard and they always look out for me. Randy is a great guy and always teaches me new stuff, which I love. So I can't wait to be back at the track with my crew and to learn even more. Randy is a master at what he's doing and I'm grateful to be in one of his cars."

Since joining the Randy Meyer Racing team in 2018, Nataas has collected two national event victories and four regional event wins. She earned the NHRA North Central Region championship in 2019, the same year she was named to the Drag Illustrated 30 Under 30 list. With a career-best elapsed-time of 5.11 seconds, she's the fourth quickest driver in NHRA Top Alcohol Dragster history.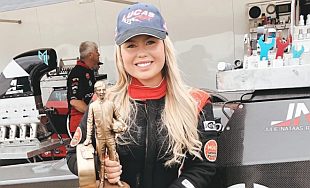 "I'm so, so, so proud of the team," Nataas said. "We ended 2020 with Megan winning her second championship and me third in the points. Having two cars in the top 3 really shows how much work and effort Randy has put into the cars and the program. I'm excited to see what we can do as a team in 2021." Nataas is focused on improving her national points finish in 2021, as well as chasing a second North Central Region championship. She'll run a schedule of 10 national events and 8 regional races to contend for both titles.

"After finishing No. 3 in 2020 I definitely want to finish in an even better position in 2021 – that includes a lot of Wallys," Nataas laughed. "I also want to finish on top in the North Central championship again after falling short in 2020."

Nataas will race for the North Central Region championship as a true resident of the region, as she's moving to the Indianapolis area, just minutes from the NHRA Division 3 headquarters.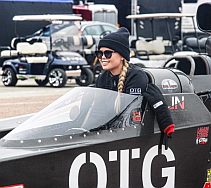 "After almost six years in California I'm moving to Brownsburg, Indiana, before the season starts," said Nataas, who grew up in Norway. "It's going to be a huge change, but I'm so excited. If I wasn't already living and breathing this sport 24/7, I definitely will now."

Nataas' primary sponsor for the 2021 season is Oslo Tapet & Gulvbelegg, a Norwegian manufacturer of floor coverings, carpet, linoleum and wallpaper. Longtime RMR sponsors Lucas Oil, NGK Spark Plugs and Technician.Academy will serve as associate sponsors on the nitro-injected dragster.

"Without my sponsors, I wouldn't be able to do this," Nataas said. "I'm so grateful that OTG is coming on board for another year. They have been with me since I first started racing in Jr. Dragsters. Hopefully the coronavirus situation will calm down a little bit so the OTG representatives can travel from Norway to be with us at the racetrack in 2021. Lucas Oil, NGK and Technician.Academy have been a part of the team for years. I'm so glad to be representing such great companies."

Nataas and the OTG A/Fuel dragster will kick off the 2021 season at the 52nd annual NHRA Gatornationals, March 11-14 at Gainesville Raceway in Gainesville, Fla.

Melbourne Raceway No Prep 4 date.
17th January: Thanks to Paul Marston for supplying a clarification of the date of the No Prep 4 race to be held at Melbourne Raceway:

As many of you have seen, both Santa Pod and Melbourne Raceway recently published their fixtures for the 2021 season. Unfortunately, the date for No Prep 4 appeared as 10th - 11th July. This is incorrect and the actual date is 19-20th June for No Prep 4, and North v South (No Prep 5) is 7th – 8th August, which is correct as published.

Both events will feature Big and Small Tyre Classes, it's 1/8th mile Heads Up. Other than tyre size and safety there are no rules on engine size, power adder, or weight limits. Run whatcha Brung and make sure you bring enough. Prize money we anticipate to be up to £1500 per class to win in cash.

This kind of racing has NEVER been done at Melbourne Raceway, so watch out, who will be the first winner? It's 1/8th mile, it's all about goin' from A to B, so anyone who enters can win.

The entries are coming in, there is still space, (due to covid restrictions), so don't delay, enter today, we are taking entries and deposits to secure your spot. Contact us via the FB page No Prep Drag Racing or email pmdragracing@gmail.com or call/text Paul on 07831 650230.

Our thanks to Melbourne Raceway and Straightliners organisation for hosting us.

Autosport International update.
16th January: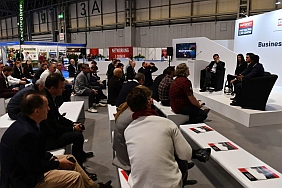 Autosport International have announced details of this year's virtual show and a planned return to a physical show next year:

The health and safety of our exhibitors, visitors and team is of the utmost importance to us, and it was with heavy hearts that Autosport International (ASI) 2021 did not take place this year. For 30 years we have brought together our industry and fans for a 4-day celebration of motorsport, and from the 13th-16th January 2022 we hope to be returning to the NEC, Birmingham's halls to continue our legacy.

Getting your brand in front of high-level trade attendees to network, do business and knowledge share is key, and ASI allows you to do this all under one roof. Thursday and Friday hosts Autosport Engineering (hall 3a), the trade-only event giving international suppliers, buyers, students and ore industry professionals the chance to do business uninterrupted, whilst Saturday and Sunday are dedicated to motorsport's fans and families. You can make enquiries about next year's event by contacting the organisers at autosport.international@autosport.com.

Turning back to 2021, Autosport International have announced that trade registration is now open for this year's virtual show Autosport International Connect.

The online-only event will take place on 10-11 March 2021 and is free to attend.

ASI connect gives you the opportunity to:
Network with exhibitors and other industry attendees
Book meetings with exhibitors, attendees and sponsors
Live stream panel discussions featuring influential industry leaders
Take part in live Q&As with the panellists
Throughout ASI Connect, attendees can book meetings on each exhibitor's virtual stand, build relationships and secure new business through the bespoke ASI Connect desktop and mobile app.

Registered attendees will also receive a complimentary six-month Autosport Plus subscription. You can register now by clicking here. By registering, attendees will be the first to gain access to ASI Connect upon launch in March.

There are an array of speaking opportunities at ASI Connect, including being a member of a panel, hosting a keynote and more. Themes covered will include:
Energy and environment
Motorsport in a changing world
Commercial and sponsorship
Performance and tuning
National and club racing
Student and talent development
Alongside the above topics and more, the ASI Connect dedicated content team want to hear from you about what you'd like to tune into across the two-day event - or even what you'd like to talk about to the ASI Connect audience.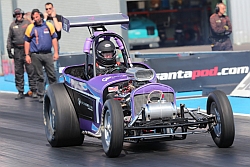 Rent-an-altered.
16th January: Competition Eliminator race David Smith writes that the Powerflow Exhausts drag racing team 23-T Altered can now be rented or purchased by lease as well as by outright purchase:

Would you like an exciting opportunity to drag race in 2021 without the outlay of buying or building a race car! If so, read on...

As a lot of you will know, we have been advertising the car for sale in 2020, but due to the current going on's in the world, we haven't managed to secure a sale on the Model T Altered drag car.

After a huge change of direction with our race cars (watch this space !!) we will no longer have the opportunity to run the Altered. We would however like to see the car out on the track in 2021 being used for what it was built for.

We are now offering someone (or a team) the chance to rent the Altered for the 2021 season with self maintained or fully maintained options, and the option to buy on a payment plan if required. Long term rental will also be available.

Terms & Conditions will need to be discussed, and this will not be available to the masses. You will need to be known within the drag racing fraternity, or closely linked, and be able demonstrate the affordability if you are planning on a renting to buy deal.

The rental cost will need to be confirmed, which will depend on what sort of package you're looking for. Full trackside assistance is available, as is transport to and from the track.

If this is of any interest to you or someone you may know, (maybe even a syndicate race team ?), please get in touch with either myself or Elaine Hancock.

For full details of the Altered, click on this link.

John Charlton's Lucifer.
16th January: Following on from our obituary of drag bike racer John Charlton in yesterday's update, our good friend and NitrOlympX commentator Benni Voss wrote to say: "I was sorry to read about John Charlton passing away, I never met him but have seen the "Lucifer" VW powered Drag Bike. Somehow it ended up in Germany, I first saw it in the late '80s at a bike show where I was actually allowed to sit (lie) on it. Decades later, it was brought back to the track by the Black Souls MC Drag Bike Team from Darmstadt where it was running blown methanol. It sounded very impressive and ran in the 11s or 10s; the MC even entered it into NitrOlympX. I've not seen it for a while, I guess it has a place of honour in the Clubhouse".

Further research revealed that Dennis Cheeseman rode Lucifer, renamed as Ommadawn, in 1983 before it was sold to Germany.

Swift snippets.
16th January: A reminder that voting for all categories in the 2020 SPRC Perpetual AwardsPerpetual awards closes at 23:59 UK time tomorrow, Sunday 17th January.

Drag racing historian Nick Pettitt has uploaded three more drag racing videos from his Time Travel series to his Youtube site. Time Travel 50 is Nick's own cine film from Santa Pod 1983 and 1986, Blackbushe 1983 and Long Marston 1985 and then Andrew Bamford's video from the 1987 Cannonball at Santa Pod. Time Travel 51 includes Rod Pallant's cine film from Blackbushe 1979 and Santa Pod 1979 - 1980 plus some cine film lent to Nick by Roy Wilding from Long Marston 1978. Time Travel 52 is a fascinating compilation from Santa Pod in 1971, including Terry Ayers and Bob Rothwell's cine film, plus some 1971 audio recordings by Dave Paddick at the beginning and end.

John Charlton.
15th January: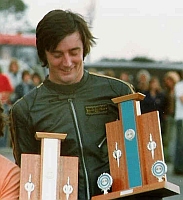 We were very sorry to hear of the recent passing of 1970s Midlands based drag bike racer John Charlton after being diagnosed with a serious health condition. Drag racing historian and British Drag Racing Hall of Fame director Jerry Cookson writes:

Shortly after Christmas complications arose which resulted in John being admitted to John Radcliffe Hospital where he passed away peacefully in his sleep on Monday morning. John was 70.

John burst onto the scene in the early seventies with his first VW powered drag bike conceived in a local pub from a beer mat drawing called The Demon with his friend and racing partner Chris Willbond. With its homemade chassis and engine and gearbox parts found in a scrap yard, the Mk 1 machine was superseded a year later by his Mk 2 machine called, simply, Evil. The layout was pretty much the same with its near standard VW motor and a Wade supercharger which damn virtually broke the bank! After a few hairy moments competing at events held at a bumpy Long Marston and Santa Pod Raceways, John and Chris slowly began getting to grips with the bike as the speeds increased to well over 130 mph. The tool company John worked for as a Technical Sales Engineer, Norbar, also began to show interest in the project and the realization of Lucifer.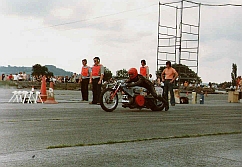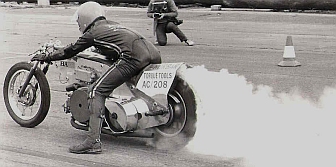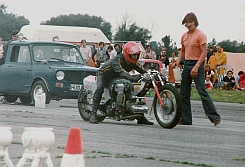 Impressed with Tony Dawson's lightweight aluminium bike chassis which had been featured on TV's Tomorrow's World, the duo began mocking up their own chassis thanks to Norbar picking up the tab. By the start of the 1975 season they were in business and by the third Snetterton meeting the 1500cc engine began knocking out 10.7s despite smoking the rear slick for the first 150 yards!

Chris gave up the riding seat a year later, just after they had acquired a 411 Porsche motor. Although it had to be rebuilt, its true potential began to reveal itself as John began cracking the 10.5s ETs on methanol at Wroughton. Flushed with a new-found urge to go faster, John began to tip the can by adding 15% nitro which later increased to 55% resulting in 9.1s at 158 mph. Over the eighth at Long Marston the bike went 6.47 on a 47% nitro load.

John's recognition for these performances started to pay dividends with eliminator wins at all the major strips and a 6.09 record at Long Marston. At Santa Pod, he very nearly got his third finger torn off after getting it caught in the machine's blower belt pulley when he sat up after aborting a run in disgust. This also nearly got him blown off the bike. After a short stay in hospital, the docile old VW motor was wheeled out; Lucifer had mutated into an even faster animal with assistance from his friend Steve King.

The rest of the story led to a succession of eight second passes and countless races and wins in the Superbike Eliminator. Consistency on this occasion was certainly the key to John's overall success in British drag racing.

And there the story ends. Later in life in 1991 John left Norbar to set up his own motorcycle business based in Chacombe near Banbury, developing and marketing his own quick shifters for bikes. John is survived by wife Kate and daughter Louise. Our deepest sympathies go out to all of John's family friends. God speed John, and thanks for the entertainment.

Photos courtesy Jerry Cookson collection

Pegasus Reborn for sale.
15th January: In our Jeff Bull Race Engines-sponsored Swap Meet pages there is a new offer of a drag bike for sale that will enable the buyer to own and operate a bike replicating that run by one of the UK's most famous drag bike teams:

The "Pegasus Reborn" Nostalgia Drag Bike/Sprinter is for sale. Based on the original Pegasus that had been built in 1968 using an unsupercharged fuel injected 998cc V-twin Vincent, described in the team's web site, team member Derek Chinn decided in the late 1980s to build a replica for sprinting and drag racing. Derek rode it in sprints until he retired from riding in 1995, and after the inaugural Dragstalgia, the bike was raced by Graham Martin for several years.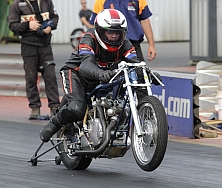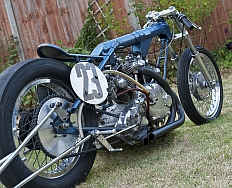 For sale is a replica of the original version of the bike campaigned by Team Pegasus (Derek, Ian Messenger and Mick Butler) between 1968 and 1972, incorporating some original parts. The original bike was taken to the U.S. for the 1970 NHRA Indy Nationals where the team won the long distance award to compensate for their failure to qualify due to travel delays. 49 years later the team were inducted into the British The price for this replica, itself part of British Drag Racing history, is £20,000, including spares & support.

It's not often that a for sale offer includes a chance to work with a legend in the sport, and genuinely interested parties should contact Derek on 01234 772280 or by email.

Santa Pod announces 2021 season schedule.
13th January: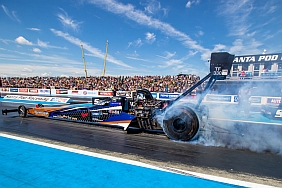 Santa Pod Raceway has unveiled a full 2021 season of events running from March to December and embracing its usual array of championship drag races, modified car shows, specialist and family events, together with public track days (Run What Ya Brung) and regular mid-week dates (Drift What Ya Brung).

In a normal year, 400,000 people pass through Santa Pod's gates to attend more than 75 events. 2020's planned programme was halted abruptly by the pandemic's arrival.

From July, however, Santa Pod began staging reduced-scale events and developed Covid-safe protocols which allowed spectators to attend in limited, socially-distanced numbers under strict local authority supervision, at a time when most other sports venues across the country were shuttered. Supported by this experience, Santa Pod offers a 2021 programme of full-scale events with the proven ability to 'downsize' again should necessity demand.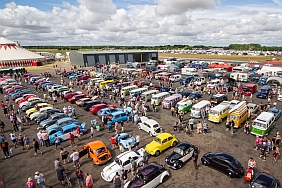 Santa Pod's CEO, Keith Bartlett, said: "Last summer, Santa Pod worked hard to become a truly Covid-secure venue and successfully operated many events throughout the continuous changes in government guidelines. Despite spiralling costs, Santa Pod offered a full action programme on and around the track. Grandstand viewing, show-car displays, catering and trade stands, and even our popular camping provision, were all executed in an approved, Covid-secure manner. This year we are pushing ahead with a full season of events and adding some new ones too."

2021 highlights will include the opening and closing rounds of the FIA/FIM European Drag Racing Championships, in May and September, and national championship rounds throughout the season, all featuring competition on two and four wheels. STP Oil & Fuel Additives returns to Santa Pod to present the STP Sportsman Series, comprising four of the national championship rounds. July's Dragstalgia will headline a trio of historic 'Nostalgia' drag races.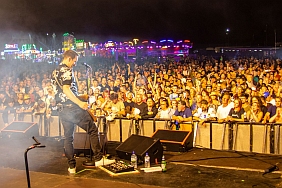 On the festival front, summer weekends will host Bug Jam, the Volkswagen headliner, and USC (Ultimate Street Car). Along with regular marque-specific occasions, celebrations of national car culture - as exemplified by Japanese events and the recent German addition, Das Auto Show - will be joined by newcomers Le French Fest (voulez-vous voiture avec moi, ce soir?) and, honouring the products and inventions of our own, sovereign sceptred isle, the Best of British Show.

At all times, Santa Pod will observe current Covid restrictions and regulations to ensure the safety and wellbeing of all in attendance.

Key events:

Championship drag races:

2-4 Apr: Festival of Power (Rnd.1, Motorsport UK and national championships)
28-31 May: The Main Event (Rnd.1, FIA/FIM European Championships)
9-12 Sep: FIA/FIM European Finals

STP Sportsman Series:

24-25 Apr: STP Springspeed Nationals
17-18 Jul: STP Summer Nationals
21-22 Aug: STP Greenlight Nationals
25-26 Sep: STP National Finals

'Nostalgia' drag races:

7-9 May: NSRA Nostalgia Nationals
9-11 Jul: Dragstalgia
17-19 Sep: NSRA Hot Rod Drags

Festival events:

28 Mar: Best of British Show (new)
2 May: Le French Fest (new)
23-25 Jul: Bug Jam
6-8 Aug: USC (Ultimate Street Car)

Tickets go on sale on Monday 1st March, supported by a new ticket insurance scheme provided by TicketPlan, a leading provider of event ticket insurance. The full event calendar and comprehensive information about Santa Pod are available at www.santapod.co.uk.

Nitro Revival cackles again.
13th January: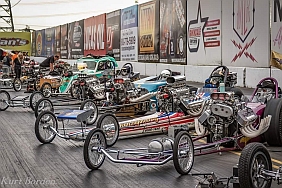 Thanks to Nitro Revival founder and British Drag Racing Hall of Fame Lucas Oil Global Achievement Award winner Steve Gibbs for sending details of the forthcoming Nitro Revival at Irwindale Raceway, sponsored for Eurodragster.com by Land Speed Racer Geoff Stilwell.

Because of the COVID-19 pandemic and the ramifications thereof, it's been almost two years since drag racing fans last enjoyed the simultaneous cackle of upwards of 50 flame-belching, nitromethane-burning vintage race cars that has become one of the cornerstones of Nitro Revival, the nostalgic celebration of drag racing's golden age created and nurtured by former NHRA Competition Director Steve Gibbs.

While the long wait is not quite over, anticipation is already building for the Nov. 6-7 production of Nitro Revival 2021 presented at Irwindale Drag Strip on the grounds of the Irwindale Speedway complex.

"We opted for a fall date simply because we thought that gave us the best chance of avoiding the uncertainty of a year ago," Gibbs said. "We didn't want to put ourselves back in the situation of not knowing from week-to-week if we are going to be allowed to move forward. Hopefully, we will have turned the corner with regard to COVID-19, but I think it will be mid-year before we see a return to some degree of normality."

The fourth edition of Nitro Revival promises to be the biggest yet with more than 70 nitro-burners already committed to the two-day event that also will recognize a host of San Gabriel Valley racing pioneers including Ron Rivero, Phil Lukens, Mike Hoag and Sherm Gunn, Jack and Will Tice, Tom Tucker and the Snyder family, whose burger chain will host the In-N-Out Cookout, a Friday night social gathering for early arrivals.

"Nitro Revival brings back the sights and sounds of the early days of hot rodding," Gibbs enthused, "and it lets fans experience a drag racing museum come to life, not only through the vehicles themselves, but through the presence of many of those who built, maintained and drove those cars at tracks like the original Irwindale Raceway and two San Gabriel Drag Strips."

For some, the assemblage of nitro powered race cars, such as "Pure Hell," the name of the legendary fuel altered owned by Rich Guasco, the Fitzgerald Family "Pure Heaven," Ron Hope's "Rat Trap," and Randy Bradfords's Fiat, will rekindle an image of the golden era of drag racing. Throw in the Hough family's "Nanook," the "Winged Express" made famous by the late Willie Borsch and Troy Glenn's "Over the Hill Gang" entry, and you might believe you're back in the '60s.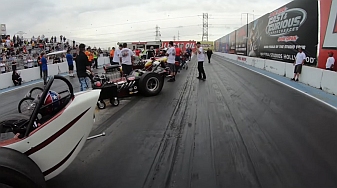 Among the other iconic vehicles that will cackle for the crowd (click left for 5 min cackle video from 2019) are Ross Howard's Custom Body Enterprises Dodge with former U.S. Nationals champion Marvin Graham in the harnesses, John Peters' fabulous twin-engine "Freight Train," Don Garlits' "Swamp Rat 3," restored by Sonny Messner, Tony Nancy's "Sizzler" driven for car owner John Neas by "Handgrenade Harry" Hibler, Chris "the Greek" Karamesines' "ChiZler" owned by Kol Johnson, the Lynn Rose-owned Kuhl and Olson Top Fuel dragster with Bill Tidwell at the wheel, Mike Elsberry's restoration of "Flamin' Frank" Pedregon's AA/Fuel Coupe and "Gentleman Joe" Schubeck's self-titled dragster.

Nevertheless, Nitro Revival is as much about socializing as it is about racing and there will be ample opportunity for fans and racers to interact over the course of the two days. Fans and racers can trade stories at the Hospitality Center, hosted by The Jim McLennan Foundation.

The lineup of special guests includes Top Fuel standouts "The Unsinkable" Kelly Brown, Gary Beck, "King Richard" Tharp, "TV Tommy" Ivo, and Mike Salinas, Funny Car stars Don "the Snake" Prudhomme, Ed "the Ace" McCulloch, Tom Prock, "Fast Jack" Beckman and Al Segrini. Others expected to attend include wheelstanding great "Wild Bill" Shrewsberry, racing icons Ed Iskenderian, Linda Vaughn, Ed Pink, Herman Petersen, Roland Leong, Dave "Big Mac" McClelland and his "Tuna Tank," "Grandaddy Joe" Smith, Bones Balogh, and "Waterbed Fred" Miller plus Paula Murphy, Shirley Shahan, Mendy Fry, Bob Muravez, Jack Jones, Butch "the California Flash" Leal, Bob Noice, Larry Sutton and Jimmy Scott.

Festivities begin Saturday, Nov. 6, with fun runs, time trials, cackle car push starts, fire-ups, burnouts and exhibition runs from 9 a.m. until 12 noon. Nitro exhibition runs at 1 and 4 p.m. will lead into the introduction of Nitro Revival 2021 honorees and subsequently into the recognition of participants in the day's signature event, the Line of Fire featuring simultaneous static starts of more than 50 nitro burning race cars. Also scheduled for Saturday's activity will be the All-Star Autograph session, featuring upwards of 50 legendary racers.

Saturday's activity will showcase the popular "Hot Rod Hangout," - a display of hundreds of street driven hot rods and custom cars, hosted by the famed Road Kings Car Club.

On Sunday, more fire-ups, burnouts, push starts and exhibitions at 9 a.m. with nitro exhibition runs and wheelstanders at 12:15 and 3 p.m. followed by the new Rolling Thunder Cackle Car Parade and Push Start Spectacular at 4 p.m.

For complete event information, go to www.nitrorevival.com.

Photo and video courtesy and © Kurt Borden.

Engine Performance Expo.
12th January:

Engine Performance Expo is an online US event that has been established in lieu of live seminars; it is of interest for those involved in engineering aspects of the sport worldwide. When you see the firms and individuals involved, you realise this is an exceptional event involving many major contributors, which makes it well worth a view. The Expo is free and only requires your e-mail address as registration.

Although the event took place on 7th-9th January 2021 all details and events are stored on the event web site engineperformanceexpo.com. Some of the highlights we picked out are:
Engine Builder Interview with Ed Pink
Cylinder Head & Manifold Porting with Warren Johnson
Nitrous seminar with Pat Musi of Musi Racing Engines
Turbo seminar with Mike Moran of Moran Racing Engines and Randy Neal of CWT Industries
Engine Builder Interview with John Callies
Engine Assembly Tips & Tricks with Jon Kaase of Jon Kaase Racing Engines
All of the three days were videoed to a high quality standard and individual pre-recorded segments are available, including video tours of manufacturing facilities such as Dart Racing Engines, valvetrain examples with Comp Cams, Engine Testing with Spintron by Total Piston Rings, and Testing with Goodson.

The event is hosted by Joe Costello of WFO Radio and NHRA National Event announcing fame and is highly recommended to those who want to see what goes on behind the scenes of some of the most famous names in engine building, and see them talking in detail about their craft.

Nev Mottershead: funeral and donations.
11th January: Many thanks to Libby Mottershead and Leah Hinchcliffe for forwarding us the details of Nev Mottershead's funeral webcast, and of how you can make a donation in Nev's memory if you wish.

Nev's funeral will take place in Stockport at 10:00 next Monday, 18th January. Due to the current restrictions only a very limited number will be able to attend, however the funeral service will be streamed on Zoom. The details for the stream are as follow:

Date: Monday 18th January
Time: 10:00
Stream address: us02web.zoom.us/j/87133307013?pwd=a2F0REtta3pSLzdwSnljVkZqL2crdz09

The above link should launch and access the stream without a login but should you be solicited for a login and password then they are as follow:

Meeting ID: 871 3330 7013
Passcode: 641925

If do not have Zoom on your device then please either install it before the funeral commences or, to access the stream from a web browser on the day, click on the Join from Your Browser link towards the bottom of the Zoom home page.

If you wish to make a donation in memory of Nev then, as Nev's Vauxhall Ventora race car has history at York, now Melbourne, Raceway then please donate to the Melbourne Raceway Phase 2 fund by clicking here. Please mention in the Comment field that the donation is in Nev Mottershead's memory.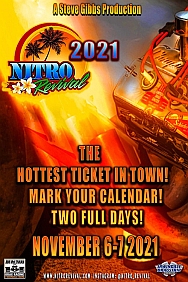 November Nitro Revival.
11th January: Thanks to Nitro Revival sponsor Geoff Stilwell for notifying us of the revised dates for Nitro Revival in 2021. Nitro Revival will take place at Irwindale Dragstrip on 6th-7th November. This will be the first time that the Steve Gibbs production which first took place in 2017 will be a two day event plus an evening social.

Friday 5th will incorporate a In-N-Out Cookout social gathering at 5pm, and Saturday 6th will consist of time trials and fun runs, cackle car push starts, burnouts, exhibition runs, fire- ups, nitro exhibitions and wheelstanders. Also included will be an all-star autograph session, honoree introductions, and 'line of fire' cackle car static starts with a 'nitro overdose' scheduled (Ed: and why not?). Sunday 7th will include more of the same, plus special guest category eliminations over the eighth mile (Gassers & A/FX).

The timing of Nitro Revival will make it possible for fans to visit it and incorporate a trip the following weekend to the Auto Club NHRA Finals (12th-14th November), and/or other events the preceding couple of weeks such as the SEMA show (2nd-5th November). All events are of course subject to Covid-19 restrictions.

Entries already include 58 cackle cars, 62 A-list Drag Racing celebrities, 22 exhibition cars and even a Top Fuel Hydro drag boat and will surely increase ahead of the event. For up to date information, head towards nitrorevival.com and its Facebook page.

Swift snippets.
11th January: We would like to join Perfect Light Award sponsor Cath Napier to wish her husband and Pro ET racer Tig Napier a big Happy Birthday and Anniversary. Have a great day Tig. A big Happy Birthday also to our good friend Mikey Durbridge, hope you have a great day Mikey.

FIM-E application form, medical requirements.
9th January: Thanks to Santa Pod Racers Club Secretary Ian Marshall for supplying licence and medical requirements for those wishing to compete in the 2021 FIM Europe Drag Bike Championship.

Riders looking to apply for their 2021 FIM Europe Drag Bike licence, please see details below from the ACU concerning medicals.

Please be aware, before an FIM or FIM-E International licence may be issued you will need to be in possession of a valid National Licence. To apply for a National licence please click this link.

You can now download the FIM/FIM-E application form that you will need to complete to apply for an International Licence by clicking here. The cost of a licence for the 2021 FIM Europe Drag Bike Championship is £218.

Please read page one carefully so that you complete and sign the necessary sections applicable to you, this will avoid delays.

The most important change for this year only is that if you had a medical completed and this was submitted to the ACU for your 2020 FIM/FIM-E international licence this will be carried over for 2021 provided you sign the declaration on page 5. Hopefully, this will make life a little easier as we understand it is difficult to get to see GPs at this time, obviously if you are a first time applicant, you will be required to have a medical.

Important: Please note that if you are required to take a stress ECG test as part of your licence application, you will still need to have this carried out as normal.

Editor's note: the dates of 2021 FIM-E races will be published at www.fim-europe.com/drag-bike along with rules, records, results and a roll of honour.

UK tracks announce 2021 dates.
9th January: Both permanent UK tracks co-incidentally announced their 2021 calendars of events yesterday - and the news looks good.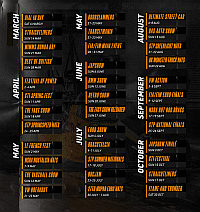 Santa Pod Raceway has announced a full range of events and run what ya brung dates. Trakbak Racing CEO Keith Bartlett released the dates on Santa Pod Raceway's web site and its Facebook page. He stated "You will see from the calendar that we are pushing ahead with full season of events plus adding a few new ones too. This will of course be subject to current restrictions being lifted or at least eased to the level needed to welcome you back properly. We intend to put tickets on sale for March 1st."

The reason for this later than usual date is that SPR plans to introduce a new ticket insurance policy provided by TicketPlan, one of the leading providers of event ticket insurance. Holders can apply for a refund if they are unable to attend the event they have booked for due to unforeseen circumstances such as accidents, transport issues and illnesses including if you or a member of your household tests positive for COVID-19. By logging into their account, holders of tickets to cancelled 2020 events will be able to claim a full credit to their Santa Pod Ticket Shop account equal to exactly what they had already paid, which can be redeemed against any Santa Pod Raceway event within the following 24 months.

The Santa Pod Raceway coronavirus page gives full details on the continuing Covid-secure precautions the track successfully put in place to allow races with spectators to take place in 2020 - something that othermany other sports and motor sport disciplines were not able to achieve. Readers are directed to that page for full details, because these precautions will still be in place in 2021.

Keith Bartlett also thanks Santa Pod Raceway supporters: "May I take this opportunity once more to thank every single person who has supported Santa Pod in 2020 whether you are a regular fan, a once-a-year visitor, racer, crew, sponsor, supplier, or just a follower of Santa Pod on social media - all your support counts for so much. That support will surely be needed again as like many businesses in the leisure and events industry, the cost of existence has risen dramatically and our ability to generate income is thwarted once more".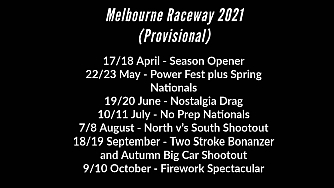 Also yesterday, Melbourne Raceway announced a provisional series of seven events to take place on the eighth mile track in Yorkshire, events being run by Straightliners, headed up by Trevor Duckworth. Melbourne have confirmed that run what ya brung entry will be available at each event. Covid-secure precautions will also continue to be applied, with online ticket booking required and social distancing measures in place. Dates at other venues will be announced in due course.

Trevor stated on the Straightliners web site "The drag-racing community, their friends and family, came together and saved this historic racing venue in Melbourne, Yorkshire. But the project continues and the fundraising must be maintained to build on this incredible venue ensuring it's future, we have a track to race on but the site requires a lot more work.

"So, here's the plan...We now need to raise £11k in order to plain out the paddock area and then extend the track. We already have £3455.28p in the bank/Paypal towards this, so now we are asking the community to step up and help with fundraising for the next stage of making Melbourne Raceway the home of drag racing in the North.

"Straightliners would like to thank each and every one of you who has had an input into this fundraiser and for putting your hands in your pockets, you are a credit to the racing community, Melbourne is saved because of you".

Swift snippets.
9th January: A big Happy Birthday to Robinson Race Cars' Stefani Fisher, we hope you have a great day Stefani.

SPRC travel advice.
8th January: Many thanks to Santa Pod Racers Club Secretary Ian Marshall for kindly supplying advice for racers wishing to compete in the European Union:

Now that the UK is no longer a part of the EU, racers looking to compete outside of the UK will need to deal with many new regulations to be able to move their race vehicles and transportation around Europe. Below are some pointers to items you may need to consider before looking to travel to European events when the season gets started.

Race licences
Race licenses will be accepted as normal across Europe; you will require start permission and insurance to race outside the UK as was the case prior to 2021.

Passports
Passports will now require a minimum of 6 months before the expiry date to travel within Europe, this is 6 months prior to the date your travels begin not your return date. However the passport may not be more than 10 years old; if you re-applied for a passport early and had the additional remaining time from the old passport added to the new one, then it is worth checking that you do not exceed the ten year limit of the current passport, if you are unsure please check with the passport office.

Travel insurance
Your travel insurance may not expire until later this year, it's important to check that the current policy covers you for travelling outside of the UK as our connection with Europe is now changed.

Health Care
Your E111 card is still valid within Europe so should you need medical attention, there should be no problems in getting help, if you have private medical cover it's worth checking with your insurer to cover any changes that may have taken place.

Travel
GB stickers are now required on all vehicles registered in the UK, your GB on your number plate does not count, you should have the correct sticker visible on the rear of the vehicle.

You must also carry your V5C and vehicle insurance documentation, the insurance documentation should include a green card, it's important to make sure you have a green card that covers all of the road going vehicles, cars, trucks, caravans and trailers as they all have to be covered by a minimum of third party insurance.

You need to carry these with you either as paper documents or electronically when travelling into Europe as you may be asked to show them.

Driving licences are of course required, if you have a card type licence you are covered for every EU country, however if you still have a paper licence you may need an International Driving licence of some EU countries, if you have a paper licence still please check.

A silly one, but remember what queue to get in at the port as we are no longer in the EU or EEA, this will also apply at passport control.

You are not able to take meat, milk or products containing them into EU countries. There are some exceptions, for example certain amounts of powdered infant milk, infant food, and special food or pet food required for medical reasons . Check the rules about taking food and drink into the EU on the European Commission website.

Visas in most cases will not be required, unless you are going on an extended tour, a visa is only required for those travelling for more than 90 days at any one time.

If you travel to races with pets you will also need an animal health certificate with you, these can take up to a month to organise, so don't leave it to late.

Regarding phones, there are agreements in place with some phone companies, but it is worth checking with your phone company to check on your roaming surcharges, as they may well of changed due to Brexit. There are UK regulations that limit an overspend of £45 but worth talking to your phone provider.

Carnet (CPD)
At present the regulations for Carnets are not clear for non-professional motorsports, we are still awaiting details from the government as to what if anything may be required. A Carnet de Passages en Douane (CPD) which may be new to some, is basically a government document you complete that has vehicle and goods details outlined within it, of what you are taking out of the country, a voucher is then stamped when leaving the UK and then stamped again when returning to the UK; there is no point getting too detailed just yet, as we may not need such documents, once we have more detail, we will of course keep you up to date.

There are two Government sites you may wish to visit, the transitions site www.gov.uk/transition can give you a basic insight as to your personal requirements for EU travel, and the driving abroad site www.gov.uk/driving-abroad/international-driving-permit will help you with possible requirements for an International road driving Licence.

Blog update.
8th January: In the latest instalment of his autobiographical blog, John Hunt describes his experiences at the Frank Hawley Drag Racing School in detail. You can read John's blog here or by clicking on Racer Blogs in the main menu. As an option, you can read John's blog in a first-to-last sequence which you can find by clicking here.




Kågered retires.
7th January:
Multi-championship winning racer Mikael Kågered has announced his retirement from drag racing. The Swedish racer who has a career going back over 30 years, has been in two of the toughest categories, Top Methanol Funny Car and Top Fuel Dragster, winning five FIA championships and innumerable events on the way. Micke said 'In recent years I've run a STCC TCR Scandinavia Touring Car Championship team as Kågered Racing with two cars competing; however managing a Top Fuel Dragster alongside the Touring Car team takes too much time, so I've reluctantly decided to retire my Top Fuel operation and team, many of which have been with me for 25- 30 years.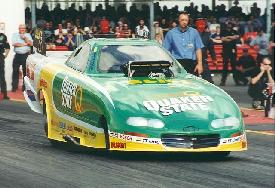 At the start of the '80s, Micke got to know drag racing by driving a street Dodge Challenger before a couple of years as a rally co-driver, returning to a Chevy Vega doorslammer. He then started his professional drag racing career in 1988 running Top Methanol Funny Car in Sweden and England. His first major Funny Car wins were in 1990 when he won Santa Pod Raceway's Cannonball and the Top Alcohol class at the World Finals at SPR.

His first championship title came in 1993 when he won the European Top Alcohol Challenge and repeated the feat in 1995 and 1999, which was his first FIA Championship. Micke's final Top Methanol Funny Car title came was in 2002, the second of six years in which he raced an alcohol flopper alongside a Top Fuel Dragster.

Micke said 'I've had a great career in drag racing. Thanks to our sponsors we had very few budget constraints. To be honest, if we did have a tight budget we wouldn't have raced. We have always had the best parts available and run as hard as we could with them. The high spot of my drag racing career is the 2015 Top Fuel Championship, it's such a tough class to run in, super competitive quite apart from the challenges of running nitro.'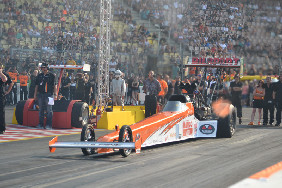 Those challenges include some spectacular fires and, at the 2002 Finals, a burst tyre in his Top Fuel race taking out his rear wing, sending his car into the field at Santa Pod Raceway and destroying the car. He rebounded from this setback, as he always did from other less major problems, to become runner up in the following year's championship.

Reflecting on his long racing career, Micke said 'My team have been fantastic, my sponsors also have been with me for a long time and many are supporting my Touring Car team too. If I have one regret it's not having drag raced enough in the US, I did race in 2000 at the Gatornationals and really wanted to have done more.'

Thirty years at the top of any sport is a long time, however, and Micke has enjoyed his racing years. 'Drag racing in Europe is very good, we have a lot of spectators that get excited, show their appreciation at every event and are very knowledgeable about the sport'. Micke's Top Fuel car is still in his shop ready to race, so any budding Top Fuel racer could do a deal to acquire a championship winning car and team. If not, you never know...

Photos: 1999 FIA Euro Finals in Top Methanol Funny Car by Tog and winning the 2015 NitrOlympX in Top Fuel.

Swift snippets.
7th January: For those teams looking for crew, we have had a rare offer of crew help available, which you can see at our Jeff Bull Race Engines-sponsored Swap Meet pages.

Drag racing historian Nick Pettitt has uploaded two more drag racing videos from his Time Travel series to his Youtube site. Time Travel 47 is from Glyn Jones' cine film and slides of the Pennine Drag Racing Club at Melbourne Raceway 1977 - 1978 and the renamed New York Raceway 1979 - 1980. Time Travel 48 including Adrian Sidwell's cine film from Blackbushe 1964 and Alan Dear's cine film from Santa Pod 1968 - 1969 and some slides from 1973.

Boston Brawler returns.
6th January: The new owner of the iconic '33 Willys British Gasser, the Boston Brawler, has emerged, along with a new look and new powerplant. The new owner is Blaise Lewis, who commissioned original builder and owner Jimmy Hibberd of Valley Gas Speed Shop to carry out the revamp.

Blaise told us "I bought the Brawler from previous owner Steve Bloomfield in April 2019, it was in bits and looking a little sore . It had a 460 Big Block Ford engine and my son suggested trying to buy my old 392 Hemi back from a guy I sold it to in 2010. I found he still had it and had fitted it to a ride-on mower for his son's 18th birthday! Anyway, a few phone calls and a little negotiating and home it came, along with a chassis, Dana 60 rear axle, tube front axle, and two 12 spoke spindle mount ARE mag wheels. Basically I bought back all the stuff I sold him all those years ago.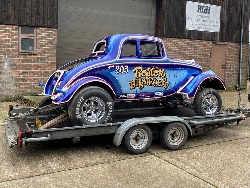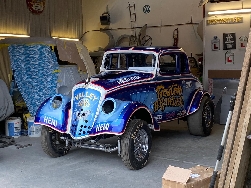 "Next stop was Valley Gas as Jimmy had built it originally and I felt it only right for him to rebuild it. The 392 Hemi is being fully rebuilt by Jimmy, now 40 over with new Hilborn mechanical fuel injection. The gearbox will be a three speed TH400. "The new look comprises paint by Phil Norman at Brickfield Restorations and finished by Neil Melliard of Prosign, just as the first time".

Blaise commented "Hopefully the Brawler will be out this year. It's been a while since I raced at the Pod and Avon Park with a Ford Pop that Bob Nixon built for me back in 1987! So I will be taking it a little easy to start with, but next year might go alcohol. So watch this space".

2021 SPRC race numbers.
5th January: Many thanks to Santa Pod Racers Club Secretary Ian Marshall for sending an update on race numbers for the 2021 season:

To all National Championship Racers, first of all, Happy New Year to you and we at the Santa Pod Racers Club hope your time over Christmas was as good as it could be under the current circumstances, and are looking forward to a far better 2021, for many reasons, we of course hope the race season can start as soon as is possible.

In 2020 we ran a small, three event Race Series, the Covid Cup, with winners of the series in all of our usual race classes, and we congratulate them on their winning efforts. This however was not a full National or SPRC Championship, and therefore will not affect race numbers for competitors going into the 2021 season.

The race numbers you would have used in 2020 will still stand for the 2021 season in all classes, however if you are unsure of your race number for this year, then by all means please get in contact with me at the SPRC office, and I'll be happy to help, of course if you are to compete for your first time within the National or SPRC Championships please get in contact with me at either ir.marshall@btconnect.com or 01933 313625 and I'll be able to help with your enquiry.

Drag-Seen still available.
5th January: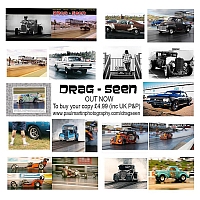 Trackside photographer Paul Martin has been in touch to let us know the amount raised for charity by his publication of Drag-Seen, a collection of photographs taken during the summers of 2019 and 2020 at nostalgia drag racing events at Santa Pod Raceway, first covered in our update on 9th December:

I had a very good response from Eurodragster and have just sent a donation to Cancer Research for profits from sales up to 31st December of £97.93, so thanks so much for your support.

I still have some left, however due to postage costs rising and the cost of Paypal I have increased the price to £5.99. If Eurodragster.com readers are able to pay by bank transfer then I can offer them the original price of £4.99 - they just need to email me on paul@shot-well.com for details - mentioning Eurodragster.com.

Drag-Seen documents not only the racing but the culture and the atmosphere, by using original 35mm film cameras and digital cameras fitted with vintage lenses to make images that have an authentic aesthetic of photographs taken in the era when these cars were in their heyday. Sixty of these images featuring Outlaw Anglias, Gasser Circus, Nostalgia Superstock, RWYB and Wild Bunch are presented in the A5 sized 'zine Drag-Seen with an introduction by Niamh Frances Smith @racewayhussy. Drag-Seen is printed on quality silk 170gsm paper and wrapped in a 300 gsm cover.

I have also listed it on Ebay for those who prefer this if they want to buy a copy.

2020 SPRC Perpetual Awards vote 5.
4th January: Santa Pod Racers Club and Eurodragster.com are again teaming up to give Eurodragster.com readers the chance of input to the SPRC Perpetual Awards. The location and date for presentation of the trophies will be announced in due course, as the SPRC Dinner Dance is subject to Covid restrictions being lifted.

For several of the 2020 season awards, a shortlist has been decided upon for which votes can be submitted by E-Mail. Nominations are now also being accepted for the Alex Brachtvogel Memorial Trophy. The votes of Eurodragster.com readers will be taken into consideration when the SPRC Committee decides upon their winners.

Today's category is the James Edgar Memorial Trophy. The James Edgar Memorial Trophy is awarded for outstanding performance by a Crew Chief, tuner, racer/tuner, or crew member. The SPRC Committee's shortlist, in alphabetical order, is as follows:

Phil Baimbridge (Al Smith Top Fuel Bike)
Vote for Phil Baimbridge

Dave Bryant (Steve Ashdown Undertaker Fuel Funny Car)
Vote for Dave Bryant

Ashley Cooper (Ashley Cooper Street Eliminator)
Vote for Ashley Cooper

Karl Harrison (Andy Raw Nitro Bug Nostalgia Funny Car)
Vote for Karl Harrison

Marc Huxley (Mark Todd Six Appeal Street Eliminator)
Vote for Marc Huxley

Steve Mead (Steve Mead Super Street Bike)
Vote for Steve Mead

Aaron Springford (Colin Millar Flyin Fyfer Outlaw Anglia)
Vote for Aaron Springford

Annie Wallace (Bobby Wallace Pro Modified)
Vote for Annie Wallace

To place your vote, either click on the appropriate link above or go to the official Perpetual Awards voting page which you can view by clicking here or by clicking on the SPRC Perpetual Awards vote link on the left-hand side of any Eurodragster.com page. If your device doesn't automatically generate an E-Mail then please E-Mail your choice to 2020sprcawards@eurodragster.com.
©Eurodragster.com
The Alex Brachtvogel Memorial Trophy, for which nominations are also now being taken, was first awarded to Santa Pod Racers Club's late Chief Marshal, Alex Brachtvogel, in 2001 to mark his outstanding contribution to Santa Pod Raceway and the sport as a whole. After Alex's death the trophy was named in his memory and continues to be awarded for contribution to drag racing. There is no shortlist for the Alex Brachtvogel award. Nominations are invited from Eurodragster.com readers for racers, race officials, track and safety crews, club officials, media, or anyone else who has contributed to the sport. Last year the trophy was awarded to SPRC marshal Alison Hackney. Again see the official page for more details or E-Mail your nomination to 2020sprcawards@eurodragster.com specifying SPRC Alex Brachtvogel Memorial Trophy nomination as the subject and your nomination in the body of the E-Mail.

For each of the Awards, one vote per E-Mail address per nominee will be accepted: multiple votes for the same nominee from the same E-Mail address will all be disqualified. Please note that blatant attempts at organising mass votes - for example asking workmates, forum members or Facebook friends to vote en masse - are easily identified and all such votes will be disallowed as they have been in previous years. Concerted attempts at vote-rigging will result in the nominee being removed from the shortlist whether or not that nominee knows what was going on. We know all the dodges so it's just not worth trying. If in any doubt about what constitutes canvassing then please drop us a line at 2020sprcawards@eurodragster.com.

Additionally, if anyone should have issues with the content of any of the shortlists then please contact SPRC direct rather than E-Mailing Eurodragster.com or commenting on social media. E-Mails to Eurodragster.com regarding the content of the shortlists will receive neither a reply nor any other acknowledgement.

Voting for all categories closes at 23:59 UK time this coming Sunday, 17th January.

Nev Mottershead: a tribute.
3rd January: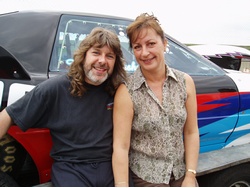 Thanks to retired Eurodragster.com editor Tog for sending a tribute to Nev Mottershead his friend and supporter of the site, who passed away on 31st December:

Not for the first time, and probably not for the last, cancer reminded us what an utter bastard it can be. Having responded to treatment to the point where he got to ring the little bell in the hospital, Nev got on with his life with Libby and with his family and friends, attending to his business and planning the return to the track of his Ventora race car, all of us unaware that the Big C was just biding its time before coming back mob-handed and taking our friend from us.

Now, I am going to break my own rules here. One of my pet hates is tributes which get turned round to being about the person writing them rather about than the person whom we have lost; in fact after all these years I could (but won't right now) give you a list of those who are prone to doing it; suffice to say that they never let us down. So you'll have to forgive me for bringing myself into this tribute but Nev and Libby have been such good and generous friends to me that some random memories from our escapades will give you a measure of the man, and I am sure that a lot of you reading will have had similar experiences.

Nev and Libby were always big supporters of Eurodragster.com but my first encounter with Nev was at a Press Day at Santa Pod Raceway very early on in the days of the web site. I had been offered a passenger ride in Gordon Appleton's Pro Mod but found myself without a crash helmet. I walked a couple of pits down and found the Super Gas Toyota Supra which was then being driven by Will Furniss, with Nev crewing. I asked if there happened to be a crash helmet going spare for a few minutes and Nev quickly obliged.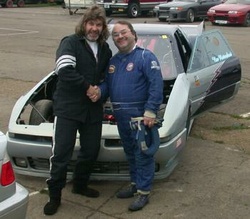 Towards the end of 2004 a race car drive fell through, through no-one's fault. I was sitting at home minding my own business late one night when the phone rang and it was Nev, now the driver of the Supra, on the other end of the line. "Lib's had an idea about this weekend", he said. "She suggested that I get in my car and put down a time, and then we put you in the car and you try to beat it. She says that's just like racing!". So that's what we did on a legendary weekend at Shakespeare County Raceway during which Nev introduced me to the pleasures of a transbrake launch - a strange mix of wondering whether one is totally in control yet at the same time wanting to shout "Whee!" at the same time. That's an experience I would not have had but for Nev and one which like all of my drives helped, I hoped, to make me a better reporter. The damp weekend ended with a windscreen full of Christmas Tree followed almost immediately by a windscreen full of guardrail but Nev saw it as unfinished business and quickly offered another drive in better weather.

Thus it was that I found myself at a Summer Test Day at Santa Pod. I was a little worried that I could not push the foot brake all the way down; after some scouting around Nev cut a large block of hard rubber from the camper's doormat and with a few cable ties we were good to go (OK, stop). Not quite tight enough in the seat? Libby fetched a couple of flowery cushions which to this day are probably still the world's fastest. Armed with the cannibalised doormat and Brentford Nylons' finest, and with patient coaching from Nev, into the nines I went. Nev and Libby also turned up to cheer me on when Carla Pittau and Rick McCann offered me a drive of their Camaro, and then Libby treated us all to one of her delicious meals.

I lost count of the number of evenings I spent with Nev and Libby eating their food and drinking their drink, and swapping stories from the stands and Race Control. Nev would list all the subtle comments on which he had picked up in the race report, and in commentary if I happened to be commentating. Some of those nights were very late because Nev and Libby were always more than happy to wait until I had finished my Eurodragster.com duties.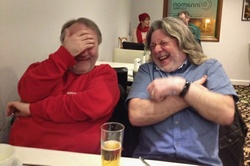 Still on the subject of food, I don't know what it was about something as simple as dining with Nev and Libby in an Indian restaurant, but it frequently engendered hysteria. We traditionally went for a curry the night before the UK Championships Dinner and Dance and on one occasion in particular Nev and I ended up helpless. The dessert choices were quite limited but I went for the Orange Surprise, i.e. a hollowed-out orange filled with orange sorbet, and Nev went for the Lemon Surprise, the same concept only a hollowed-out lemon. When the waiter brought our desserts and handed me the orange I pointed at the lemon and said "No, that's the Orange Surprise, that's the surprise you see". To make things worse the waiter momentarily went to give me the lemon before he realised, which was long enough for Nev to turn red and almost weep with laughter. For the rest of the evening we could not look at each other without cracking up.

On another occasion we visited the Curry Mile in Rusholme and we were served by an Indian waiter who had shoulder-length silver hair. The guy was quickly dubbed "Peter Singhfellow" and, realising that Nev was having trouble holding it in, I called the waiter "Pete" to his face every time he attended to us. Cue another wet shirt front.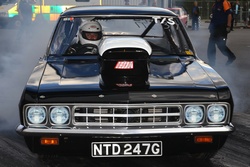 When we returned to Nev and Libby's home after that meal, Nev showed me stacks of pictures of the work being done on to upgrade his Ventora at Wright's Mechanical Engineering Fabrication. Nev had every intention of running the car at the next available Dragstalgia but, as we since discovered, that bastard of a disease had other ideas.

It is not an exaggeration to say that Nev was beloved of everyone. A kind and gentle man, a loyal friend, always cheerful, always ready to help, always to be seen with his trademark bum bag, and a man given to going missing for ages on what for the rest of us would have been a simple walk from A to B in the pits: he would see someone and get sidetracked. Those pits are going to miss him very much.

To Nev: thank you for everything my friend. You enriched my life beyond measure. Love and thanks to Libby, Leah, Andy and Sharon, and to all of Nev's family and friends, of whom I was very privileged to be one.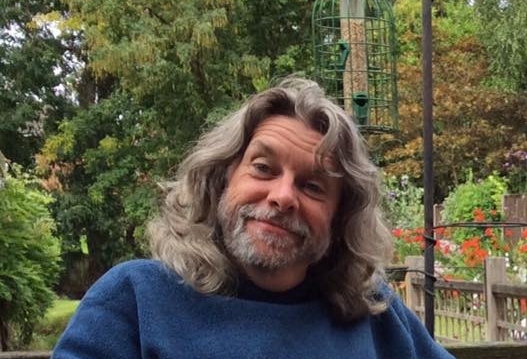 Nev Mottershead.
31st December: It is with great sadness that we heard of the passing earlier today of Nev Mottershead, Competition Eliminator racer and good friend to Eurodragster.com. We knew Nev for most of the life of Eurodragster.com and he was a great supporter of the site and founder editor Tog.

Nev raced a Toyota Supra and Vauxhall Ventora which was being upgraded to a 7.50 tag earlier in 2020 so that Nev could return to racing. Even in his extended period not on track he kept in touch and attended functions such as the annual SPRC Dinner Dance and British Drag Racing Hall of Fame Gala on numerous occasions.

Nev's wonderful sense of humour and presence will be greatly missed and we send deepest condolences to his wife Libby, his family and friends. We will be publishing a tribute by Tog in due course.

4Star Racing season review.
31st December:
Thanks to Pro ET racer and Santa Pod Raceway Events Manager James Forster for supplying a review by his crew of his season, running a newly purchased Plymouth Duster:

Following a couple of years out of the sport while other things took priority, 4star Racing returned to the track in 2020 contesting what was ultimately a three round Pro ET championship. It all started in mid 2019 with the hunt for a new car and the purchase of a 540ci big block chevrolet powered Plymouth Duster from Daz Chandler.

By February 2020 the engine was back from EDA (Kenny Coleman's Engine Data Analysis in Castleford) with a clean bill of health and it was time to start putting everything together with the goal of getting out in time for Easter which was, at the time, just two short months away.

Slowly, and with a lot of help along the way, the car started to come together. Main jobs included installing the engine, gearbox, mounting the seat, harness, gauges, switches, and wiring the entire car from front to back, but by the start of March we were ready to fire the car up for the first time. Surprisingly, everything worked and the car started first time and sounded great - even though the engine only ran for approximately three seconds due to a transmission leak but we were chuffed nonetheless. Work continued and a few weeks later we were at the stage where the car would run, drive and stop. Something wasn't quite right, however, as there was a phantom and worrying noise, so the gearbox went off to Andy Frost for a rebuild. When Andy found nothing amiss, the torque converter was in the firing line so that went off to Phil Cottingham who thankfully found the problem.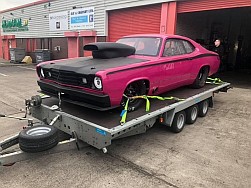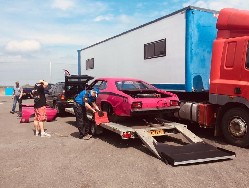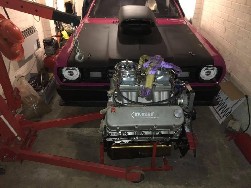 Things slowly progressed and by the end of June the car was back together, ready hopefully to get down the track for the first time. Phantom noise cured, we attended the Back On Track days at Santa Pod and started the process of slowly chipping away at it, learning a little more each time we went to the start line. We had problems initially getting the car to leave the line correctly where it just wouldn't build RPM.

Again, fingers were pointed at the relatively low spec. torque converter so we borrowed one which we then ended up using for the rest of the season. Despite us getting into the tens, the startline gremlins remained that were holding the car back. Following a few more trips to RWYBs throughout July trying to get to the bottom of everything, we eventually identified some rogue spark plugs (of all things!) and we were straight into the mid 9s, a week prior to the first race meeting of the year at the Green Light Nationals in August which was exactly where we wanted to be.

The event was a great debut for the new car, making four qualifying runs on the Saturday, all within a couple of hundreds of a second of one another, ending up ninth going into eliminations where for the first time we would be chasing down our opponent. We won first round against Leigh Morris running a 9.56 on a 9.55 dial in and then in round 2 Rick Denny ended up breaking out by a measly two thousandths of a second and somehow we were into round 3 against Dave Fulton. Dave had a couple of hundredths advantage off the line and held on to take the win, despite the fact we hit our dial in running a new PB of 9.49. All in all we were really happy with how things had gone, winning a couple of rounds of racing on our first full weekend back in Pro ET was beyond expectations.

It was then less than three weeks until the next meeting at Not the European finals; we spent some time between events working on a few issues, mainly sorting out a small oil leak from the rocker covers and installing some rear lights in case we ended up running in the dark. We set up on the Thursday but decided not to run on the test day as the car had ran so well the previous meeting; that was then where it all started to go wrong for us. Q1 on Friday we were shut off twice for a leak which was found to be coming from a fitting on the water pump, an easy fix. The car then refused to start which initially we thought was the starter motor. So after obtaining a replacement, getting it fitted and firing up again, we were ready to go, but by this point we had missed Q2 but were ready for Q3. When the call came, again the car would not start. After lots of head scratching, trying to chase whatever electrical issue we had and with the help of a borrowed battery we were ready to make our first pass. We dialled a 9.50 but broke out to a PB of 9.48, qualifying us in last place but were pleased things were sorted and a number was on the board. That joy lasted all of five minutes as when back in the pits an unmistakable hissing from the rear tyre indicated we now had a puncture. The hunt was on for a replacement inner tube and by 11pm that evening we had found one – thanks to Jon Webster who sorted us out despite running his own Pro Mod. It was mounted and the tyre wrestled onto the car and we were ready for day 2.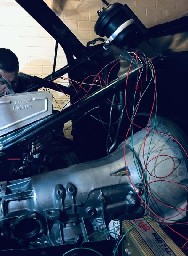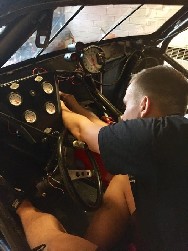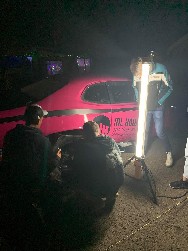 Problems continued on the Saturday and we managed to run a mid-10 second pass so the car still wasn't happy, we ended up qualifying last having only made it down the track twice. One moment the car was fine, then wouldn't start and then would be fine again. Sunday morning and we were again against Dave Fulton in round one, both left the line together and the car was on a good pass but Dave took the win. While we ended up slowing to a 9.76 on a 9.49 dial in, from the start line it looked as if James had lifted not wanting to break out. Once back in the pits and finding the rescue quad towing the car we knew that wasn't the case. As soon as we started investigating it was clear what had happened, the mains power cable had come off at 1000 ft and had finally put an end to our weekend, the blame placed firmly on James for his inability to use a crimping tool although he'll say it was pulled off in our power-related troubleshooting.

We repaired this, fired up and all was good, we packed up and headed home confident that we were on the right track and that things would be better next time out.

Two weeks later at the National Finals and things started well, car warmed up and ready for Q1. It seemed like the work carried out between meetings replacing all the battery cables and mains power cut off in an attempt to get past all the problems from the previous meeting had worked. That was until the car moved into stage and sounded off, wouldn't build RPM and eventually shut off. We pushed back and were towed back to the pits by our new favourite tow quad. A borrowed battery from Ben Newsome and once again everything was fine. It was at this stage one of the many people who were lending a hand trying to work out what the problem was noticed that the alternator belt was slipping when the car was running in turn allowing the battery to drain in absolutely no time at all. Belt tightened, car fired up and the difference was soon clear, we were ready to go again. Who knew an MSD uses so much power!? We certainly didn't as it's all new to us but lesson learned! Right on cue, it then began to rain and despite the efforts of the track crew the day was called off without us putting in a qualifying pass.

Luckily the decision was made to run another round of qualifying on the Sunday morning before moving into eliminations, we dialled a 9.47 trying to make sure we got a number on the board, the right side of our dial in on what would be our only qualifier. The car ran strong and with a new PB of 9.39 knocking nearly a tenth off our previous best but once again we were qualified last and faced Gino Bernadine in round 1. Gino red lit sending us through into round 2 but this time we ran another PB of 9.34. Against Leigh Morris in round 2, a 9.38 on a 9.34 dial in sent us through and again somehow, we were into round 3 against Tom Watkins. This race however was over before 60 foot with Tom pulling a perfect light to our 0.18, putting an end to our racing for the season. We loaded up and headed home, pleased how the car had ran and that we had ended up winning a couple of rounds after all the issues.

All in all, the shortened season was a success for us given the amount of work that was required to get the car ready, never mind learning to drive something two seconds quicker than James had driven before. We ended up finishing tenth in the Pro ET Covid cup and by the end of the year were starting to get to grips with things.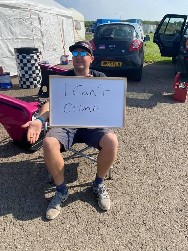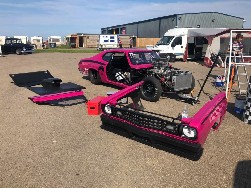 Looking ahead, we hope to run the full Pro ET championship in 2021. The car itself will get the usual maintenance and a new torque convertor has already arrived ready to be installed.

We really do have too many people to thank for their help this year. For the first time ever we have a sponsor to thank with Matt and Kristie at M.L Howe Fencing Services. If you have a relatively local fencing job that needs doing, please do give them a call, supporting those that support the sport really does make a huge difference. Thanks to Martin at FireForce for the endless work and putting up with us, all of Pro ET for their assistance and troubleshooting, Ben and the guys at EDA for also putting up with us, the Moldens for the loan of pretty much anything and everything plus endless mickey taking, Keith, the boss, for the loan of the torque converter and allowing James a weekend off now and then so he can actually race, Jon Webster for getting us out of trouble with 2 inner tubes during race weekends this season, all of the photographers for capturing us on track and everyone else that's helped us out in one way or another, there really are too many people to list – without all the help we get, we really wouldn't have a clue!

And finally if you haven't already, please do like our Facebook page to keep up to date with what we are up to and find an extensive gallery of the year courtesy of Julian Hunt.

Happy New Year and we'll see you at the track soon.

Swift snippets.
31st December: Kieran has posted his Top Ten Drag Cars of 2020 on his Youtube channel. He says "It was hard to narrow it down to just 10 but these are my personal favourites that I've filmed on track this year, as you can tell from the channel I like the wild builds that are a little different from the norm! Although we've had a really odd season it's been a pleasure to be involved with Eurodragster.com this year. I'm looking forward to when we can venture overseas whenever that may be and see more of the European racing scene!"

Drag racing historian Nick Pettitt has uploaded three more videos from his Time Travel series to his Youtube site. Time Travel 44 is video footage filmed at the 1987 World Finals at Santa Pod. Time Travel 45 is video Nick filmed at the 1987 Easter Internationals, the 1988 Sun Supernationals and the 1989 World Finals. Finally Time Travel 46 is from John Munday's cine film taken at Snetterton 1976 and Santa Pod 1977 plus some slides from 1974 -1979. All three videos are of great historic value and illustrate vividly how the sport was over 40 years ago.

Andy Williams.
28th December: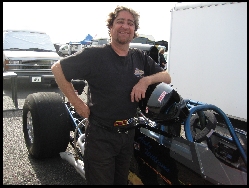 We are sad to announce that Super Comp racer Andy Williams passed away from cancer on 27th December aged 59.

Andy's widow Maggie, also crew chief on their dragster told us "Andy had a pioneering kidney transplant at age 16 in 1977 and also was the youngest in the South West region to have this life saving operation. After the transplant Andy got his '32 Ford roadster 'Eight Mis 'B' Haven'. Later we imported the 'Wild Child' Super Comp dragster. We went to race at Vandal in Denmark, Drachten and Hockenheim, long trips from West Gloucester but huge fun. Meeting Tom Margesson as a teenager with his dad Pete, he along with Sandy Rose completed the crew. Andy was so kind to kids looking around the dragster and would offer them a seat in it, saying 'They are the next generation of drag racers'".

We received a tribute to Andy from Tom Margesson (pictured right, below):

It is with a very heavy heart I have to give you more devastating news that another fellow racer has passed away. Andy 'Wild Child' Williams unfortunately lost his battle with cancer on 27th December and sadly passed away.

I met Andy with my Dad many years ago at Santa Pod Raceway, He was bringing his dragster back from scrutinering, Dad made a joke about where Andy had been 'to get a pint of milk'; a few minutes later we were being asked if we fancied crewing with him and his wife Maggie that weekend. Obviously we took up that offer and some kind of unbreakable bond was made.

We traveled to Denmark with Andy and some other crew members in 2007 to race at Vandal raceway, my god the stories we could tell and the fun we had. Andy offered all the crew a drive in his race cars and for some unknown reason I was the only one to take up the offer and in 2013 I got the chance to race his 'Wild Child'. Later in 2015-16 I raced in competition with Super Comp, never will I forget that experience!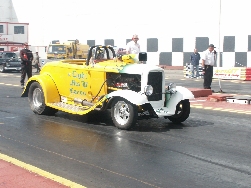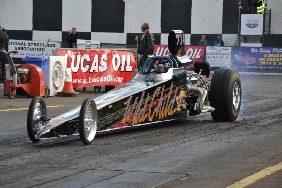 Andy was such a funny guy, comments like 'I'm about to ruin your life' with a pat on the shoulder as he was strapping me in for my first run down the track, knowing himself how addictive the feeling was. Meeting Amy my partner for the first time as I drove off to the start line, he was telling her to forget shiny cars and big houses, he's about to become an addict! Who does that? Andy Williams does that! In reality he did the opposite to ruining my life. He and his wife Maggie just made it better, friendships like that don't come very often. Me and my Dad had a friendship with him that never would have been broken and trusted each other with our lives, as did all the crew members!

I could go on for hours about the times we've had and the laughter brought to us by Andy, at he moment that is what will get us through this. That and knowing there is no more pain for Andy. An absolute fighter from the age of around 13, Andy battled with health issues and didn't give up, now that's another story!

Andy leaves behind his wife Maggie, sons Marcus and Alex, sisters, father, grandkids and so many friends. I hope you can all remember some good times no doubt with a gut wrenching laugh, and that's what we all need right now! One more thing remember: 'Madness - the best band in the world!'

Our deepest sympathies to all of Andy's family and friends.

Track photos courtesy Tog.

2020 SPRC Perpetual Awards vote 4.
28th December: Santa Pod Racers Club and Eurodragster.com are again teaming up to give Eurodragster.com readers the chance of input to the SPRC Perpetual Awards. The location and date for presentation of the trophies will be announced in due course, as the SPRC Dinner Dance is subject to Covid restrictions being lifted.

For several of the 2020 season awards, a shortlist has been decided upon for which votes can be submitted by E-Mail. Nominations are now also being accepted for the Alex Brachtvogel Memorial Trophy. The votes of Eurodragster.com readers will be taken into consideration when the SPRC Committee decides upon their winners.

Today's category is Most Professional-Appearing Team. The Most Professional-Appearing Team trophy recognises not just the presentation of a race vehicle but the team's overall approach to racing. As well as a well-turned-out car or bike, the Committee have considered such aspects as the appearance and attitude of team personnel, the organisation and appearance of their pit area and support equipment, and their readiness when their class is called.

The SPRC Committee's shortlist is as follows:

Team Sweet FA (Ron Bartlett and team, Another Small F Super Pro ET)
Vote for Team Sweet FA

Chi Town Hustler (Paul Harris and team, Nostalgia Funny Car)
Vote for Chi Town Hustler

Oldsmobile Thunder (Claire Johnson and team, NEM Plant Ltd Nostalgia Super Stock)
Vote for Oldsmobile Thunder

Nitro Bug (Andy Raw and team, Nostalgia Funny Car)
Vote for Nitro Bug

To place your vote, either click on the appropriate link above or go to the official Perpetual Awards voting page which you can view by clicking here or by clicking on the SPRC Perpetual Awards vote link on the left-hand side of any Eurodragster.com page. If your device doesn't automatically generate an E-Mail then please E-Mail your choice to 2020sprcawards@eurodragster.com.
©Eurodragster.com
The Alex Brachtvogel Memorial Trophy, for which nominations are also now being taken, was first awarded to Santa Pod Racers Club's late Chief Marshal, Alex Brachtvogel, in 2001 to mark his outstanding contribution to Santa Pod Raceway and the sport as a whole. After Alex's death the trophy was named in his memory and continues to be awarded for contribution to drag racing. There is no shortlist for the Alex Brachtvogel award. Nominations are invited from Eurodragster.com readers for racers, race officials, track and safety crews, club officials, media, or anyone else who has contributed to the sport. Last year the trophy was awarded to SPRC marshal Alison Hackney. Again see the official page for more details or E-Mail your nomination to 2020sprcawards@eurodragster.com specifying SPRC Alex Brachtvogel Memorial Trophy nomination as the subject and your nomination in the body of the E-Mail.

For each of the Awards, one vote per E-Mail address per nominee will be accepted: multiple votes for the same nominee from the same E-Mail address will all be disqualified. Please note that blatant attempts at organising mass votes - for example asking workmates, forum members or Facebook friends to vote en masse - are easily identified and all such votes will be disallowed as they have been in previous years. Concerted attempts at vote-rigging will result in the nominee being removed from the shortlist whether or not that nominee knows what was going on. We know all the dodges so it's just not worth trying. If in any doubt about what constitutes canvassing then please drop us a line at 2020sprcawards@eurodragster.com.

Additionally, if anyone should have issues with the content of any of the shortlists then please contact SPRC direct rather than E-Mailing Eurodragster.com or commenting on social media. E-Mails to Eurodragster.com regarding the content of the shortlists will receive neither a reply nor any other acknowledgement.

The next voting category, the final, will posted next Monday, 4th January 2021, and will be the James Edgar Memorial Trophy. Voting will close on Sunday 17th January.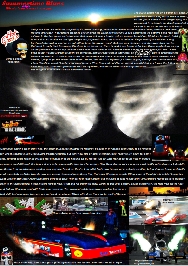 Mike's Summertime Blues.
28th December: Many thanks to Mike Collins for providing an exclusive preview of his "Essence of NitroFire" feature for the on-hiatus Street Machine magazine. The "Summertime Blues" photo mix for Eurodragster.com readers includes his personal views on the 2020 Covid situation, a Festive Greeting, and some NitroFire images to keep us warm.

Mike describes how he completed the photo mix during a recent 10 day stay at Croydon University Hospital for an operation from which he is recovering at home. Mike says "Sister gave me special dispensation to finish this". Our best wishes to Mike for a speedy recuperation.

You can see Mike's work in full (pdf format) by clicking on the image.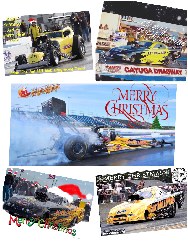 Smax's seasonal sentiments.
28th December: Thanks to 2003 and still sole rookie FIA Top Fuel Champion Smax Smith for sending an update and hopes for 2021: Hi guys, can't let the year go by without wishing all our drag racing family n' friends a safe merry Xmas and a preposterous New Year!

We have had so many connections on our Facebook page Ant Hill Mob Dragracing Team and son Aidan has been posting everything we have been up to during Covid including building a new 3240 sq ft shop which will be my daily workshop, our race shop and my mancave with drag racing and music blasting while we work lol.

Aidan has stepped up and has done most of the work on the new Top Fuel car (replacing the now-sold Top Alky Funny Car - Ed) which is almost ready to rock again after Aidan's short licensing runs on a terrible track surface lol. I have also completed my medical for renewing my Top Fuel licence so if this pandemic subsides we will be ready!

All the very best and keep in touch, it is our dream one day to come and race again at the Pod. Full revs, Smax and Aidan and the Ant Hill Mob Drag Racing Team.

Gerry Treit.
27th December: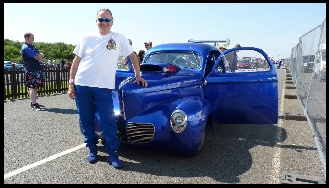 We were shocked and saddened to hear of the death of Willys Wars and former Street Eliminator racer Gerry Treit. His long time friend and fellow Scottish racer Colin Millar writes in tribute:

It is with deep sadness that I have to let our racing family know of the huge loss of Gerry Treit, a dear friend of more than 40 years taken from us at only 56 years of age, it's just not fair and hard to accept but I hope time will sweeten the bitter taste we all have at present, Gerry leaves behind his wife Dina, his sister-in-law Pamela and husband Alan, his brother-in-law Vince, his step daughter Carly and a huge amount of true friends.

I met Gerry on 5th August 1980 on both our very first day as apprentices at Tullis Russell Papermakers at Markinch in Fife and we have remained loyal friends and, hand on heart, I can say we never had a cross word. Gerry was always up to no good with endless pranks, mischievous antics and a wicked sense of humour. Our love of cars kept us very much together with us both starting out in life with Morris Minors as our first cars; mine was a 2-door and Gerry was a ex post office van.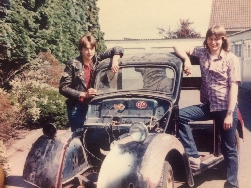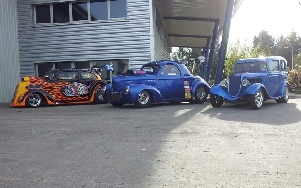 Gerry and myself started The Fife County Cruisers in 1983 and although the club is no longer, we all stay in touch. Gerry was intelligent and a wonderful engineer, I've never seen him getting beaten by anything and often made parts from scratch to keep the mill going. This allowed him to use his skills in building custom cars and race cars and he had a huge appetite for both British and more so American cars. No doubt I won't get the sequence right and might even miss a few but here goes, Rover 3500 P6, 1967 Mercury Cougar, 1970 Chevrolet Blazer Truck, 1972 Pontiac Firebird, 1979 Chevrolet Corvette, 2005 Dodge Rumble Bee, 1940 Willys coupe, 1955 Dodge van, 1937 Ford.

Gerry's thirst for life, his drive, his passion and his determination always paid off in the end and he got what he wanted, often not the same taste or style as many, but his choice.

Gerry was the person who was always ahead of the game; come to Santa Pod he said, I said what is that and where is that, next thing we were off down the 400 mile stretch to watch the racing in 1984 and from then on, Gerry never looked back. I suppose like a lot of us Gerry watched and wished, but as time went on, and we were both lucky enough that at the time the papermill gave us endless amounts of overtime, we had the cash burning a hole in our pockets.

Every car Gerry owned had a timing ticket in fact I bet you Gerry has every timing ticket from the very first run; one thing he did not do was throw anything away (Dina can vouch for this).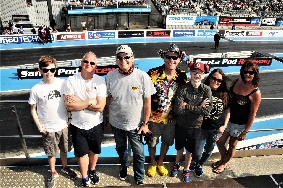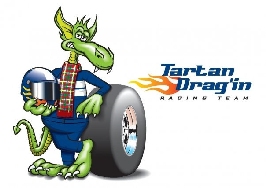 Holidays were so much fun, Gerry would jump in the Pop with a tiny wee bag and that was us for a fortnight, I'd say where to and Gerry would say Lands' End and that's where we would go, we got there and I said where now, Gerry and he said John o' Groats and that's where we went. On another holiday we arrived late in a wee village called Torcross in South Devon and set up the tent before going to the pub and having copious amounts of beer, to find no tent in the morning, as a force 10 gale came past during the night leaving two daft Scottish laudies lying on a groundsheet; it was only the sunshine that eventually woke us up!

As our lives progressed Gerry was never far away, he was the best man at my wedding, wetting the head of my three daughters when they were born and always there whenever we partied and you would never guess we partied on a serious note.

In 2000 Gerry met the love of his life Dina, he kinda knew Dina as Dina's brother Vince was a member of The Fife County Cruisers in his wee Red 300E van. They courted for about six years until finally tying the knot in Sedona, Arizona in 2006 and have never been parted until now. My heart goes out to Dina and the very close family who have supported her throughout this difficult time.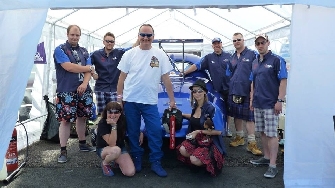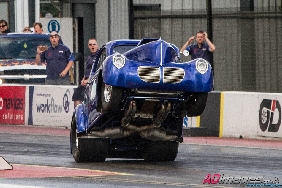 Never a dull moment, and as our paths changed we always kept close. Gerry was starting to gain a huge passion for the Street Eliminator class and often went down to spectate and absorb as much information as he could and when he was ready it was his time to start a path that would bring his dream to reality. His choice of weapon was to be a 1940 Willys, unlike a lot of us, his car was built by his very own hands, the hours he spent must have been enormous (again Dina will confirm she was a garage widow) but it was his dream to participate in Street Eliminator. You can see what an achievement, what a car and for me what a fantastic person. His crew were always looked after with Dina being from Italian descent always having a huge pot ready and waiting on the crew returning, but also making sure she was on hand when it was time to get down that fire up road with the help of his dedicated crew. From left to right James Houston, Mark Diamond, Steve Wilson and Steve and Claire Swinton made up the Tartan Drag'in Race Team.

Gerry loved his years racing with all the characters in Street Eliminator and as time passed, he always made the trip to Dragstalgia which he really loved; as you can see he certainly kept your full attention probably, and even more of his attention, when his Willys did like to try and reach the sky lol. As we all pass through life I have had some of the best times of my life with Gerry and Dina, only now do you realise how treasured these times together were and the memories we created. I shall so miss him with all my heart; God speed Gerry.

SPRC Christmas greeting.
24th December: Many thanks to Santa Pod Racers Club Secretary Ian Marshall for sending an update from the Club:

2020 has not been quite the year we all hoped for, however due to the endeavours of Santa Pod Raceway, SPRC and of course all of our members and crew personnel, we did manage to get some racing done; the Covid Cup mini championship is complete and the winners' names are in the history books. We have had a year that for many reasons will go down in history, mostly good reasons, and one not so, however we at Santa Pod Racers Club, feel sure that the winter season updates, refresh and preparations will be carrying on unabated as normal, preparing for what will be a back-to-normal 2021 season; sure, it may not start when we want to, but the signs are a lot more positive going into the new season now.

At SPRC headquarters, everything is carrying on as normal as can be, permits applied for, Rule book almost complete and Championship details sorted all in preparation for 2021, which is not far away now, and we look forward to getting back to the track very soon.

So to all of our members, their families and crew members, our marshals and their families, all of the Santa Pod staff, and all at Eurodragster.com, have a great Christmas (thanks, and you too - Editor), and here's to looking forward to a better and safer New Year; please stay safe and keep those safe around you too.

Elsom's controversial Dirty Deeds.
24th December: Nostalgia Funny Car racer Rob Elsom decided to sit out 2020 when the pandemic hit in March, however his plan following engine damage sustained in 2019 was to carry out a more comprehensive upgrade of his 'Dirty Deeds' car – including the first swoopy Camaro body shell seen outside the USA. Rob said "I had ordered the body from Ron Hodgson in May 2019 and when the lockdown began, it made sense to complete the work at that stage". The composite Camaro body is much lighter and stronger than Rob's previous Firebird shell. Once it arrived in October 2019 Rob set about building a frame and fabricating tin work for it.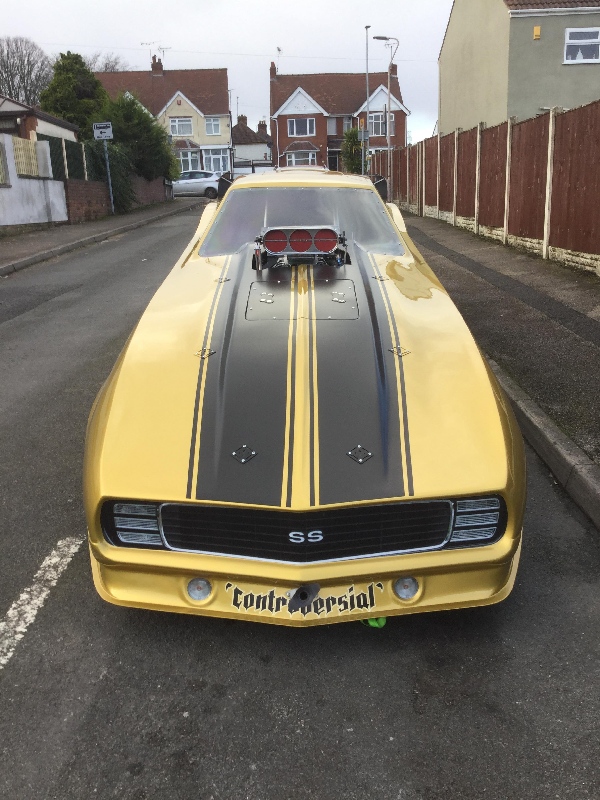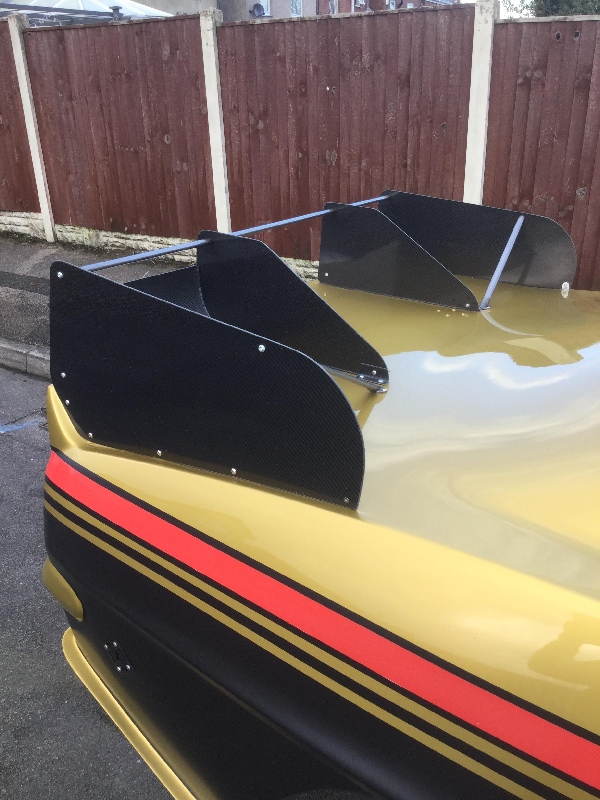 The paint job, designed by Darren West and applied by Marshall Body Repairs and Restoration looks awesome, with a revised design and colour from the Firebird. In a nod to the detractors of the Camaro design who stated at its introduction that it was not nostalgic enough because the design was modified too much from stock, Darren has included the word 'Controversial' on the car's front air dam.

Rob continued "As I have built the frame and tin work, the body fits the existing chassis perfectly. I've added Weld V Series wheels. I've refreshed the engine which has a new supercharger from The Blower Shop and new components in the fuel system. There is a new aluminium hat on the blower. I will be making the tuning calls myself next season, but have vacancies for up to five or six crew members to assist me, and we will be working out of a new trailer. So there's been quite a bit of investment in the overall operation".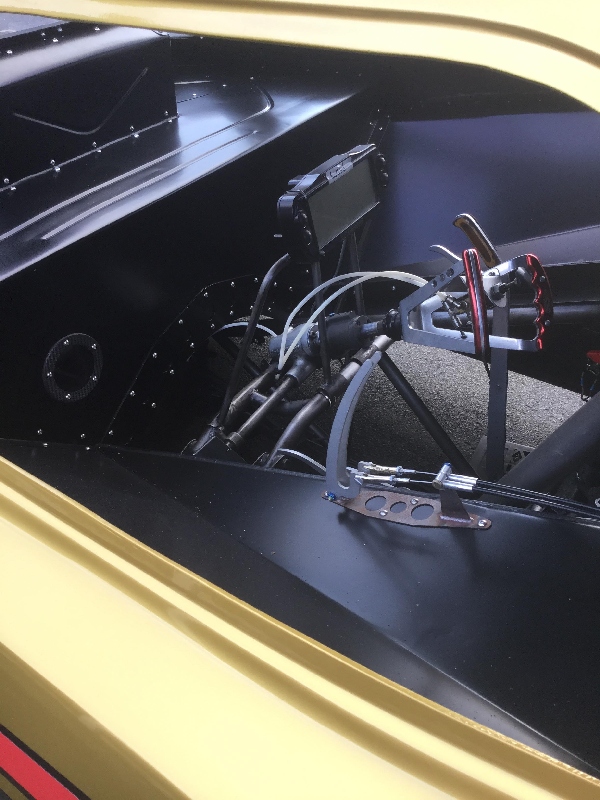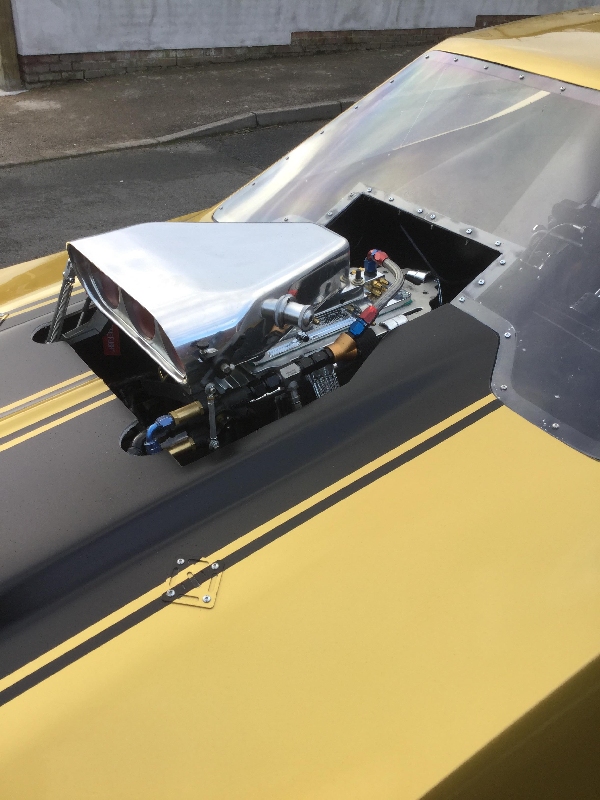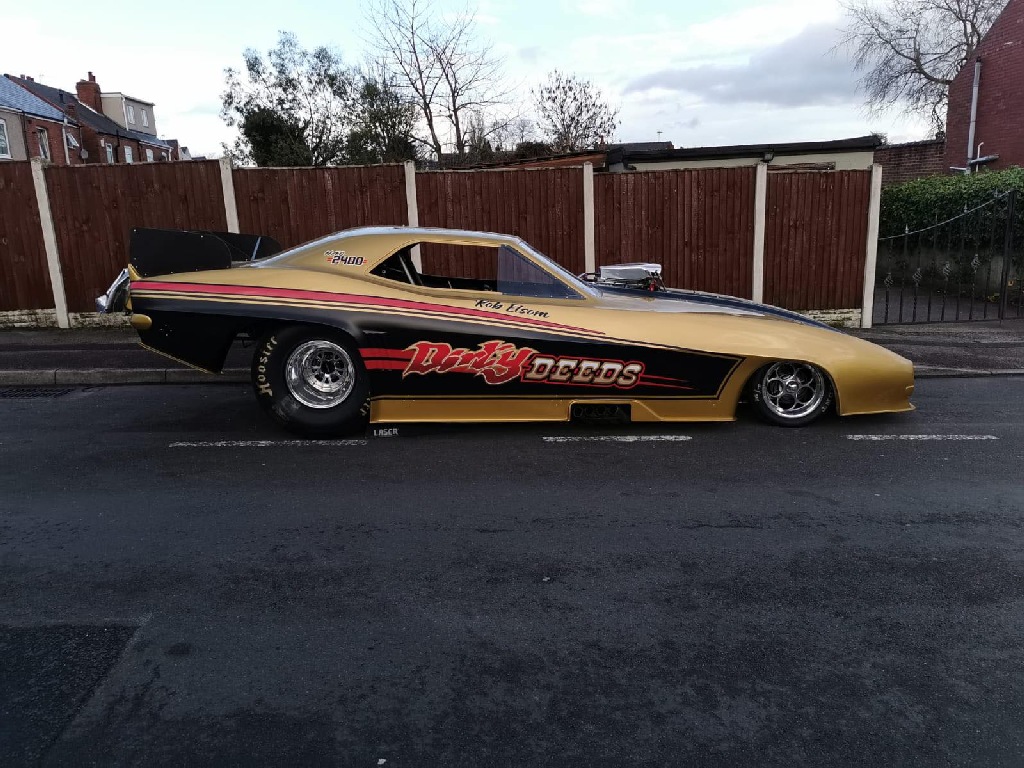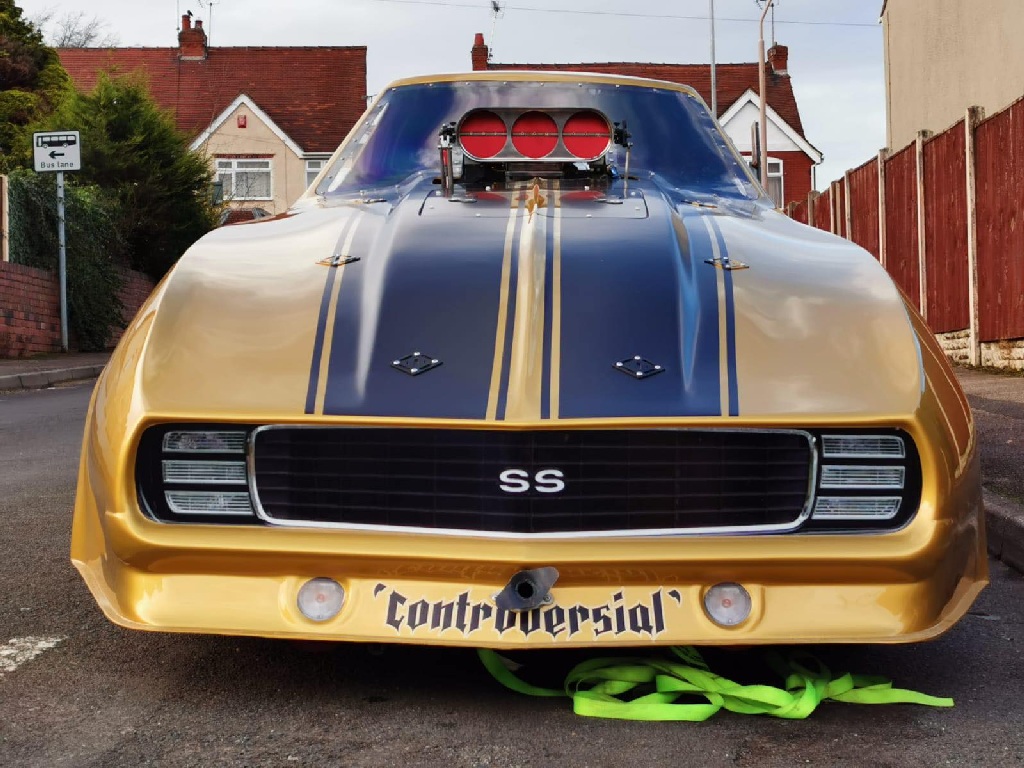 Competition wise, Rob is keen to get out on track to run the revised car but will made a final decision on which events to attend following publication of next season's calendar. He added "I loved the idea of a David and Goliath Cannonball competition between Nostalgia and Big Show cars. I could even be tempted to offer a rental drive to someone with the right experience".

Rob thanks Andy and Jack from Marshall Body Repairs and Restoration for the paint, Ron Hodgson for even considering selling the body to him in the first place, Darren West for another fantastic design, Jason at SeaKargo for helping to get it here, Craig Monroe at Extreme Fibre for the rear wing which is 100% carbon and to "all the guys and gals past and present that have helped along the way, be it long trips to fetch it, encouraging me to keep going or days in the shop".

Swift snippets.
24th December: We would like to say a big Happy Birthday to Nitro FM presenter and occasional Contributing Photographer Nikki Marshall. Have a lovely day Nikki.

2020 Champions' Champions.
24th December: Honorary Eurodragster.com staff member Andy Marrs has unexpectedly had a year off from compiling lists of European and UK Champions' Champions. However we have included the 2019 FIA and FIM-E edition in this year's update. The Champions' Champions tables show the all-time highest points earners since the FIA and FIM European Championships began in 1996 and 1992 respectively, and since the UK National Championships began in 1999.

Scoring for the UK National Championships Champions' Champions is based on an event having to be completed for a win to be registered. Race wins are ranked by number based on the driver or rider. Points however are scored and ranked on a team basis, as are numbers of Championships. For teams with multiple cars or drivers changing teams during or between seasons, the compiler's decision is final.

2020 was a season like no other, and hopefully not to be repeated. Under the pandemic restrictions, only three championship events were allowed to be held, and as they were not being able to be held under Motorsport UK or ACU permit, the championship became the Covid Cup. We have been able to include these events in Champions Champions as ours is not an official list, and the winners deserve recognition for their efforts. All three events were able to be completed, in the case of the Greenlight Nationals by virtue of carrying the rained-off finals forward to the next available event. Of course without formal competition in Pro classes, and no FIA/FIM-E races held at all this year, those categories have not changed from last year's edition, so a year off for Andy Marrs.

We had first time champions in eight classes, compared with nine last year and a record eleven in 2015. The number of back to back champions was three, compared with seven last year and a record nine in 2017.

In Competition Eliminator, father and son team Kev and Lloyd Perkins won this year's title with wins at Not The Euro Finals and National Finals. Kev now has the largest number of race wins, seven as Lloyd scored his first at the National Finals. Andy Hone continues to lead the aggregate points with a reduced margin of 460 over Kev and Lloyd.

In Super Pro ET, Team Time is Money (John and Tom Atkinson) won their second title, the first having come nine years ago. A win at the Greenlight Nationals was the springboard for their title. This year's runner-up Scott Hauser has won the most championships in the class over the period covered and Brad Jackson, Martyn Jones, Steve Green and Ian Tubb have each won two Super Pro Championships since 1999, Brad's championships coming in 2018 and 2019. Barry Giles leads wins with fifteen in total and as Giles & Hartley continues to lead aggregate points, ahead of Team Time is Money who have moved to second ahead of Steve Johnson.

Team Dark Horse (previously known as Top Banana with Brian and Lee Huxley sharing driving) won their seventh Pro ET title in 2020 and Rick McCann remains in second place with three. Lee Huxley has had thirteen wins over the last 22 years, with Rick McCann and Bob Doyle having won six each. The Huxleys continue to lead the points tally ahead of Team Heaven & Hell.

In Sportsman ET Carl Magedera won his first title and congratulations to him, the first ever to go to an electric vehicle. Craig Wright, Geoff Cowley and Team Rainy City Lightning (Al and Linda Platt) each have three Sportsman ET championships. Craig, with ten wins during his time in the class, leads Geoff Cowley and Rick Denny who both have seven wins. Team Rainy City Lightning still lead the points aggregate ahead of Nick Gay.

In Super Comp, Steve Hudson won his first championship with two event wins at the Greenlight Nationals and Not the Euro Finals. Stuart Doignie, with four championships in 2015-18, leads Brian Pateman for the most Super Comp championships, Brian having three in the period under review. Brian has most wins with thirteen over Tim Adam's ten, and the most points over Pete Creswell.

In Super Gas, Dave Fulton won his first championship with two event wins, the year after brother Simon achieved the same, and congratulations to Dave. Stuart Doignie, Jon Morton and Tim Adam have four championships apiece, with Stuart's four coming in 2015-18. Jon and Frank Mason both have twelve race wins in the period, whereas Frank leads points scored over Jon.

Congratulations to Mark Todd who won his third Topspeed Automotive Street Eliminator title, with two event wins; Steve Pateman still dominates the overall listings with five Championships, seventeen wins and leads the aggregate points over Ian Hook.

In Lucas Oil Junior Dragster, congratulations to Luke Fulton on his first title in only his second year in competition, secured by a win at the National Finals. Joe Kellett has the most championships with three, Nick Mugridge continues to have the most wins with nine and Joe Kellett leads aggregate points over Billy Everitt.

Ross Morrison won his first title in 8.50 Bike with a win at Not the Euro Finals. Ross' JKE team boss Jake Mechaell continues to lead the championships total with three equalling Mick Winyard's, the wins total with thirteen over Jay Roe's ten, and the points total over Jay's.

In 9.50 Bike, JKE team member Martin Hallett scored his first title with wins at the Greenlight Nationals and National Finals, and congratulations to Martin. Richard Sawatzki holds eight championships, with an unprecedented five in a row, from Fred Furlong. Rick's 24 wins head Fred's eleven, and Rick continues with the overall points lead over Fred.

ET Bike has its second title holder since it became a National class, and congratulations to Paul Adams for taking the win after a victory at the National Finals. Phil Pratt won three consecutive championships since the class's points scoring status began. Phil also heads Gary Hester in events won with eleven compared to Gary's three, and leads Gary also in aggregate points.

Congratulations to Louis Davies who won his first Funny Bike title in his first year in the class with with race wins at Not the Euro Finals and National Finals. Neil Midgley continues to lead all three categories with five championships over Chris Hall's three, seventeen event wins to Chris's ten and a sizeable points total over second placed Tim Blakemore.

Phil Leamon won his fourth Competition Bike title, and first since 2012 with a win at the Greenlight Nationals. Phil and Ivan Birch each have three championships, both have ten wins and Phil also leads the points over Stu Crane.

In ACU Super Street Bike Steve Venables won his tenth title, with wins at Not the Euro Finals and National Finals. Ven continues to lead the number of titles and has 30 wins and leads the points total by a substantial margin from Graham Dance who lies second in championships with four, and wins with nineteen.

Liam Holgate won his fourth Junior Drag Bike title, with an undefeated record and three wins during the season. He shares the lead of titles won with Scott Collier and wins with ten. Scott leads the points tally over Louis Davies.

You can check out the UK Champions' Champions by clicking here or by clicking on the Champions' Champions link on the left-hand side of any Eurodragster.com page.

Drag Racing Unplugged XXII.
24th December: As has become traditional on our last pre-Christmas update, we have posted a page of quotes from this season's John Woolfe Racing-sponsored Eurodragster.com Event Coverage and the Santa Pod Cast including Simon's, Diana's, Kirstie's, Julian's, Kieran's and Tog's personal Quotes of the Year, together with others which we didn't publish at the time.

We are pleased to present Drag Racing Unplugged XXII, the 2020 collection, which you can check out by clicking here, or by clicking on the John Woolfe Racing Event Coverage link on the left-hand side of any Eurodragster.com page.

Eurodragster.com Christmas lists.
24th December: We will now be taking our Christmas break. News updates and postings to our Jeff Bull Race Engines Swap Meet will resume at the end of this week. Keep those news items coming to us at news@eurodragster.com and we will post them after our break.

In the meantime we have compiled our usual requests to Father Christmas, together with our New Year resolutions. As well as the core team we have also asked Off-Track Photographer Diana Macrae for her thoughts:

Top of Diana's Christmas list: 20 B&H...not had a smoke in eight weeks...

Top of Kirstie's Christmas list: A half marathon.

Top of Simon's Christmas list: Everyone's parts delivered in time for the new season.

Top of Julian's Christmas list: Extra sun cream in anticipation of the 2021 season.

Top of Kieran's Christmas list: 50k subscribers! (Almost there!!)

Top of Tog's Christmas list: A jab in the left arm (and a middle finger to conspiracy wackos).

Diana's New Year resolution: To hug as many people as Boris allows! The more, the merrier.

Kirstie's New Year resolution: Once this whole Covid saga is over, actually tick more off my global "to do" list.

Simon's New Year resolution: Report on more races than you can shake a stick at.

Julian's New Year resolution: To stop worrying about what the weather is going to do.

Kieran's New Year resolution: Keep pushing to improve my photography and videography!

Tog's New Year resolution: To do some freelance work for Eurodragster.com

Kirstie, Diana, Simon, Julian, Kieran and Tog would like to wish all Eurodragster.com readers and their families the very Happiest of Christmases, and to thank everyone who has sent us personal Christmas wishes and cards. Have a great time.

2021 FIA Tech Regs published.
23rd December: Thanks to FIA Technical Delegate - Drag Racing Frans Steilberg for informing us that the 2021 Technical Regulations for FIA Drag Racing can now be viewed at www.fia.com/regulation/category/101.

The published regulations comprise a SFI Specifications list, Technical Regulations and Race Procedures (marked up and clean versions) and Sporting Regulations.

Willi Hestermann.
23rd December: We were sad to hear of the passing of Germany's first drag racer Willi Hestermann.

Racing for the first time in 1967 at an American airport in Kaiserslautern, Willi was a friend to many American soldiers and drag racers from all over the European racing scene, supporting racing in Germany for many years.

Willi's car appeared at Silverstone in June 1973 at the Castrol NDRC National Championship round, and reached the semi-final against Fred Whittle who won 9.26/156 to Willi's 9.61/145. Willi's car was a BBC 'Rat' engined Topolino, with a steel body, named Maffia Mouse, later gaining a fibreglass body and being restored to show condition. Willi's wife Hedi and sons Fred and Thomas were key members of his race team.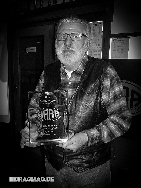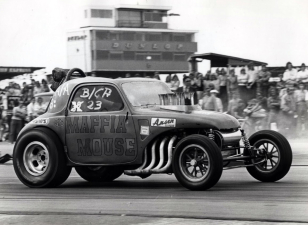 In 1985 Willi took over the running of Autohaus Hestermann vehicle repair shop in Erlensee, Germany, established by his father in 1951. As well as restoring Maffia Mouse, Willi also acquired the ex Michael Malmgren NHRA record holding A/Altered, preserving it for display where both could be seen at the NitrolympX in 2015. Willi's sons Fred and Thomas are continuing his legacy at Autohaus Hestermann with the knowledge he instilled in them.

Our sad condolences to Willi's family and friends.

Swift snippets.
23rd December: We would like to wish a Happy Birthday to drag racing historian and British Drag Racing Hall of Fame director Jerry Cookson, have a great day Jerry.

In the latest instalment of his autobiographical blog, John Hunt writes about the first Xtreme Wheels show held at Alexandra Palace in 2004, on which he worked with Terry and Tina Gibbs. Included is a gallery of show photos taken by Dave Dick. You can read John's blog here or by clicking on Racer Blogs in the main menu. As an option, you can read John's blog in a first-to-last sequence which you can find by clicking here.

A-Fuel Team Sweden plan.
22nd December: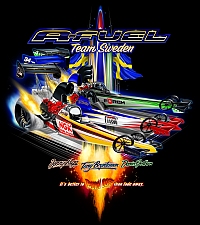 A-Fuel Dragster racer Tony Bryntesson has been in touch with details of the three cars that will comprise A-Fuel Team Sweden, racing in the FIA European Top Methanol category:

Even if the team is new, the three drivers and crew have many years in Drag racing together.

Jonny Lagg from Boxholm in the southern part of Sweden, started racing methanol burning dragsters from 1983 to 1985. Then he went to the USA and did some races together with well known name as Kenta Persson, Jarmo Pulkinen, Jonny Nilsson and Peter Lantz. After that, he crewed for a couple of years on Monica Öberg's Top Fuel Dragster. In 2013 he bought the dragster of A/Fuel Master driver/tuner Krister Johansson. The highlight in his career so far is winning the European Championship in 2016 and he is still hungry for at least one more championship title.

Daniel Jedborn from Skellefteå in the northern part of Sweden, started his racing career in 1994 with a homebuilt doorslammer. He moved to a Competition Eliminator dragster in 1997, starting with a blown methanol burning front motor dragster that he set a low class ET in Europe with. Racing that car between 2011-2018, Daniel won the Swedish Comp Eliminator Championship in 2017. In 2019 he started competing in a Nitro burning A-Fuel Dragster.

Tony Bryntesson, from Jönköping in the southern part of Sweden, started his drag racing career as driver in 1981 in a home-built Ford 1931 altered. He went to a methanol burning dragster from 1986 to 1988, then raced Top Fuel between 1989-1995. Tony's highlight in Top Fuel drag racing was winning the Swedish Championship in 1995. He then had a lengthy break from drag racing with a career in road course racing between 1997 and 2019. He purchased an A-Fuel Dragster from Jonny Lagg in 2019, did a couple of licensing runs 2020, and is looking forward to his comeback in 2021.

Jonny Lagg's Crew Chief Krister Johansson and his colleague Lars Lindkvist are very well known, and have a great reputation as the best A-Fuel tuners out there; they will have full focus on Jonny´s car but with our partnership as "A-Fuel Team Sweden" they will also work as mentors to Daniel and Tony's respective crew chiefs. There is also a plan to bring over a highly respected crew chief from the USA to the first races in the FIA tour.

Establishing a team with three A-Fuel cars will make us strong and will possibly lower the total cost, as we will be able to have spare parts, special tools, knowledge and crew to share between us if needed.

We are all aware that Covid-19 could also be a problem to us making the whole of the 2021 FIA European Championship Tour. But we need to be positive, hope for the best that this virus will calm down and the world will come back to normal as soon as possible.

A-Fuel Team Sweden are preparing for a complete FIA European Tour 2021, Spare parts are ordered and will start dropping in end of January. WE WILL BE READY!

Swift snippets.
22nd December: Drag racing historian Nick Pettitt has uploaded three more videos from his Time Travel series to his Youtube site. Time Travel 42 is video footage from the the 1984 World Finals at Santa Pod. Time Travel 43, video Nick filmed at North Weald in June 1986 at the NDRC Southern Nationals has been divided into two, the first half at this link and the second half at this link.

2020 SPRC Perpetual Awards vote 3.
21st December: Santa Pod Racers Club and Eurodragster.com are again teaming up to give Eurodragster.com readers the chance of input to the SPRC Perpetual Awards. The location and date for presentation of the trophies will be announced in due course, as the SPRC Dinner Dance is subject to Covid restrictions being lifted.

For several of the 2020 season awards, a shortlist has been decided upon for which votes can be submitted by E-Mail. Nominations are now also being accepted for the Alex Brachtvogel Memorial Trophy. The votes of Eurodragster.com readers will be taken into consideration when the SPRC Committee decides upon their winners.

Today's category is Best Appearing Bike. The SPRC Committee's shortlist, in alphabetical order, is as follows: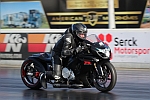 Paul Adams
Accelerate for a Cause and a Cure ET Bike
Vote for Paul Adams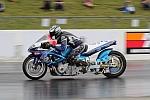 Tony Clark
Suzuki Performance Spares Comp Bike
Vote for Tony Clark


Mark Dainty
Taylor's Trophy Super Street Bike
Vote for Mark Dainty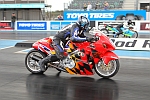 Alex Hope
Atlantic Fluid Tech 9.50 Bike
Vote for Alex Hope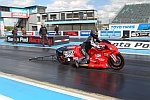 Mark Smith
Leeks Landscapes Funny Bike
Vote for Mark Smith

To place your vote, either click on a picture above or go to the official Perpetual Awards voting page which you can view by clicking here or by clicking on the SPRC Perpetual Awards vote link on the left-hand side of any Eurodragster.com page. If your device doesn't automatically generate an E-Mail then please E-Mail your choice to 2020sprcawards@eurodragster.com.
©Eurodragster.com
The Alex Brachtvogel Memorial Trophy, for which nominations are also now being taken, was first awarded to Santa Pod Racers Club's late Chief Marshal, Alex Brachtvogel, in 2001 to mark his outstanding contribution to Santa Pod Raceway and the sport as a whole. After Alex's death the trophy was named in his memory and continues to be awarded for contribution to drag racing. There is no shortlist for the Alex Brachtvogel award. Nominations are invited from Eurodragster.com readers for racers, race officials, track and safety crews, club officials, media, or anyone else who has contributed to the sport. Last year the trophy was awarded to SPRC marshal Alison Hackney. Again see the official page for more details or E-Mail your nomination to 2020sprcawards@eurodragster.com specifying SPRC Alex Brachtvogel Memorial Trophy nomination as the subject and your nomination in the body of the E-Mail.

For each of the Awards, one vote per E-Mail address per nominee will be accepted: multiple votes for the same nominee from the same E-Mail address will all be disqualified. Please note that blatant attempts at organising mass votes - for example asking workmates, forum members or Facebook friends to vote en masse - are easily identified and all such votes will be disallowed as they have been in previous years. Concerted attempts at vote-rigging will result in the nominee being removed from the shortlist whether or not that nominee knows what was going on. We know all the dodges so it's just not worth trying. If in any doubt about what constitutes canvassing then please drop us a line at 2020sprcawards@eurodragster.com.

Additionally, if anyone should have issues with the content of any of the shortlists then please contact SPRC direct rather than E-Mailing Eurodragster.com or commenting on social media. E-Mails to Eurodragster.com regarding the content of the shortlists will receive neither a reply nor any other acknowledgement.

The next voting category will be Most Professional Appearing Team.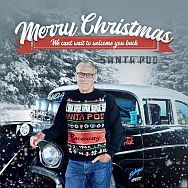 Keith's Christmas message.
19th December: CEO of Santa Pod Raceway Keith Bartlett has issued a Christmas message to racers and fans (click on the image to go to Santa Pod's shop):

"I would like to take this opportunity to thank everyone for their huge support for Santa Pod Raceway in 2020. It's certainly been the most challenging of seasons that we've ever had to endure and it's only with your support that we can move forward into what I sincerely hope will be more "normal" times.

"The 2021 calendar of events is nearing completion and will be announced in full in early January. We can't wait to welcome you all back. Wishing you all a safe and very Merry Christmas from myself and all of the Santa Pod team.

MERS named as Volvo supplier.
19th December: Thanks to Lars-Göran "LG" Eriksson for sending us an update on ME Racing Service AB (MERS) which has become a direct supplier to Volvo Cars in Sweden.

LG says "We have a very good teamwork with Concept Center and Safety Center at Volvo Cars. "Thanks to Docol Tube R8 and motorsport interest among engineers, Volvo Cars found us and we started a collaboration two years ago. Through our long experience and knowledge about designs and construction with high-strength sheet metal and tubes, new opportunities opens up for Volvo Cars.

"Unfortunately, we can not disclose the projects we are part of at the moment, but hopefully we can show you in the future what we have been involved in and developed.

"Seeing our projects in live operation at Volvo Cars. What work they are doing in the development of safety and what we have been able to add in to this makes us proud. We feel really honored to be a direct supplier to Volvo."

Gredzinski launches Accuratedragster.com.
18th December: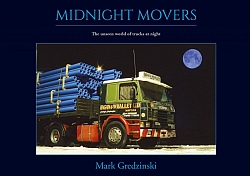 Photojournalist and graphic artist Mark Gredzinski has brought out the first of a planned range of self-published and self-designed items on his new web site accuratedragster.com.

His new hardback book, titled Midnight Movers, is the first such item that is dedicated to images of trucks at night. The book, for sale at a special price of £25, is "dedicated to automotive imagery & replicas in scale". UK customers can order in time for Christmas, overseas customers can e-mail for a shipping quote.

Mark says "In the mid-80s I began taking pictures on film at night, mostly in the Midlands. It was a financial, physical and technical challenge between bouts of unemployment due to company liquidations. The average exposure for each picture was over 60 seconds. Many took five, ten or even 15 minutes duration, to interpret barely visible vehicles hidden in the shadows. These long exposures eventually revealed the subjects in rich, often surreal colours. The story of how and why the pictures were taken is described from Mark's perspective. Techniques are explained in detail alongside personal observations".

Mark was a drag race correspondent for Custom Car magazine for 25 years, is both a technical artist and model maker and has won awards for his designs and in 2015 received a BA Honours degree in photography from Birmingham City University.

As well as Midnight Movers, Mark intends bringing out a drag racing book later, and his manufactured models and scale model parts will be displayed on the site in due course.

Swift snippets.
18th December: Drag racing historian Nick Pettitt has uploaded three more videos from his Time Travel series to his Youtube site. Time Travel 39 is video footage from the Santa Pod 1983 International Cannonball Meeting, which was the subject of our recent feature. Time Travel 40 is again from Nick's own video filmed at the 1984 Easternationals at Santa Pod and the 1984 Springnationals at Long Marston Raceway. Time Travel 41 was filmed by Nick at the 1984 Cannonball Meeting at Santa Pod.

Our Kieran has uploaded to Youtube a video of what is probably the World's Fastest Mk1 Ford Escort, the Cosworth YB powered car from Lixxu Racing. Kieran says "Konrad D'Anastasi who is the resident Videographer at Hal Far Raceway allowed me to borrow his footage and create this video to show you some of the weekends highlights from the 2020 MDRA Finals". The footage, which you can see by clicking here, shows all the best runs from Europe's final meeting of the year.

FIA announce World Motorsport Council decisions.
17th December: Many thanks to FIA Drag Racing Commission President Lars Petterson for passing on details of the World Motor Sport Council's final 2020 meeting held yesterday via video conference.

The provisional calendar as announced on 26th November is confirmed, but will remain subject to conditions that permit the return of spectators to events being in place, due to the "overall economic position" of European drag racing.

As the FIA European Drag Racing Championship regulations were rewritten and reformatted prior to the 2020 season, and there were no events held in the Championship during 2020, only minor rule changes are proposed for 2021, being mostly updates to various safety standards and wording updates without changing the spirit of the regulations. The full regulations, including updated technical drawings and reconfirmation of the 0.22s handicap in Top Methanol, can be seen at this link.

March Meet moved to May.
16th December: Thanks to Nitro Revival sponsor Geoff Stilwell for forwarding an important announcement for those planning a trip from Europe to Famoso in March:

Auto Club Famoso Raceway officials in Bakersfield, CA have decided to postpone the 2021 Good Vibrations Motorsports March Meet, presented by Lucas Oil. The new date is set for May 27th through the 30th.

The Pandemic is causing a new wave of issues with regards to case counts, travel restrictions, business closures and stay at home orders. In all likelihood these issues are going to persist into the New Year. In response, the Famoso staff feels postponing the event is the best thing to do at this time.

Announcing the postponement now will give everyone time to arrange their travel plans and give everyone a chance to get through these unprecedented times. The event schedule will remain the same with a Test and Tune set for Wednesday May 26th and the event officially kicking off on Thursday May 27th.

All Race Entries and Full Event Credentials already purchased will be rolled over and honored during the new May date. Entries and Full Event Credential Sales remain open, so if you haven't secured your entry, you should do so now.

Anyone needing more information can call +1 844-34NITRO Or email Blake@FamosoRaceway.com.

The Famoso staff would like to thank everyone for their understanding with this tough decision, and hopes that everyone will be able to attend the newly announced date for 2021.

See you all at The March Meet in May!

2020 SPRC Perpetual Awards vote 2.
14th December: Santa Pod Racers Club and Eurodragster.com are again teaming up to give Eurodragster.com readers the chance of input to the SPRC Perpetual Awards. The location and date for presentation of the trophies will be announced in due course, as the SPRC Dinner Dance is subject to Covid restrictions being lifted.

For several of the 2020 season awards, a shortlist has been decided upon for which votes can be submitted by E-Mail. Nominations are now also being accepted for the Alex Brachtvogel Memorial Trophy. The votes of Eurodragster.com readers will be taken into consideration when the SPRC Committee decides upon their winners.

Today's category is Best Appearing Car. The SPRC Committee's shortlist, in alphabetical order, is as follows: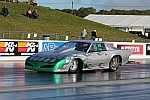 Ashley Bell
Another Small F Super Pro ET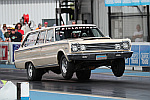 Dave Billadeau
NEM Plant Nostalgia Super Stock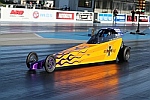 Luke Fulton
Lucas Oil Junior Dragster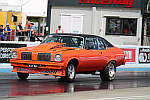 Clare Johnson
NEM Plant Nostalgia Super Stock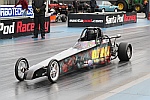 Mackenzie Love
Lucas Oil Junior Dragster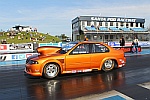 Chris Newsam
Modurstang Pro ET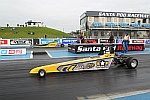 SPRC Junior Dragster
Lucas Oil Junior Dragster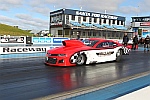 Bobby Wallace
Motorsport UK Pro Modified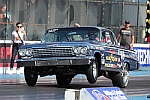 Dan Williams
Modurstang Pro ET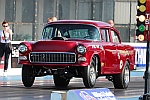 Nic Williams
Modurstang Pro ET

To place your vote, either click on a picture above or go to the official Perpetual Awards voting page which you can view by clicking here or by clicking on the SPRC Perpetual Awards vote link on the left-hand side of any Eurodragster.com page. If your device doesn't automatically generate an E-Mail then please E-Mail your choice to 2020sprcawards@eurodragster.com.
©Eurodragster.com
The Alex Brachtvogel Memorial Trophy, for which nominations are also now being taken, was first awarded to Santa Pod Racers Club's late Chief Marshal, Alex Brachtvogel, in 2001 to mark his outstanding contribution to Santa Pod Raceway and the sport as a whole. After Alex's death the trophy was named in his memory and continues to be awarded for contribution to drag racing. There is no shortlist for the Alex Brachtvogel award. Nominations are invited from Eurodragster.com readers for racers, race officials, track and safety crews, club officials, media, or anyone else who has contributed to the sport. Last year the trophy was awarded to SPRC marshal Alison Hackney. Again see the official page for more details or E-Mail your nomination to 2020sprcawards@eurodragster.com specifying SPRC Alex Brachtvogel Memorial Trophy nomination as the subject and your nomination in the body of the E-Mail.

For each of the Awards, one vote per E-Mail address per nominee will be accepted: multiple votes for the same nominee from the same E-Mail address will all be disqualified. Please note that blatant attempts at organising mass votes - for example asking workmates, forum members or Facebook friends to vote en masse - are easily identified and all such votes will be disallowed as they have been in previous years. Concerted attempts at vote-rigging will result in the nominee being removed from the shortlist whether or not that nominee knows what was going on. We know all the dodges so it's just not worth trying. If in any doubt about what constitutes canvassing then please drop us a line at 2020sprcawards@eurodragster.com.

Additionally, if anyone should have issues with the content of any of the shortlists then please contact SPRC direct rather than E-Mailing Eurodragster.com or commenting on social media. E-Mails to Eurodragster.com regarding the content of the shortlists will receive neither a reply nor any other acknowledgement.

The next voting category will be Best Appearing Bike.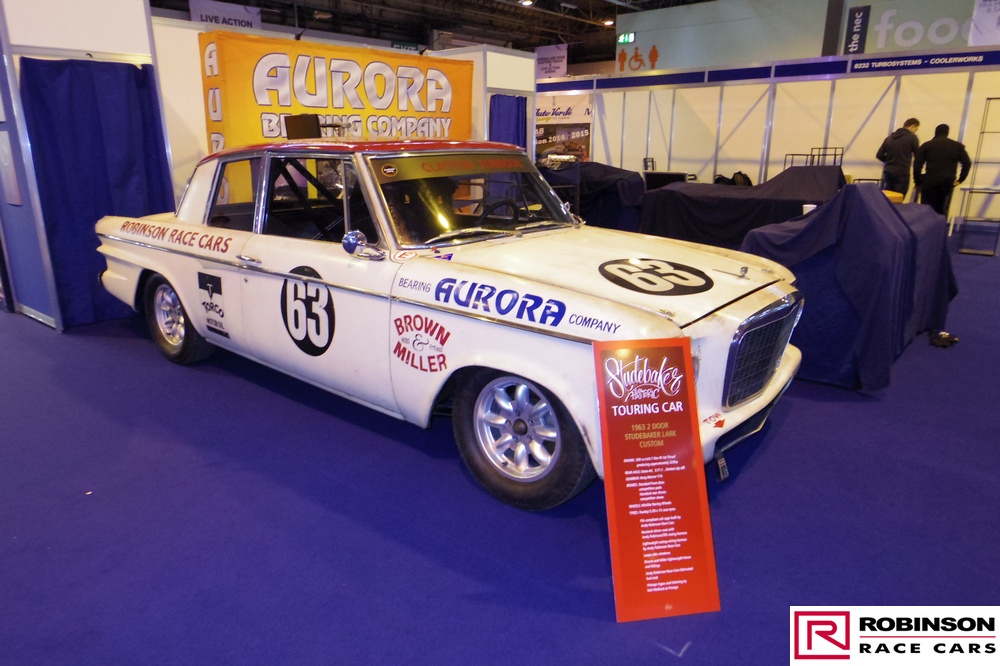 RRC build gallery - Studebaker Lark.
13th December: Bob Roberts has kindly sent a gallery of pictures taken by him whilst the build of a circuit racing Studebaker Lark took place at Eurodragster.com sponsor Robinson Race Cars.

Many people know that Andy Robinson's motor sport story began with marshalling at circuit racing. That history together with numerous visits to Goodwood planted the seed of wanting to build an historic saloon car. The project was developed by a consortium of Andy, Luke and Jerry Clayton and they were keen to find something different to the serried ranks of Cortinas and Falcons.

You can see Bob's gallery in our feature in association with Lucas Oil Products by clicking here or go to our Features, Interviews, Tributes index via the main menu.

Paul Whitehouse's new print.
12th December: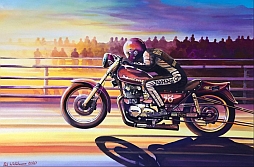 Thanks to drag racing artist Paul Whitehouse for letting us know about his latest project which you can order a print of:

"I've put the finishing touches to my painting of drag racing legend, and hero, Brian Johnson launching hard on his 1265cc 'Imperial Wizard' Kawasaki PSB. "Massive thanks again to Kelvin Fagan for letting me base the painting on his fantastic photo, and to Chris Johnson for supplying the reference photos of the bike as it appeared in November 81, as seen above.

"I will be having a limited edition, numbered and signed, print run produced with proceeds of this going to charity. Please message or contact me to register interest and reserve a print".

Neil Hunter tribute fund.
12th December: Thanks to Neil Hunter's widow Sue, daughter Chloe and son Alex, who have announced a tribute fund in Neil's name for their local hospice in Chesterfield:

We have set up The Neil Hunter Tribute Fund for Ashgate Hospicecare following us recently working closely with one of their specialist nurses and using the other services that they provide. If you wish to make a donation, please do so via this link in memory of Neil.

Swift Snippets.
11th December: We have three birthdays to announce; tomorrow is former Junior Dragster racer Lottie Bradford's 18th Birthday, Dad Mark Bradford says "Wishing you a very Happy 18th Birthday, Love from all the Family X" and we join that with best wishes for her move forward to bigger and faster things in racing. We have a birthday on the team today, Kieran reaches his quarter-century today and Diana, Kirstie, Julian and Simon wish him a Happy Birthday, have a great day mate. Also today is Santa Pod Raceway Events Manager James Forster's birthday, Happy Birthday James!

No Prep Nationals at Melbourne Raceway.
10th December: Thanks to Paul Marston Racing for providing provisional dates for two No Prep Nationals events planned for next year:

No Prep Nationals 4 and 5 will be held at Melbourne Raceway 2021. Our thanks to Trevor Duckworth and the Straightliners organisation, for inviting us to race at Melbourne in 2021.

The date for No Prep Nationals 4 will be June 19th Saturday and Sunday 20th, gates open from Friday 18th 5.00pm for pitting of competitors.
The date for No Prep Nationals 5 will be August 7th Saturday and Sunday 8th, gates open from Friday 4th 5.00pm for pitting competitors.

We reserve the right to change dates if needed by the track, but these WILL go ahead.

The classes we will run are Big Tyre and Small Tyre (10.5" max tread width). Full details of rules will essentially be the same as when we ran previously which will be reposted on our No Prep Drag Racing FB Page. Or I can email you a set of rules or call me.

You will naturally have to have membership with Melbourne's organising club (Straightliners). Yes there will be other classes to enter if you wish which are run by the track.

2021 will be a make or break year for Melbourne, due to this and Covid we need teams to pay deposit entry money as soon as possible to secure your spot. We only have a limited number of spots in both classes. So unless you have paid, I am sorry, but you are not entered. These are track rules not mine, they need to know you are coming. Dragstrips are a business, they have bills to pay and will be reinvesting in this facility for years to come. For entry forms, either message us thru the FB page or email pmdragracing@gmail.com or call/text Paul on 07831 650230.

The track is perfect for our style of racing, Heads Up, 1/8th mile No track Prep, professionally run with all the right staff.

Yes there will be the usual cash prizemoney for both classes in addition to some huge trophies in recognition of the time, money, skill, talent and effort it will take to win either class. Stay tuned to Eurodragster for developments and more news as it comes.

Autosport International spawns virtual show.
10th December:

The organisers of Autosport International stated this morning that details on the physical edition of Autosport International, initially scheduled for 14-17 January 2021 at NEC Birmingham, will be communicated in the coming weeks, and thanked exhibitors and visitors for their patience during these difficult times.

Meanwhile, Autosport International have announced that Autosport International (ASI) Connect, an innovative digital networking event for the motorsport industry, will take place on 10-11 March 2021.

The online-only event will harness the spirit of Autosport International, delivered in a digital format to bring together the motorsport industry in the safest way possible. From online seminars to networking, virtual round tables to an exhibitor and product marketplace, ASI Connect will be the place for both exhibitors and visitors of Autosport International to safely do business and keep up with the latest news in motorsport.

Trade registration will be free to attend and launching soon. Click here to find out more about ASI Connect, including exhibitor and sponsorship opportunities.

Swift snippets.
10th December: In the latest instalment of his autobiographical blog, John Hunt writes about continuing to work at Obsession Motorsports with Terry and Tina Gibbs in 2000-2001, and series organiser Tina Moore (formerly Gibbs) reflects on the Super Series almost twenty years on. You can read John's blog here or by clicking on Racer Blogs in the main menu. As an option, you can read John's blog in a first-to-last sequence which you can find by clicking here.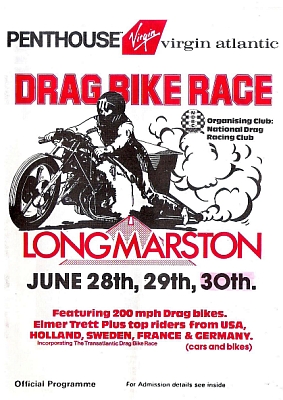 Feature: 1985 Penthouse/Virgin Atlantic Drag Bike Race.
9th December: For the 1985 running of the race previously known as the Transatlantic Drag Bike Race, organising club the National Drag Racing Club obtained sponsorship from Penthouse magazine and Virgin Atlantic airlines, resulting in a renaming of the event. The competitiveness of previous races was repeated, the Top Fuel Bike field headed by US legend Elmer Trett, there to defend his 1984 title (when he had run a track record of 7.24/197), with riders from Holland, Sweden, France and Germany hoping to win against him.

Thanks to the assistance of drag racing historian and director of the British Drag Racing Hall of Fame Jerry Cookson we have created in association with Lucas Oil Products our latest feature describing the event from archive sources with the full scanned programme and photographs.

To see any of our historic features please follow this link which takes you to our features, interviews and tributes index.

Drag-Seen available.
9th December: Drag-Seen is a collection of photographs taken during the summers of 2019 and 2020 at nostalgia drag racing events at Santa Pod Raceway by trackside photographer Paul Martin. Paul writes:

As a fanatical photographer with a passion for the cars and fashions of days gone by I set out to document not only the racing but the culture and the atmosphere of these events, by using original 35mm film cameras and digital cameras fitted with vintage lenses to make images that have an authentic aesthetic of photographs taken in the era when these cars were in their heyday.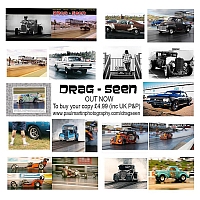 Sixty of these images featuring Outlaw Anglias, Gasser Circus, Nostalgia Superstock, RWYB and Wild Bunch are presented in the A5 sized 'zine Drag-Seen with an introduction by Niamh Frances Smith @racewayhussy. Drag-Seen is printed on quality silk 170gsm paper and wrapped in a 300 gsm cover and available for purchase for £4.99 (inc. P&P within UK) from paulmartinphotography.com/dragseen . Any profit from the sales will be donated to Cancer Research. I'm happy to post abroad, please contact me for pricing. The last posting day for Christmas delivery is 17th December.

Swift snippets.
9th December: Thanks to photojournalist Steve Moxley who has informed us that his 2020 NSRA Hot Rod Drags report is now live on Tim Hailey's EatMyInk web site.

Neil Hunter's Funeral.
7th December: Thanks to Sue Hunter for passing on details of Neil Hunter's funeral: "Neil's funeral will take place on Thursday 17th December at 2.30pm at Chesterfield Crematorium. Due to COVID restrictions, we are limited to thirty people with no wake. We are currently in the process of contacting the thirty, which is proving difficult with all of his friends. Next year we will have a celebration of Neil's life.

"There will be a live webcast which is also available up to five days after the funeral. The link is www.wesleymedia.co.uk/webcast-view and login details are ID 60273 and password xeatdnzh. We would like to thank everybody for their kind thoughts and memories of Neil".

Thanks also to those who sent tributes to Neil to Eurodragster.com. Robin Jackson writes: "Neil and his dad, Michael, were guests of the NHRA tour I ran with Trailfinders in 2006. I was delighted to have them along then and have enjoyed meeting, chatting with and cheering on Neil at the track ever since. With the loss of Stu Bradbury in July and now of Neil, this has been a sad year indeed. Please accept my condolences, Sue, Chloe and Alex".

Dave Catton also wrote: "Among my many friends from our world of drag racing , Neil was the brightest star, I'm so sorry the light has gone out. I will miss him".

Spy picture.
7th December: The below two pictures arrived at the offices of Eurodragster.com with the remarks: "I was the successful bidder, however sadly I can't start the engine because the rocker gear and pushrods are missing..."

If you know more, or if you would like to send your own spy picture, then drop us a line at editor@eurodragster.com.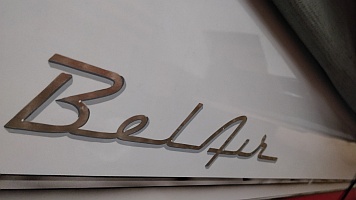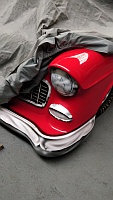 2020 SPRC Perpetual Awards vote 1.
7th December: Santa Pod Racers Club and Eurodragster.com are again teaming up to give Eurodragster.com readers the chance of input to the SPRC Perpetual Awards. The location and date for presentation of the trophies will be announced in due course, as the SPRC Dinner Dance is subject to Covid restrictions being lifted.

For several of the 2020 season awards, a shortlist has been decided upon for which votes can be submitted by E-Mail. Nominations are now also being accepted for the Alex Brachtvogel Memorial Trophy. The votes of Eurodragster.com readers will be taken into consideration when the SPRC Committee decides upon their winners.

Today's category is Most Promising Newcomer. Nominees for SPRC Most Promising Newcomer have impressed whilst contesting their first full season in a class or making their on-track début in 2019.

The SPRC Committee's shortlist, in alphabetical order, is as follows:

Jack Bishop, NEM Plant Nostalgia Super Stock
Vote for Jack Bishop

Luke Fulton, Lucas Oil Junior Dragster
Vote for Luke Fulton

Mason Griffiths, Another Small F Super Pro ET
Vote for Mason Griffiths

Carl Magedera, Hutchinson & Dibley Sportsman ET
Vote for Carl Magedera

Morgan Wilson, VW Sportsman
Vote for Morgan Wilson

To place your vote, either use the links above or go to the official Perpetual Awards voting page which you can view by clicking here or by clicking on the SPRC Perpetual Awards vote link on the left-hand side of any Eurodragster.com page. If your device doesn't automatically generate an E-Mail then please E-Mail your choice to 2020sprcawards@eurodragster.com .
©Eurodragster.com
The Alex Brachtvogel Memorial Trophy, for which nominations are also now being taken, was first awarded to Santa Pod Racers Club's late Chief Marshal, Alex Brachtvogel, in 2001 to mark his outstanding contribution to Santa Pod Raceway and the sport as a whole. After Alex's death the trophy was named in his memory and continues to be awarded for contribution to drag racing. There is no shortlist for the Alex Brachtvogel award. Nominations are invited from Eurodragster.com readers for racers, race officials, track and safety crews, club officials, media, or anyone else who has contributed to the sport. Last year the trophy was awarded to SPRC marshal Alison Hackney. Again see the official page for more details or E-Mail your nomination to 2020sprcawards@eurodragster.com specifying SPRC Alex Brachtvogel Memorial Trophy nomination as the subject and your nomination in the body of the E-Mail.

For each of the Awards, one vote per E-Mail address per nominee will be accepted: multiple votes for the same nominee from the same E-Mail address will all be disqualified. Please note that blatant attempts at organising mass votes - for example asking workmates, forum members or Facebook friends to vote en masse - are easily identified and all such votes will be disallowed as they have been in previous years. Concerted attempts at vote-rigging will result in the nominee being removed from the shortlist whether or not that nominee knows what was going on. We know all the dodges so it's just not worth trying. If in any doubt about what constitutes canvassing then please drop us a line at 2020sprcawards@eurodragster.com.

Additionally, if anyone should have issues with the content of any of the shortlists then please contact SPRC direct rather than E-Mailing Eurodragster.com or commenting on social media. E-Mails to Eurodragster.com regarding the content of the shortlists will receive neither a reply nor any other acknowledgement.

The next voting category will be Best Appearing Car.

Swift snippets.
7th December: Long time photojournalist on both sides of the Pond Andy Willsheer has penned an article for US web site Competition Plus titled The State of The Union for Santa Pod and European Drag Racing. In it he inteviews SPR CEO Keith Bartlett about the challenges the sport has faced in 2020, and is likely to face in the near future. To read Andy's article click here.



OA barriers broken - Down Under.
6th December: Australian racer John Willard yesterday broke a significant barrier which UK teams have been planning on doing for many moons. What's more, John is a fully paid up member of UK Outlaw Anglia. Colin Millar writes:

This story just epitomises everything that is Outlaw Anglia, even if it is the Australian branch...

I received a message on Facebook on Wednesday 26th November 2014 at 8.30am from a chap in Australia enquiring about the availability of a GRP Ford Anglia body. I was initially sceptical in fact I thought this guy is a rocket and one of the usual messages you get from people who really want to waste your time. I didn't really respond as I truly thought he is just going to wind me up.

How wrong was I and we engaged after some silver was passed over my palm and then i realised that this guy who I now knew was a chap called John Willard, "Big Willy" was his nick name, never found out why he was called that though.

The deal was done and I organised the manufacture of a complete body and stuck it all in a big box and off it went on its merry travels to Australia, door to door three and a half months before John managed to get his hands on it and break open the box, it was all good and it was time to press on with the new project.

As we spoke, which was always on Messenger, bearing in mind it's a 12 hour difference so it was either early morning or late at night and our relationship grew as did the engagement with others in Outlaw Anglia, a close bond developed between John and Mick Taylor and as time progressed with his whole family.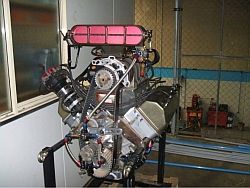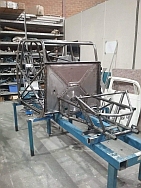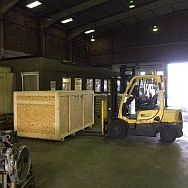 As you can see from some of the pictures the project developed and grew as time went by, John has his own company called Flat Out Services where he builds, alters and maintains many different drag racing race cars so the build time on the Anglia would only be when he had spare time like at nights and weekends, sometimes the car made great leaps forwards other times it was slow, often seeing little progress form month to month.

The actual body had huge changes made to it to take into account the Hemi that needed shoe horning in and all the small aerodynamic tweaks John had learned over many years of race car building.

The chassis was developed until there was a finished car on its feet with everything fitted, as a finished car should be, the next stage is it to take it all apart again and paint everything and put it all back together again, it sounds easy but it's one of the tasks that takes forever.

John had acquired a Brad Anderson 451 Hemi with a 14/71 Littlefield Blower, Brad Stage V Cylinder Heads, 3-speed Lenco with an auto trans, a combination that has so much potential as will be proved later on in this article.

It was very clear that John had a great passion for anything Anglia, Pop, Fordson van or Prefect, his previous build being a red Fordson van with a big lump and not too shabby on the track or on the road.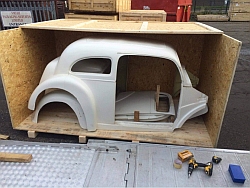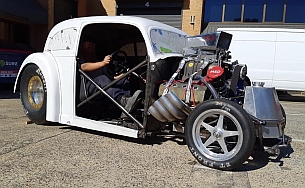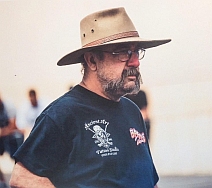 He had followed Outlaw Anglia for many years and probably knew more about the class and the cars than I did, he told me his passion wasn't really shared by his fellow Australians, and his ultimate dream was to build this car shake it down at Sydney Dragway and ship it over to the UK where he could run it with the gang who are the Outlaw Anglias.

Six years have passed and the dream has grown stronger and stronger, what drive, what enthusiasm to even consider such a plan.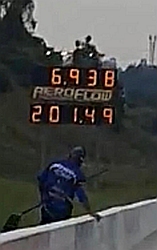 As the car developed and John's thirst for the class grew stronger his wife Margaret and John decided to take a holiday. I'm not sure how he sold it to Margaret but in 2018 over he came and met up with Mick Taylor for the Summer Nationals and ended up staying and crewing for Mick. A visit to Scotland to Edinburgh Castle, surfing at Newquay beech as well as a visit to the London Eye were all on their agenda and none of this was ever achieved as he helped Mick with the car getting ready for Dragstalgia and crewed for him here too, a true car guy, what do you think Margaret??

Early in 2020 John finally completed the car and duely named her the "Aussie Outlaw" with everything ready. Then COVID-19 came to his shores. As soon as there was some light at the end of the tunnel, Sydney Dragway decided to dig the track up as part of their overall facility upgrade. Finally, John had a chance to test the car on Saturday the 5th of December, excited yet anxious John set the car up to launch which was all good another run to the 1/8" mile was all good and then went for a full on run, the result a 6.938 ET at 201.49mph. What a result, what an achievement, I take my hat off to John's drive, passion and commitment and the results prove beyond any doubt his ability to deliver a truly fantastic Australian Outlaw Anglia.

It's early days, but we are in talks about bringing John's dream to reality, and for all Watch This Space". 2021 is going to be an exceptional season for all the right reasons. Take care be safe and look after the loved ones around you – and see you at the track!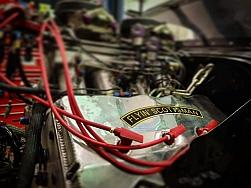 Scotty makes his move.
6th December: When we posted on 15 November that it looked as if an arms race was starting to emerge in Outlaw Anglia in the momentum towards the first six and first 200 in the UK, we had little idea what the next move would be. In the last few days it's emerged that 2019 series champion Scotty Crookston has acquired former Street Eliminator champion Colin Lazenby's 815ci Sonny's Hemi engine.

For the technically minded, this awesome power plant features an ex-IHRA Pro Stock Mountain Motor block with a five inch bore centre topped off by specially-developed Sonny's cylinder heads, first used by Colin Lazenby in 2008. The heads, the first truly new Chevy cylinder heads developed in about 40 years, were designed to ensure optimum combustion chamber and exhaust air-flow characteristics. They are said to combine the best properties of the wedge combustion chamber with intake and exhaust valves that were placed directly in front of the intake and exhaust runners.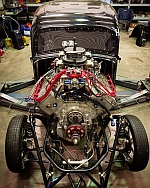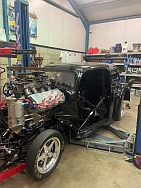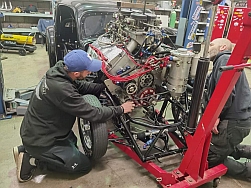 The engine was quoted by Sonny's at 1700hp naturally aspirated. Scotty is planning to run three stages of nitrous, which in terms of power, could mean the output exceeding 3000hp. In Colin Lazenby's car, with two nitrous stages, the best times were 7.6522 and 185.08mph. But Scotty's car is 1000lbs lighter than Colin's and so six second times will be likely – if the power can get to the ground.

To help this, the car is undergoing a thorough upgrade. Scotty said "A new four link setup from Tim McAmis is going in. There is a new, stronger converter and gearbox upgrades from Andy Frost. The car is going to Jedd Guy for new headers and other tweaks. Also my 'Stepdad' Colin (Millar) is wiring a new MSD and MSD module for me".

Who will be the first to record a UK Outlaw Anglia six and 200mph is the subject of hot debate. One thing is certain – the class will be one of the most anticipated for 2021.

Micallef elected President.
5th December:
Congratulations to former FIA Top Fuel Champion Duncan Micallef (aka The Maltese Lion - see pic) for being elected President of the Malta Motorsport Federation. In his inaugural address he said:

First and foremost, I would like to thank all those that encouraged me, congratulated me, supported me, and eventually chose to vote for me. After only a few days in my post, I decided to share with you what happened in these last two weeks.

On Monday 16th, I received a call from a friend of mine; he encouraged me to contest for the post of President of MMF, being a Monday for me it was already though. I thought a lot on it and after a few days, I decided that I should be responsible, not selfish, and offer to help. I took my chance on it. I knew it was a post that brings with it a lot of commitment, time, and tough decisions, but I knew as well that I could help Motorsports in Malta by serving in the Federation at this moment.

Then it was time to discuss it with my family and had the green light, (well sort of!). Immediately I started to meet the clubs, getting a good feel of the problems, and in which areas clubs need help, what they are expecting from the federation, and what need changing.

It was great meeting you all and getting to know you, but suddenly it was election day. Following some discussions, the clubs showed me their confidence, and my friend Tonio Cini told me to have his seat. At that time, I must admit, reality hit me and my first few words to myself were what did I do? As all those present realised, I did not prepare any speeches but in a humble way, all those present understood my message.

Only 24 hours later together with the other members of the administration, we had our first meeting. Straight away we discussed my plan and set an Agenda to why we are here. The first meeting was amazing, I was happy, during the meeting and afterwards, the team showed me a lot of respect and this is what we need if we want to move forward, RESPECT.

I guarantee you that during my Presidency everyone will be getting a lot of respect, but we need to change or maybe improve our mentality... The Motorsport community in Malta is not 15 or so clubs but one big team, only like that we can achieve, will achieve, everything that we have on our Agenda.

Malta Shark Attack.
5th December: Thanks to Simone from https://www.bikersworldheemskerk.nl/ Bikers World Heemskerk for her account of Team Shark Attack's visit to Hal Far for the Malta Drag Racing Association 2020 Finals: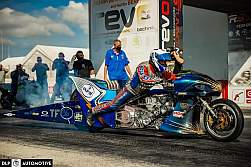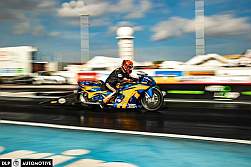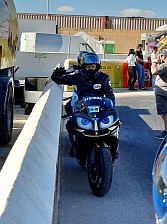 Since there are many restrictions with Covid-19 across Europe, racing has become almost impossible. However, Team Shark Attack found the opportunity to race at the Hal Far raceway in Malta. The entire team traveled to Malta to race the weekend of 13th-15th November. The Shark Attack drag racing team consists of:
Rene van den Berg: Top Fuel driver and crew chief
Helpers: Viep Bloemen, Jurgen Meure
Aswin Le Noble: Pro Stock Bike
Patrick Kras: Pro Stock Bike and Street Bike
Hannes Burgering: Street Bike
Patrick Lenaers: Streetbike
Anouk Burgering: Junior Dragbike
...and many helpers.

For René it was difficult to put down a full run as the track is actually not suitable for that. But in the end he did 2 full runs with a time of 6.6. It was super performance.

It was Aswin's 2nd event and his riding went beyond expectations. Aswin rode to some very good times in the sevens. Patrick Kras participated in two classes, Pro Stock Bike and the Street Bike. In he Street Bike he put down a personal best run of 10.1.

For Hannes it was his 1st weekend on his new motorcycle, a very good weekend to get to know the bike. Patrick Lenaers also came out on a Streetbike and gained a lot of experience this weekend.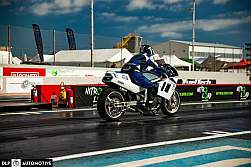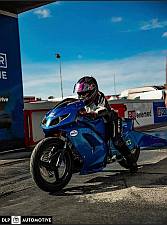 Anouk (8 years old) was able to put down many runs this weekend. With this she was able to gain a lot of experience and also drove a PB.

Everyone had a great weekend with great pleasure and would like to thank Malta Drag Racing Fal Har for their hospitality. We also want to thank our sponsors: Eurol Lubricants, Tijger Leaters, Do You Se Me and plumbing company van den Berg.

Swift snippets.
5th December: Keeping with the Malta theme, an edited highlights video of the Malta Drag Racing Association 2020 Finals has been placed on the Motors MT Youtube page which you can see by clicking here.

Our Kieran's latest Youtube upload is of a marque of car that is held in extremely high esteem in Malta and around Europe as well the Ford Escort. The video shows Kieran's own top 20 quickest Ford Escorts footage. Kieran says "I started my annual 'Quickest Ford Escorts' videos back in 2016. To bring you this years edition I went back through all my old footage, recorded all the sub 10 second Escorts and narrowed it down to a Top 20! The oldest clip you'll see in this video is from 2013 and it goes right up to 2019. These clips are purely the quickest Ford Escorts that I've captured on video myself over the years, there may be quicker times from these cars and quicker cars in other countries". It's a great watch and you can see it by clicking here.

UK drag racing historian Nick Pettitt has uploaded two more of his Time Travel series of archive cine and slide footage videos to his Youtube channel. Time Travel 34 uses Ron Clark's cine film and slides from 1972-1976 at Santa Pod, Blackbushe and Snetterton and Time Travel 35 uses slides and cine film from 1972 - 1975 at Santa Pod and Wroughton.

Neil Hunter.
3rd December: We are in shock at the passing of Neil Hunter aged only 57 from cancer. In October 2016 Neil wrote "Live life to the max, 'cos you really don't know what lays around the corner". He suffered from the disease for four years and put up a spirited battle, but we sadly lost him yesterday evening.

He was born in Sheffield and moved to Chesterfield where he became director of his firm Spirrac Limited, heating, refrigeration and air conditioning installation specialists. This occupation gave him both income and spare time to follow his drag racing passion.

Keen on customs from his teens and starting with a Morris Minor van (the same marque for his uncompleted 2020 lockdown project), Neil had his first Mk1 Capri in his early 20s and subsequently acquired another to be a project car. He paid a visit to York Dragway in 1983 and on seeing Phil Forth in his small block HA van, thought 'Wow, I need some of this!' Buying back his first Capri as a body donor, the car received firstly a Rover V8, and then, encouraged by Dave Grady, got a 440ci V8 engine and built a tube chassis in his lockup garage. Making its track debut in 1995, he called the Capri 'The Seven Year Itch' having taken several breaks from building it for family and business.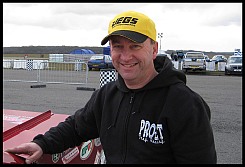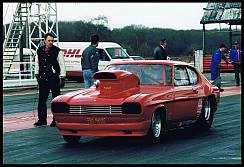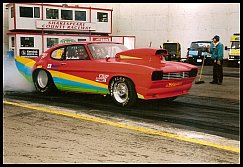 After several years at York, winning events and championships in Pro ET there, his first national championship race was in the 2002 Super Series at Shakespeare County in May following a recommendation from Spencer Tramm. His Capri was always immaculate and he loved running it in the face of any difficulties that occurred. For instance in 2008 qualifying at the Main Event, after an oil filter sheared off at 140mph, he suffered a fire in but showed no hesitation in repairing the electrics and coming back to win the first round of racing before the rains came.

In 2010 he imported a Jerry Haas-built Firebird and fitted it out with a new power train, bringing it out in Competition Eliminator and running bests of 7.75 and 174mph. The Capri, still looking immaculate after 22 years, had a complete rebuild and respray at the start of 2018. The rebuilt car had some success, winning Pro ET at the 2019 Summer Nationals, his other win being at the 2008 National Finals. He won the 2008 SPRC Championship and was runner up in the 2009 Pro ET National championship.

As well as running his cars at all three UK tracks, Neil helped out many other racers with their cars and he won the The Spirit of Pro ET for 2017 for his help and camaraderie in the class.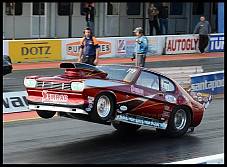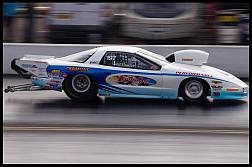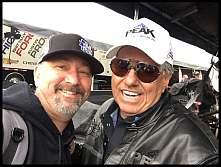 As well as the UK tracks, Neil enjoyed racing in Europe with his pals from Pro ET at Clastres and the Jade Race in Mariensiel, Germany 2019 being two examples.

Neil had a great sense of humour and infectious smile and was a master of banter. He was the life and soul of the party at the Pro ET bashes. Attending many car shows in this country such as Autosport International and Classic Motor Show, he also attended Hockenheim and many races in the US starting in 2006 at Pomona, Gainesville, Englishtown, Las Vegas, Texas Motorplex Orlando and Indy. In the past few years he collected an incredible number of selfies with stars of US drag racing and motorsports in general – all with his usual genial smile. Our deepest condolences go to Neil's family, wife Sue, daughter Chloe, son Alex, and all his relatives and friends in the racing community.

Editor's note: if you have memories or stories about Neil please send them to tributes@eurodragster.com and we will publish them.

Racers licence applications for 2021.
3rd December: Thanks to Santa Pod Racers Club Secretary Ian Marshall for sending an update on racer licensing for 2021:

SPRC now have 2021 ACU licence codes available for riders. These are a requirement for either the online or paper licence applications for all ACU and SPRC Championship riders, please just send a text or email to the SPRC office and we will get the code sent to you. Please note that each rider has an individual code.

The ACU are now taking applications for 2021 licences. ACU Riders with 2020 licences unfortunately will not receive a credit against their new 2021 licences; having spoken with the ACU they simply don't have the funds to be able to do this. FIM Europe licence holders will (if you have not already received it) be given a full refund on your 2020 licence, as there were no events available to you in 2020, and, just for the record, the funds for returning the licence fee don't come from the ACU but from the FIM Europe directly.

For Motorsport UK 2020 licence holders, we are still waiting on details of what if any credit will be available; licence forms and details of costs will be sent directly to current licence holders as normal. FIA licences will also be dealt with by Motorsport UK, in a similar manner.

For first time car class applicants, please keep an eye on the Motorsport UK licence page at this link; 2021 licence forms will become available very soon.

For first time, car racer applicants in 2021 or racers with lapsed licences, if you are to race in the UK only please apply for the RS Interclub licence, not the RS National that is listed as Drag, the RS National Drag is required for Racers wishing to race outside of the UK, and first time applicants may only apply for an RS Interclub licence until two race meetings have been completed under permit at a UK race track; if further clarification is required please contact the SPRC, and we will be happy to deal with your questions.

As many will appreciate, getting information at present from the governing bodies is somewhat difficult, and predicting the future is tougher than ever, however on a brighter note, Santa Pod Raceway will be releasing their 2021 calendar very shortly, and will give people the opportunity to start organising their 2021 season.

Drag racing at online race industry week.
2nd December: Although the US-based PRI show this year has been cancelled, on-line B2B platform Electronic Performance And Racing Trade (EPART) have stepped into the breach and are holding over five days, 150 Race Industry Speakers and 55 Hours of Live Technical and Business Webinars from leading suppliers and race industry leaders from around the world.

These seminars are via Zoom and you can catch the remaining seminars live over the next couple of days by registering at this link. As the seminars held using Zoom are recorded, each day in its entirety is being uploaded to the EPART Youtube channel.

Examples of talks that are of special interest to drag racers feature guests NHRA Stars and Champions, Antron Brown and Ron Capps, and Special Panel: Strategies For Being Race Ready Every Race — NHRA Crew Chiefs Discussion, including Bobby Lagana, Jim Oberhofer, Rahn Tobler, Nick Boninfante, and Kurt Elliott. Usual Zoom glitches occur at the start, but persistence pays off. WFO host and NHRA announcer Joe Castello is the moderator.

Swap Meet update.
2nd December: Activity on our Jeff Bull Race Engines-sponsored Swap Meet pages remains busy and we thought we would highlight a few items that have come in recently.

A fast road car that was owned by the late BDRHoF Chairman Stu Bradbury is for sale at a keen price. The Ford Focus ST170 has been maintained to high standards, has half leather seats and leather dash, and a full service history. Other cars for sale include a almost-new condition Tim McAmis Pro Mod and low cost alternatives.

Among the Parts Wanted section is a request for a big block Chevy engine block, also parts for a nine-inch Ford axle, small block Chevy engine components and Ford Pop E93A front wings. Perhaps readers might have these items gathering dust in their workshop?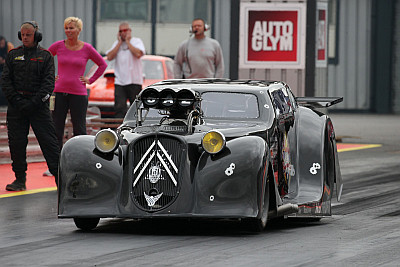 RRC build gallery - Bernard Saz's Hotröen.
1st December: Bob Roberts has kindly sent a gallery of pictures taken by him whilst the build of Bernard Saz's Hotröen Citroen Traction Avant took place at Eurodragster.com sponsor Robinson Race Cars.

RRC was commissioned to build a car based on a modified version of the team's unique Traction Avant body. The chassis is built in Pro Mod style; amongst design features of interest, Bob's photos capture the use of a laser to ensure correct alignment of the back axle with the engine. The final product looks suitably mean, and has run in the 7.1s/180mph.

You can see Bob's gallery in our feature in association with Lucas Oil Products by clicking here or go to our Features, Interviews, Tributes index via the main menu.

Swift snippets.
1st December: Thanks to photojournalist Steve Moxley who has informed us that his National Finals report is now live on Tim Hailey's EatMyInk with plenty of interesting snippets.

Ex-pat photojournalist Tony Thacker (to whom a belated Happy Birthday for Monday) has posted to his Torq Talk blog site an article by Nick Davies of I.C.E. Automotive on the drag racing history of Robin Read, in particular his involvement with nitro fuelled Daimler V8 engines, and his new car which finally achieved his 200mph performance objective at the 2020 Hot Rod Drags. It's a great read.

VP Racing Fuels consolidates UK operations.
1st December: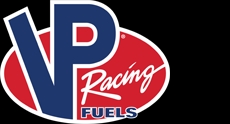 Eurodragster.com sponsor VP Racing Fuels, Inc., a global leader in performance fuels, lubricants, and additives, today announced the naming of Old Hall Performance as the exclusive authorized importer and distributor of their extensive line of consumer products, race fuels, Madditives®, coolants, oils and more.

"The timing is right to enhance the UK side of VP's European operations," said Peter Coleman, European Business Development Consultant for VP. "I am confident that the sales and marketing capabilities of Old Hall Performance, combined with its professionally-serviced extensive network of dealers, will deliver significant improvements into 2021 and beyond."

In a significant step in the UK market's ongoing development, established distributors Old Hall Performance and Race Fuel Logistics have worked with VP Racing Fuels to agree to a consolidation. This latest move will build on an already far-reaching network of dealers and partners throughout the UK to expand product availability even closer to the consumer. "This is a great opportunity for both VP Racing Fuels and Old Hall Performance to grow the market," offered Miles Corrick, OHP Sales Manager. "With our ready-made distribution network, we will be able to deliver a faster, more efficient, and comprehensive service to all UK race teams, competitors, and enthusiasts." VP products continue to be available at Santa Pod Raceway's on-line shop for collection only.

Additional information about VP and Old Hall Performance can be found at www.oldhallperformance.com with sales inquiries directed to Miles Corrick on 0246 717100 or sales@oldhallperformance.com. Account inquiries should be directed to accounts@oldhallperformance.com.

As VP's official European merchandise source, Mark Gardner of Race Fuel Logistics will continue to work as part of the VP family through MAXG Apparel that can be found at www.maxgapparel.com.

JT finds his engine company.
30th November: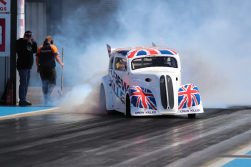 Pro Modified and Super Pro ET racer John Tebenham has named the engine building company he wants to partner with to replace his wounded motor from the 'Crew Killer' Pop:

"It seemed to take ages to find what I wanted for the little white Pop after the rod wanted out. I wanted an engine company who first understood estimating and what, if anything, could be saved from the hurt motor. I.C.E. Automotive were spot on and are just starting the new motor, with the same power output as we only want to run 8.90 . Also, they have expressed concerns about oil starvation so we are looking at bigger sumps. That's what I need, not only a great company but also why it went bang and how we can stop it doing it again. We have to win the burnout competition..."

JT also revealed that Luke Robinson will once again be helping JT running his Pro Mod next year. JT vowed "Both cars will be like new".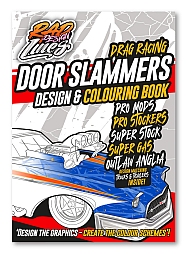 Power Race Graphics launch colouring book.
30th November: Darren West of Power Race Graphics writes:

I am very excited to announce the launch of our new sub brand 'RAD Design Lines'. The mission here is to excite and inspire young people to get creative, get into design and motorsport graphics and let their imaginations run wild!

The first product release is our design and colouring book - Drag Racing Doorslammers, the book features all of the favourite door classes on our own exclusive design and colouring blank template outlines. Just get the pens and pencils out and go crazy! The books are printed on high quality, heavy weight paper and feature a mix of cars and transporters to design the graphics and create the colour schemes for!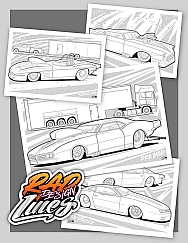 I know there are art and design mad kids out there (just like I was) that love the drag machines. When I was young, on the journey home from the drags, I couldn't wait to get back and draw the cars and the graphics. That passion stayed with me until I was finally in a position to have the freedom to do something with it years later with Power Race Graphics. The creation of this brand revisits those early years and RAD Design Lines will embrace all of the wild things on wheels that I've loved in life - drag racing machines, hot rods, bmx, skateboards and these themes will feature in the colouring books and related products.

Design and colouring book 2 (also drag racing themed) is well under way - more news on that will be coming very soon - so keep your eye on our social pages. We are developing an app too for the design and colouring templates to be uploaded for tablets, so it's not all about felt pens and crayons.

Book 1 - Drag Racing 'Doorslammers' is here, printed, packed and ready to ship! This is a cool christmas gift - so head over to the website www.raddesignlines.com before they are gone!


Custom Car Jan '21.
30th November: In the world of magazine publishing, where time passes apparently more quickly than for the rest of us, Custom Car has reached January 2021. And for several reasons, it's a (Christmas) cracker.

The cover car is none other than the Williams Bros Racing '55 Chevy, the nine-page accompanying article giving huge detail on the car built from a wreck imported from Texas, and a promise of features on other cars from the Williams Bros Racing stable in future issues.

There's a report on 'Not the Euro Finals' from Santa Pod Raceway including many pictures by our own Julian. In his 'Autofocus' series Keith Lee, drag racing historian and author of a forthcoming biography on Drag Bike legend John Hobbs, writes about rocket powered race vehicles that he has seen, starting with the Turbonique rocket powered go-cart of Alan Burgess, one of the forgotten stars of the 1964 Drag Fest.

To order a subscription to Custom Car, go to shop.kelsey.co.uk/subscription/CCA. Single copies are available at shop.kelsey.co.uk/issue/CCA. Availability is world-wide.

Pete Nee.
29th November: It's with the heaviest of hearts that Steve and Babs Saunders write about the sudden and tragic loss of their special friend and Crew Chief Pete Nee on Saturday 28th November 2020:

Pete and I had a love-hate relationship, Pete loved to shout and swear at me but mostly he loved to spend my money. I only hated him at times because Pete was always right!

Pete has been part of my life for so long, it's hard to pin a year when we first met, possibly 1979 or even earlier. We did the Cleveland Cruiser thing, wandering up and down the country going to custom car shows and rod runs, our favourite being the Supernats at Knebworth, then of course Old Warden.

When I built my '29 Roadster in the early 80's, Pete rebuilt the 289 Chevy and he and his brother Tom wired it for me. We lost touch for a couple of years and I started crewing for Flavell Brothers Racing, while Pete raced stock cars and then rallycross with Big Al.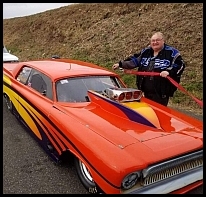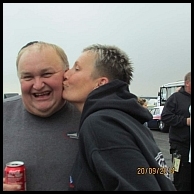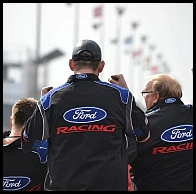 When I originally built the Zephyr, it had a bone stock Ford 460 in it with a glide. I called round Pete's to ask him to put the motor together. He always joked that he cursed the day he answered the door to me. Pete tuned the Zephyr down into the 11's and then he put it on the bottle and it ran 10.5's all day, every day. It was so much fun. Pete loved going Stateside. Pete and Tom, along with Ron, Lyn and Max from American Cylinder Inc built the Ford 572 that would propel the big old Zephyr down into the 8.4's at 160mph. Pete was so proud of this achievement, and so he should have been.

He would call me 'Driver' I would call him Crew Chief, but sometimes he would call me 'Monkey' - the monkey behind the wheel who got all the fun, while him, Babs and young Tom did all the hard work. Babs called Pete Mr Motivator, mainly because when I couldn't get my act together, Pete would pull me and the rest of the team around with his enthusiasm and dedication to racing.

It is no secret that of late, my enthusiasm of racing and, especially, my wallet were waning. Pete would drop by and we would bench race and reminisce and then he would whisper in my ear, 'Let's go Racing' - and we would. I am so glad we did because that is what we do. Rest in peace Crew Chief Pete Nee. Our racing life will never be the same again.

Our deepest condolences to Babs, Steve and all of Pete's family and friends.

Zeon DVD review.
28th November: When Zeon TV announced their DVD offerings for 2020 they had realised that with a truncated season there would not be enough material to fill complete discs. So Helen and Dave decided that retrospectives was the way to go. Zeon have up to 20 years of material available for a wide range of classes. But would the quality of the earlier years be good enough for discerning viewers attuned to 4K production? And would the clips included match up with our memories of past years?

The answer to these two questions is undoubtedly 'yes'. Zeon have the original tapes as recorded at the track and have re-mastered them for this year's DVDs using the latest video transfer software. In other words, the DVDs quality on these DVDs is actually better than the original DVDs you might have lurking in the corner of your living room or, worse still, workshop.

The extent of Zeon's archive is immense and the titles reflect the categories of the sport that have been the most enduring. Top of the heap performance-wise has to be Pro Modified. This goes right back to the start of the class being nominated as the British Drag Racing Championship in 2007- and as a bonus there is footage from the 2002 Euro Finals Friday night session including many cars not seen since in the UK. All the incidents we can remember are included, also pictures of the then-much-younger teams and interviews provide nostalgia of a different kind. Being in the UK's weather conditions, the cars move around a lot and action is often wild.

Hot Rods at Shakey concentrates on 2007 to 2014's NSRA Hot Rod Drags at Shakespeare County Raceway with a final section looking at 2015 to 2017, when the track closed. This gives the opportunity to see things as they were more than a decade ago at the much-missed track. Original commentary is used and many classic hot rods are displayed, many making runs down the Warwickshire quarter mile. As usual there are plenty of pit shots, hundreds of hot rods being packed into the two hour running time. The producers have taken great care to avoid repetition of cars, so the variety is awesome. Footage from the 2009 Nostalgia Nationals and the cruise from the 2010 NSRA Hot Rod Super Nats from Old Warden is included. Commentary is provided by Paul Venners.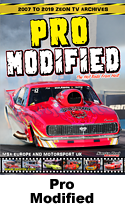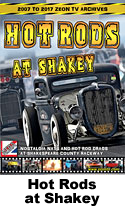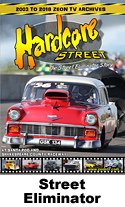 (please click on each photo to be directed to the Zeon web site page for that respective DVD)

The longest period covered is 20 years in Hardcore Street, an examination of Street Eliminator over the years. The number of cars again is breathtaking, all being street legal. By the second half of the 2000s turbo setups had caught on and times by 2006 had gone into the sevens. Drivers are shown running their cars on the road, and at the track there are some scary incidents with the street tyres struggling for traction. Car debuts aplenty and class leaders fighting it out over the years are the main themes. Other features are the tyre wars, mechanical improvements for many runners and championship dramas.

The Mopar Euronats DVD covers 19 years of the event which has been run by the same independent committee from which we sadly therecently lost Tony Oksien. Features include the cruise and some wild action on the streets around Avon Park Raceway in 2000 and Santa Pod Raceway from 2001 onwards. The burnout competition has also been a constant feature. Mopars have been the predominant marque at the race, but not exclusively which lends more variety. Over the years there has been introduction of race classes such as Pro Modified which run a round of their championship there. The event expanded so that the show and shine became one of the largest in Europe.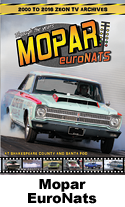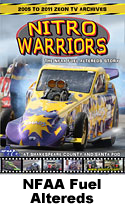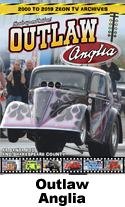 The DVD Nitro Warriors provides highlights of the Nostalgia Fuel Altered Association between 2005 and 2011 when it was at its peak, and action from 2014 when Rat Trap and Pure Hell came over from the US with their respective crews. The DVD is dedicated to the memory of much-missed NFAA founder Lawrie Gatehouse who sadly passed away in July. Before the class being established, cars had run in pairs but the injection of enthusiasm and sponsorship led the class to expand to fields of up to eleven cars. Burnouts and racing are equally spectacular, with a number of incidents, all of which are fortunately injury free due to excellent safety equipment. Bonus footage of nitro fuelled slingshot dragsters is included.

Finally, Outlaw Anglia covers 19 years of the development of a class that has had its origins in the Gassers of the 50s onwards in the USA. The class has always been well populated and as is often the case in the sport, the quickest cars get quicker still and their drivers remain in the sport for quite a period. It is fascinating to see this class develop with more and more cars running in the seven second bracket as time has gone on. With short wheelbases and engines of over 1000hp, the action on the track is wild, and there has been a hard fought championship thanks to the organising skills of Paul Wright and his successors.

Bryn Lucas provides an overview of the action for this series of DVDs, whilst original commentary is included to give the viewer detailed information. Massive congratulations must go to Zeon TV, their camera operators and other contributors for making six DVDs of such high quality. The DVDs can be viewed anywhere in the world as they are region free.

DVDs are available individually for £14.95 plus postage and packing, or there are several offers on the web site www.quartermilehigh.com which enable you to get them for £10 each as long as you order at least five DVDs. Postage and packing to the UK or Europe is a fixed £1.50 and for other territories £1.75.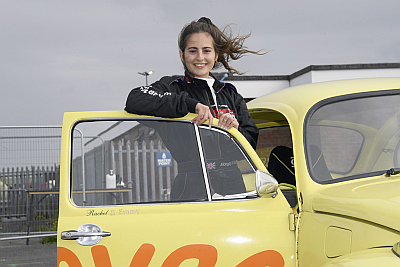 Feature: Morgan Wilson, 2020 VW Sportsman winner.
27th November: Morgan 'Emmy' Wilson, daughter of drag racing parents and sister of current (at the end of 2020) Junior Dragster racer Caitlin, has a solid racing pedigree. Her parents, Rachel and Duncan, raced through the 1990s. In Junior Dragsters, racing for nine years, her best championship results were fifth in 2014 and 2015 and she was winner at Hockenheim in 2017. Today's feature, written by former Eurodragster.com photo editor Roger Gorringe, profiles the family's racing history and Emmy's 2020 introduction to VW Sportsman racing, in which she took the UK Covid Cup title less than two months after her class debut.

You can see our feature, sponsored by Lucas Oil Products by clicking here or clicking on the Features, Interviews, Tributes link in the main menu. Thanks go to Roger for supplying copy and photos, and Happy Birthday to Rachel Wilson, team mum, whose special day it is today.

2021 FIA Calendar.
26th November: Thanks to Drag Racing Europe Chairman Keith Bartlett for sending the FIA championship dates for next year:

DRE in conjunction with the FIA is pleased to announce a six-round championship calendar for the 2021 FIA European Drag Racing Championship (EDRC). This is subject to the final approval of the FIA World Motor Sport Council (WMSC) when it next meets in mid-December. The calendar is released with the assumption that COVID-19 restrictions are making it possible, e.g. allowing travel, spectators at events.

The FIA European Drag Racing Championship will return to competition in 2021, having been forced into a one-year hiatus, due to the effects of the COVID-19 pandemic. DRE has worked closely with the track organizers and the FIA to put together the 2021 calendar. We all look forward to being able to return to a full FIA European Drag Racing Championship in 2021.

The Championship rounds will be as follows:

Rnd 1. SANTA POD RACEWAY (UK) 28th-31st May
Rnd 2. TIERP ARENA (SWEDEN) 10th -13th June
Rnd 3. *KAUHAVA (FINLAND) 8th -10th July
Rnd 4. TIERP ARENA (SWEDEN) 12th-15th August
Rnd 5. HOCKENHEIM (GERMANY) 27th-29th August
Rnd 6. SANTA POD RACEWAY (UK) 9th -12th September
* Limited to TF and PM only

While the announcement of the calendar is the first step in the process, it is important to stress that conditions that permit the attendance of spectators to return to events will need to be in place for any of the competitions to go ahead.

All rounds originally scheduled on the 2020 calendar will return next year, with Finland's Kauhava also coming back to the FIA EDRC schedule following its 2019 debut to bring the number of events to six. The Finnish event will however be open to only the Top Fuel and Pro Modified categories, while all four FIA EDRC categories will run at each of the other five rounds.

See you all at the track.

Swift snippets.
26th November: We would like to wish a Happy Thanksgiving to all our U.S. readers. Have a great day everybody!

In his latest Youtube update, our Kieran has posted a video of the Top 20 Doorslammer runs he has footage of. Kieran says in 2019 we were lucky enough to have a Swedish invasion of Top Doorslammers, although they look like a Pro Mod from the outside there's a fair amount of differences and back in Sweden they run to the 1/8th mile - all runs in this video are full 1/4 mile. To see Kieran's video, click here.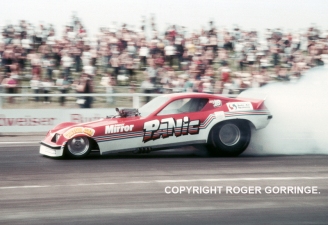 Feature: 1983 Cannonball.
25th November: Santa Pod Raceway and organising club BDRA staged the third Cannonball on the weekend of 2nd-3rd July 1983. The event was sponsored by Budweiser and featured eight of Europe's top Funny Cars. The weather was scorching hot. Whilst the field overall was smaller than it had been for the previous two events, the quality of the entry was great and there were several outstanding performances from the eight funny cars present. Jerry Cookson described it for Motoring News, "The roughest and toughest mile long Funny Car classic ever seen outside the United States".

Our latest historical feature, supported by Lucas Oil Products describes the event in detail and includes over 40 photographs from it as well as a full scan of the event programme and links to video coverage by drag racing historian Nick Pettitt. We are grateful to drag racing historian and director of the British Drag Racing Hall of Fame Jerry Cookson for supplying archive material. You can see our feature by clicking here or by clicking the features, interviews, tributes link from the main menu.

Photo of Cannonball winner Gary Page in Panic © Roger Gorringe.

Musical chairs in UK Pro Mod, part 1.
23nd November: The ownership of two cars that were active in the Motorsport UK British Drag Racing Championship during the second decade of the 21st century has changed, allowing one team to pursue their goal of running a 6 second pass and the other to step up in the class.

Harrison Brown of Thatadoo Racing announced on Facebook that their team had acquired the '67 Chevrolet Camaro of Mick Payne. Harrison continued "The plan is to put our 706cu engine in it, which is currently running in our mild steel chassis Camaro. We do keep speaking of building another engine, but for the time being, we feel the 706 is the easiest and most affordable option for us. The main reason for the change is because the current Super Pro car is running right on its 7.50 tag. The new car won't be ready for a little while so we will stick with the mild steel chassis car for another year or two."

"To compete in Pro Mod at a European round at Santa pod would be our ultimate dream, however, realistically it's more likely that we will pursue our main objective of running a 6 second pass in Super Pro ET, even better, to do it consistently. We are aiming to keep the car Pro Mod legal to the best ability we can, just in case the opportunity does arise to have a go in the class, but with saying this, we would never be competitive among the other Pro Mod racers as our budget would not allow, it would purely be for the privilege of saying we had competed with in the class."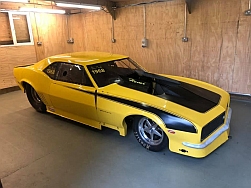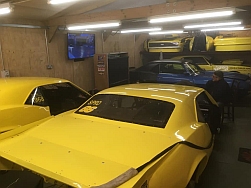 This is the fourth Camaro owned by Thatadoo Racing, based in Devizes, Wiltshire and the second that has seen Pro Mod service with Gordon Appleton. After several years of RWYBs, the original Thatadoo Camaro has raced in Super Street and Pro ET since 2002 driven by Harrison's Dad Ian and, from 2005 by Harrison as well. Team Mum Ozzie joined in with a stock '69 in Sportsman ET in 2012-14, later racing in Nostalgia Super Stock. Harrison started his racing career in 2004 in Sportsman ET, then progress on to Super Street a couple years later, winning the UK National Championship in 2013 and then competed in 9.50 Bike in 2014, and in ET Bike in 2019 and 2020.

The team made a move into the quicker classes in 2016 after having the ex-Gordon Appleton mild steel chassis Pro Mod rebuilt, running it in Super Pro ET from the Euro Finals that year with Ian as the driver. This car, with Ian at the wheel, has run a best of 7.52 at 180mph. The whole family works on the multi race car team together and, with over 30 years' experience in the sport, have a great base to progress with their new car.

Musical chairs in UK Pro Mod, part 2.
23nd November: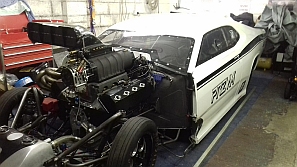 Only a matter of minutes after Harrison Brown's announcement, Pro Mod racer Mick Payne posted a photo of the car he has bought, one which was built by a UK constructor and has run as quick as 6.439/226.

The car in question is the Plymouth Duster built by constructor and Eurodragster.com sponsor Chris Isaacs for the Isaacs & Tramm team. With its previous twin turbo setup, the car made its debut in 2014, coming fourth in the championship in that year and fifth in the following year. Mechanical problems with the power train saw the car sidelined for much of 2017 and the start of 2018. The team persevered and the car had its first win in the 2018 National Finals against Andy Robinson.

The picture posted by Mick shows the car with his supercharged Hemi engine installed where the twin turbo had previously resided. Mick has placed his drive train from his previous Camaro into the Duster including the engine and clutch operated Lenco gearbox, although a Bruno Lenco torque converter setup may be run at a later stage.

Mick acquired the '67 'Wheelgame" Camaro from ex Pro racer Gordon Appleton who retired after 2007, and raced it in 2011 when he licensed and then took a few years off for business, returning with upgrades in 2015. With Mick's blown combination the car ran a best of 6.714/201 in 2019. Mick's best championship placing with the car was fourth in 2017.

Zeon's retrospective DVDs released.
22nd November: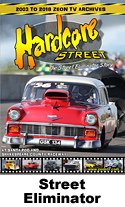 Six exciting brand new DVDs from the archives of Zeon TV show some of the best UK drag racing action from the last 20 years at Shakespeare County Raceway and, of course, Santa Pod Raceway. (please click on each photo to be directed to the Zeon web site page for that respective DVD)

Zeon TV started filming drag racing in the year 2000 and, with it, Custom Car Street Eliminator immediately caught the eye of producers Helen Todd and Dave Coleman. In 2003 Zeon filmed the season review DVD Hardcore Street for the first time, and continued to film Topspeed Automotive Street Eliminator up until 2018. This DVD brings you all the highlights from those 15 years - the thrills and spills, the records, the cars and stars that came and went, and some of the most mind blowing drag racing you could ever wish to see...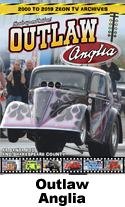 Outlaw Anglia was filmed by Zeon for 19 years. Mean handling, heads up racing from short wheel base cars, and drivers born to entertain – what's not to love?. Zeon has gathered archive Outlaw Anglia material together onto one full action, fast paced DVD with more than 2 hours of wall to wall action. You can see just how far the class progressed in almost two decades. With quarter mile times almost down to 6 seconds, at speeds approaching 200 mph, Outlaw Anglia shows no sign of slowing down. It's one of the hottest tickets out there, so here's to the next 20 years...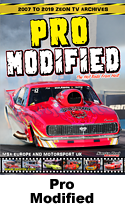 Pro Modified are the ultimate doorslammer cars on the planet and Zeon have filmed them for more than a decade, Twin turbos, superchargers and monster nitrous engines, these cars can cover the quarter mile in just 5 seconds with speeds reaching 250 mph. With this level of power, things can go very wrong, very quickly, and it takes a fearless driver to try and tame the beast. Filmed exclusively at Santa Pod, the home of European drag racing, this DVD brings you year by year highlights of the MSA (Europe) and later Motorsport UK British Drag Racing Championship for Pro Modified. The records, the career defining moments, the thrills and spills, all packed into one wild DVD.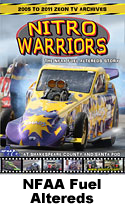 The creation of the Nostalgia Fuel Altered Association was an exciting time in British drag racing, and Zeon were there to film the action right from the start way back in 2005, producing the annual season review DVD Nitro Warriors up until 2011. The class was instantly a fan favourite. Huge engine, short wheel base, shed loads of attitude, heading any which way but straight - this is what fuel altered racing is all about. 6 seconds, 200 mph+, unpredictable to the extreme - you can't take your eyes off them for a second! Lawrie Gatehouse and Ollie Burn knew what they were doing when they set up the class, and UK drag racing was so much richer for it.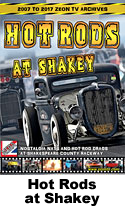 Shakespeare County Raceway was for so many years the spiritual home of the NSRA Nostalgia Nats and Hot Rod Drags. Zeon first filmed Hot Rods at Shakey back in 2007, and were immediately blown away by the eclectic mix of vehicles that packed out this much loved venue. The pairing lanes to run down the historic quarter mile were full to capacity, and wherever you looked there was something else to catch the eye. So many historic cars, bikes and dragsters took to the track with hot rods squaring off against classic American muscle cars, dragsters grudge racing historic funny cars in the Run What Ya Brung, and who could forget the spectacle that was the Flathead Meltdown?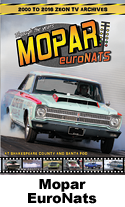 Zeon first filmed the Mopar EuroNats way back in the year 2000 when it was held at Shakespeare County Raceway. Moving to Santa Pod Raceway it developed into one of the biggest and best muscle car drag racing events in the world, attracting cars and teams from across Europe. Wild Friday night with the tyre smoke hanging in the air outside the Priory Pub, the legendary burnout competition, the always entertaining wheelie contest, and championship drag racing from the likes of the UK Power Tour, and MSA Pro Mod. he mix and quality has always been astounding. Drag racing and big old American muscle cars will forever go hand in hand. It's a formula that's worked for more than 25 years.

These DVDs are available individually for £14.95 plus postage and packing, or there are several offers on the web site www.quartermilehigh.com which enables you to get them for £10 each as long as you order at least five DVDs. Postage and packing to the UK or Europe is a fixed £1.50 and for other territories £1.75.

We will be reviewing this year's DVDs and will publish the review shortly, however from previous year's viewings, quality is assured.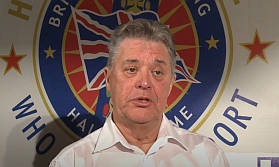 Stu interview on video.
21st November: Today would have been the British Drag Racing Hall of Fame Gala evening, incorporating the usual ceremonies for new inductees and an opportunity for those attending to socialise in time-honoured fashion.

This year, however, is sadly different for two reasons: the BDRHoF lost its founder and Honorary Chair Stuart Bradbury in July, and the Covid-19 pandemic has resulted in the cancellation of this year's Gala. In the absence of the Gala, the board of directors of the BDRHoF and its advisers have suggested that all who knew and loved Stu raise a glass to him this evening.

With the kind permission of Stu's widow Beverly and daughter Genna, an interview with him, which was filmed at the 2015 Gala, has been uploaded to the BDRHoF Youtube channel which you can see by clicking here. Many thanks go to Julian Parsons and AMP Audio Solutions for producing the video.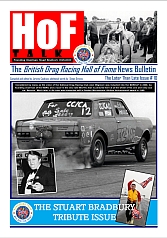 HOFtalk 10 published.
21st November: The British Drag Racing Hall of Fame have announced the publication of the latest edition of the British Drag Racing Hall of Fame news bulletin HOFtalk.

In HOFtalk 10, compiled and edited by Jerry Cookson with additional words by current Eurodragster.com editor Simon Groves, we meet the new Honorary Chair of the BDRHoF, Lesley Wright, and celebrate the new inductees to the BDRHoF. The Gala dinner at which the 2020 inductees will be presented will provisionally take place on 20th November 2021, delayed by a year as a result of the Covid-19 global pandemic.

HOFtalk also reflects on those that we have lost this year, especially BDRHoF founder and Honorary Chair Stuart Bradbury, BDRHoF member and Fuel Altered exponent Lawrie Gatehouse and others who have passed away in this extraordinary and sad year. We also turn the clock back to the inductees in 2008 and to an interview conducted by Simon with BDRHoF members Clive Skilton and Carl Olson, with the late Mike Kuhl, in 2014.

To download a copy of HOFtalk 10, please click on this link to the 37MB pdf file.

No-prep at Melbourne.
21st November: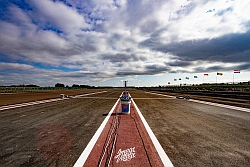 Organiser of no-prep events Paul Marston has announced there will be two such events taking place at Melbourne Raceway in 2021:

No Prep heads up, 1/8th mile drag racing returns in 2021 at Melbourne Raceway, the dates are June Saturday and Sunday, dates TBC, and August Saturday and Sunday, dates TBC. Dates will be confirmed 100% in the next couple of weeks. Anyone wishing to put their name down as a provisional entry please contact Paul via the No Prep FB page, email pmdragracing@gmail.com or call/text on 07831 650230. We need to gauge the interest so as to book the spots with Straightliners (the organising body at Melbourne). Looking forward, we have to assume that even in 2021, there will still be rules and conditions to adhere to due to Covid.

In an upgrade to our previous events, this will be a two day deal, we will be on track both days and Friday arrival will be available subject to pre entry. The format is still being finalised but for the first one, it will be based around North v South, heads up 1/8th mile doorslammer action, bring everything you have got. As has been seen many times before, it's not always the car with the most horsepower that wins, its often the team who are the cleverest and use what they have most effectively who win on a No Prep surface. There will be some nice prize money up for grabs, and proper Trophies. As always, other than safety, there are no rules.

The second event will be a No Prep Nationals with two classes, Big Tyre and Small Tyre. All our events will run alongside the usual Melbourne Raceway classes.

Just as important, you will be supporting Melbourne Raceway, we as a sport need Melbourne Raceway to be successful in 2021, it is essential for its long term future. So put the dates in your diaries for 2021. Many thanks to Trevor Duckworth and all the Straightliners team for giving us the opportunity to hold our event there.

Anyone who wishes to get involved with us regarding sponsorship and support, we are always on the end of the phone and are ready to listen.

Happy 90th John Bennett!
20th November: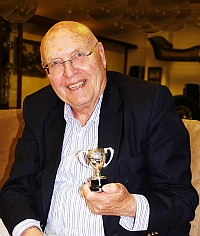 We would like to wish founder director of Santa Pod Raceway and member of the British Drag Racing Hall of Fame John Bennett a very Happy 90th Birthday today (20th November).

To celebrate John's birthday, we publish today for the first time an interview with John conducted by your editor with John Woolfe Racing Managing Director Dave Riswick which took place in 2015. In it John talks about his background, his involvement in drag racing and hot rods, his company Spa Engineering and how he and four other individuals came to find Podington Airfield and transform it into Santa Pod Raceway in 1965-66.

Fellow former director of Santa Pod Raceway and member of the BDRHoF Roy Phelps writes:

The history that made the future of Santa Pod and drag racing across Europe

Who were the original five directors of Santa Pod Raceway?

John Bennett – the original co-ordinator in the development of SPR. John, whose father married into the Phelps family, was by far the most knowledgeable at understanding the requirements of the motorsport governing bodies in bringing together car and bike racing at the same events.

Bob Phelps - the man who did so much of the hard graft of building and construction of SPR, who could always be seen with a welding torch in his hand, who constructed the start-line tower and crossover which still stands today. Also the finish line gantry which was only recently replaced.

Ted Peddle - an integral part of Spa Engineering and Fibre Glass Repairs, who helped produce the financial platform to enable SPR to take off.

Roy Phelps - son of Bob Phelps, who became the main promoter of SPR up until 1995, was responsible for the appearance of both fuel and jet cars, and developed the events which were forerunners of those taking place today.

Ernie Braddock - along with his son known as "young Ernie" played an important part as one, being the landowner and at the same time providing the heavy equipment that started the building of the earth banking and other track work.

You can see our interview with John Bennett, sponsored by Lucas Oil Products by clicking here or clicking on the Features, Interviews, Tributes link in the main menu. We would like to thank not only John and Dave, but also those who helped provide information and historic photos for us to use in the feature.

Attention SPRC Perpetual trophy holders.
19th November: Santa Pod Racers Club Secretary Ian Marshall has been in touch to request that current SPRC Perpetual Award trophy holders return the trophies. Trophies can be returned either to the SPRC (P.O. Box 12, Rushden, Northants, NN10 0AY) or to Santa Pod Raceway (Ian Marshall c/o Santa Pod Raceway, Airfield Road, Podington, Nr Wellingborough, NN29 7XA). It would be appreciated if the holders could also send Ian a quick email to ir.marshall@btconnect.com or text message just to let him know the trophy is on its way and where it will be arriving.

Swift snippets.
19th November: In the latest instalment of his autobiographical blog, John Hunt writes about continuing to work at Obsession Motorsports with Terry and Tina Gibbs in 1999, including the establishment of Junior Dragster racing in the UK that year, and behind the scenes at the annual APIRA Super Series Championship Presentations and Dinner Dance evening. You can read John's blog here or by clicking on Racer Blogs in the main menu. As an option, you can read John's blog in a first-to-last sequence which you can find by clicking here.

Drag racing historian Nick Pettitt uploaded two more of his 'Time Travel' series of videos of historic British drag racing footage to Youtube. This week he has uploaded his own cine film taken at Santa Pod Raceway in 1981-82 as Time Travel 30. The focus then switches to Hot Rod meetings at SPR with Nick's cine film of Gary's Picnics from 1979, '80, '81, '83 and '85 at Santa Pod in Time Travel 31.

Malta Finals coverage, PBs.
16th November: The light conditions on Malta make for great photos and we've highlighted the best from this year's final event at Hal-Far, held in sunny mid 20C temperatures.

Automotive photographer Dylan Darmanin, in only his second year of professional photography, has posted his photos of Friday and Saturday to his web site and you can see a variety from all classes. Long standing Malta motorsports photographer Alex Buttigieg has posted a Facebook gallery of his pictures from the weekend.

Video of the event can be see in its entirety on the Motorsmt Facebook page and MDRA secretary Konrad d'Anastasi posts his videos of individual runs to his Youtube page, with playlists of completed events. He has uploaded playlists for Friday and Saturday.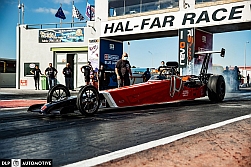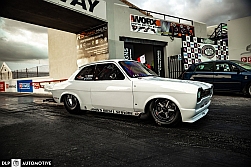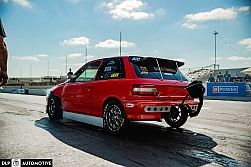 Some individual performances at the event were outstanding. The Honda K20 turbo powered dragster of Miguel Montebello (above left) ran a 6.392/202.73. Clint Fenech driving his Cosworth YB-powered Mk1 Escort with Smooth Racing (above centre), broke his previous 7.25 PB three times over the event, ending with a best of 7.053/193.08 (1.077 60ft).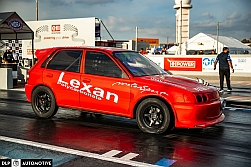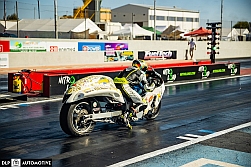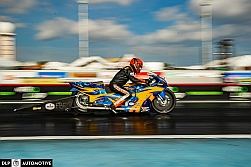 Photos all © DLP Automotive

In the Front Wheel Drive class, there were several new PBs which we list below:
Jonathan Grech (Toyota Starlet, top right) 9.564/150.25 (2nd in FWD class)
Martin Vella (Toyota Starlet, above left) 9.816/140
Wayne Scicluna (Toyota Starlet) 10.081/138.37
Glenn Busittil, (Toyota Starlet) 10.13/143 (winner in Super Modified 3 class)
Jurgen Debono (Honda Civic B16) 10.144/142.46
In the bike classes, Franklyn Borg won both Open and Outlaw classes, utilising a new MaxxECU, with tuning from Simon Giordmaina, running a best of 7.07/202 (his PB of 6.916 recorded at the 207 Euro Finals). (Pictured above centre: Joseph Grima, Open and Outlaw Motorcycle).

Also in bikes there was a group from the Netherlands including Rene van den Berg running four passes on his Top Fuel bike, the best being 6.4 and 6.8, with Aswin de Noble (above right) on a Pro Stock Bike for the first time with a 7.7s timing slip.

Moore power for Jedd.
15th November: Thanks to Outlaw Anglia committee member Jemma Guy for letting us know that she and husband and Outlaw Anglia racer Jedd, of Eurodragster.com sponsor Shorty's Fabrication Shop, have bought Roger Moore's ex-Roger Johansson 732ci nitrous engine out of the Roger Moore Race Team Viper Pro Mod.

Jemma said "We're so excited to finally reveal this. Back in summer when it came up for sale, we had discussions with Jeff Bull and we couldn't resist taking the leap and buying it!

"The engine fits like a dream and we're now working away getting it ready for next year. Jedd's built a new fuel tank and is making a new radiator to fit, we've also made a new hood scoop from scratch to fit the twin throttle bodies. After Christmas, the car will also be off to get a new paint job. "We are so so excited to show Shorty's new look next year. Jedd will have his work cut out as he will be tuning three of the five Outlaw Anglias competing for the class's first six second run next year!"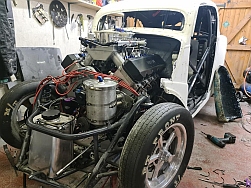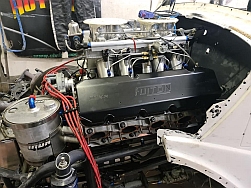 With new builds and powerplant upgrades, any of the five racers could be the first to the historic milestone. Colin Millar ran close with a 7.04/194.72 at the 2019 Hot Rod Drags running a 632ci nitrous setup. Simon Barlow went 7.08/194.61 at the 2019 Ford Show, with supercharged big block Chevy power. Scott Crookston who won the 2019 Championship has gone a best of 7.41/179.95 at Dragstalgia in 2019 with a 560ci combination similar to Colin's, Jon Webster debuted a brand new supercharged small block car in 2020 and ran 7.62/179.24 and Jedd himself ran 7.65/174 at 2017 Dragstalgia with his old combination. Jedd will tune Colin and Scott's in addition to his own car.

Class car count is looking excellent for 2021, with over 30 cars predicted with a shootout for the top 16 and the lower qualified cars going into a bracket. race. To find out more, see the class web site.

Swift snippets.
15th November: Drag racing historian Nick Pettitt has been busy uploading more of his 'Time Travel' series of videos of historic British drag racing footage to Youtube. This week has been the turn of the videos taken by the Page family. Time Travel 28 features the family's cine film from 1970-1971 at Santa Pod, Blackbushe and the World Records Meet at Elvington whilst Time Travel 29 covers the period 1971-1975 at Santa Pod, North Luffenham, Blackbushe, Silverstone and Sweden.

Our Kieran has been looking through his extensive video archive and come up with a collection of the proverbial wolves in sheeps' clothing. Kieran says "I've picked out my favourite sleepers that I've filmed over the years, this video is in no particular order but showcases my Top 10. There's a varied mix including Stephen Xuereb's Mk2 Escort & Darren Scannell's Mk1 Escort that both look like they should belong in the Show & Shine paddock but smash out nine second 1/4 miles with ease, to Ian's completely stock looking 1964 Rover P4 powered by a Big Block Ford. You can see Kieran's video by clicking here and see his latest by subscribing to https://www.youtube.com/user/mk1kieranhis channel.

Frosty retires.
14th November: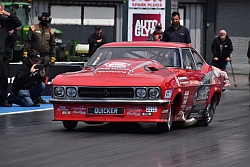 Andy Frost, former Street Eliminator Champion and holder of the world's fastest street legal car, has announced his retirement from drag racing after an extraordinary career highlighted by leading edge engineering expertise, international competition, the constant setting of performance goals, and loyalty to one single marque of car – the Vauxhall Victor FD.

Born in Birmingham, Andy's first taste of drag racing was in 1988 when he ran the Vauxhall he had owned since 1982 and named Red Victor 1 (pictured below) with a stock Rover engine, quickly exchanging the Rover afterwards for a small block Chevy. He ran between 1990 and 1992 in bracket classes, again swapping the engine for a big block Chevy which eventually got the car into the nines.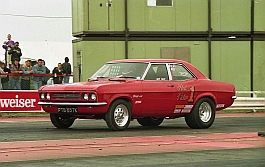 His Custom Car Street Eliminator Championship came early in his career in 1996 when times, with a nitrous assist, were in the low tens, eventually dipping to 9.77/142. Quicker things were in store after Andy began a collaboration with Peter Knight of Knight Racing Services, and times in the low nines persuaded Andy to start building the tube framed Red Victor 2 in 1998.

A year or so later Andy had a chance to drive the Top Alcohol Dragster crew chiefed by Peter Knight, and owned by Martin Canto (pictured below), running at UK events in 2000 and running a best of 6.32/215mph. The nitrous powered Red Victor 2 was finished by 2002 and he resumed competition in Street Eliminator as a contender, running in the 8.3s at 170mph.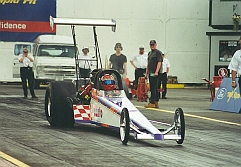 In 2005, Andy and three other UK racers (Ian Hook, Jeff Meads and Steve Pateman) travelled to the US to compete with their respective cars in the first World Street Race. As a team, the UK racers were winners of the event, an achievement that Andy is justly proud of. On his return to the UK, Red Victor 2 performances improved further after changing the car to twin turbo, winning more races and getting into the sevens. By 2009 Red Victor 2 was Europe's fastest street legal car, winner of the King of Europe race.

In 2010, Andy decided to become a street legal Pro Modified racer, something no-one else had ever attempted. Eurodragster.com sponsor Webster Race Engineering were commissioned to build Red Victor 3 with help from Wayne Allman, and UK engine builder Mark Lamude built a twin turbo engine on which tuning advice was obtained from Shane Tecklenburg. Much of 2011 was taken up by licensing after engine problems, however in 2012 Andy achieved his performance goal to become the first street legal car (outside the USA) into the 6s, resetting the world mark to 6.50/226 in 2013. The build and first runs of Red Victor 3 were documented by Andy in his Eurodragster.com blog.

However attempts to get the car into contention in Pro Mod in 2014 came to naught as the mandated electromotive shut off systems were potentially damaging to the car's transmission, and required turbo sizes placed him at a disadvantage. Andy decided to run in Competition Eliminator in the UK in 2014-16 before working towards his next goal, to run a five in a street legal car. Funding for this goal came from his loyal sponsors and the Red Victor 5 Second Club which comprised 500 members, the car having a huge profile by that time.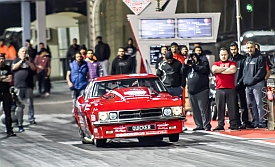 The decision was taken to run in Bahrain and in January 2017 Andy ran 6.31/236.3 mph, his best numbers to that date and heading for the world street car record of 251. After further work in upgrading the car, its potential was showed in a 6.02/250.4 mph at Bahrain international circuit in January 2018 and 6.075/248.24 at a private test at Santa Pod Raceway in May 2019 (pictured top).

Andy set his final record of 5.87/263.7 at Bahrain on 12th November 2019, and ran four other five second passes, three over 260mph during his visit . He said "It's one of only four street legal cars in the world that have run in the fives, the first street legal car in the world to surpass 260mph in the ¼ mile and it's the fastest doorslammer (street legal or not) outside the US. I've broken all the barriers I set myself, we still own the speed side of the world's fastest street legal car in the 1/4 mile and I'm now bowing out whilst at the top.. It's been an absolute blast. I've met lots of great people over the years, and loads are still friends now. A huge thanks to every person and company that was involved with our team over the 30+ years we were racing, especially over the last 5 years with the Red Victor 5 second club".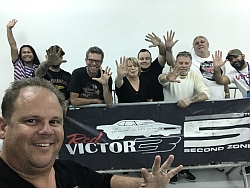 You can watch the documentary on Andy's Bahrain achievements at Utrack TV.

Andy says "special thanks to my wife Deb Frost and my three lads Damien, Craig and Gary.
"Thanks go to all of the RV team members throughout the 30+ years of racing including: Dave Williamson, Tony Grayston, Jason Savory, Arthur Stuffins, Wil Perry, Thorsten Appel , Gary Frost, Nik Wadsworth, Nick Bradley, Rob Kimber and Rob Kearns (RIP).
"Thanks to every one of the 500 Red Victor 5 second club members and to:
Shane Tecklenburg of ST Consulting
Marc Lamude at Lamude Racing Engines
Peter Knight at Knight Racing services
Wayne Allman at Intergalactic Custom Shop
Nick at WAM tools
Justin Attwood at JustElectrical design
Chris Bourton at Hard Knocks Speedshop
Al Williamson at AW upholstery
Wolverhampton HAMC
Jonny Smith of 5th Gear and various publications
Tog and Eurodragster.com
Bahrain International Circuit, BDRC and E Kanoo Racing and Logistics
Ali Mahmood at UTrack TV
Dave and Helen at Zeon TV
Santa Pod Raceway
Stuart Harris and Dougie McColm at VXR

Sponsors:

R-Tech Welding Equipment
Precision Turbo and Engine
Turbosmart UK
Pro Alloy Motorsport
Cam Auto Development
Goodridge
KA Sensors
Steve Morris Engines
Renegade Fuels/Trackstuff UK
Neal Chance Racing Converters
Turbowerx
Zircotec
Activ8
Red Line Oil/ Old Hall Performance
Belistore
Plastics4performance
Total Seal Piston Rings
Hutch Transmission Service
Andy Robinson Race Cars
Victory Performance
Wallwork HT
Rep Air services
Wilson Manifolds
Diamond Pistons
Manton Pushrods
New Century Performance
Visner Engine Developments
Billet Atomisers
Braille Batteries
Cartek Motorsport electronics
Magnecor
Club Calibra
PTP Turbo blankets
Superpower Unlimited
Precision Shaft technologies
Serck Motorsport
Dave Cooper Engineering
Mick Gould Commercials
Douzecoupes
Powerlite performance electronics
Prestige Group
Browell Bellhousings
Race Engine Technology
Carl Cox Motorsport
"And every company/person/publication who ever helped us with products, assistance or ink, or anyone I have inadvertently missed. Thank you all. It's been one hell of a ride..."

Photo of Red Victor 1 © Colin Donisthorpe, photo of Canto TAD by Tog.

RRC Anger Management build gallery.
13th November: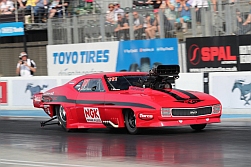 Bob Roberts has kindly sent a gallery of pictures taken by him whilst the build of Andy Robinson's Pro Modified '69 Camaro Anger Management took place at Eurodragster.com sponsor Robinson Race Cars.

The car was the first British Pro Mod to run in the five second zone, competing successfully for six years including four championships until it was destroyed in a top-crash at the 2018 National Finals, fortunately with no injury to Andy.

Bob says "The intent was to build in as much lightness as possible which was demonstrated when the Camaro tipped the scales at 200 lbs less than the predecessor Studebaker. Carbon fibre was used extensively throughout the car to the point where RRC built an oven so more could be done in-house and indeed offered for sale. Another route to lightness was the use of titanium most obviously in the firewall but also in the prop shaft tunnel and chute mounts". A radical approach was also taken to suspension adjustment altering the ride height to increase the amount of potential variations in settings.

You can see Bob's gallery in our feature in association with Lucas Oil Products by clicking here or go to our Features, Interviews, Tributes index via the main menu.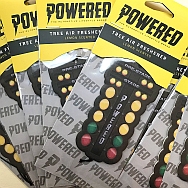 'Tree Air Freshener launched.
13th November: Eurodragster sponsor Peter Walters Race Design has been in touch to let readers know about a new product from his POWERED Co. Range.

POWERED Co. is pleased to launch the 'Tree' Air Freshener. Give your daily driver, hot rod, trailer, RV or even race car that fresh lemon scent! Guaranteed to please and makes any enclosed space smell fresh and clean.

Lemon scented, Easy to hang and Long lasting. Available on the shop web site for just £3.00. There are lots of new products in the works at POWERED Co. Including a 'Girl Powered' Range of accessories and garments. Keep and eye on the socials for more news!

Malta Hal Far Finals preview.
12th November: This weekend 13th-15th November, the final race in the Malta Drag Racing Association's 2020 Championships, sponsored by petroleum products wholesalers Enemed, take place at Hal Far Raceway. We look at the sport in Malta, starting with a brief guide to the classes, and then review the history of drag racing in this island republic, with a population of around half a million. You can see the action on 14th-15th November at Motorsmt.

During March 2020, the MDRA was forced to suspend the season before the first race had been run due to Covid-19. However, with government co-operation, events 'behind closed doors' were able to take place on 16th-18th July, 25th-27th September and the upcoming weekend of 13th-15th November.

Drag racing is the predominant motorsport in Malta, this success being amplified by FIA Drag Racing Championships won by Duncan Micallef (Top Fuel) and Manty Bugeja (Top Methanol Dragster). Hal Far is a permanent race track that has been operating for over 30 years.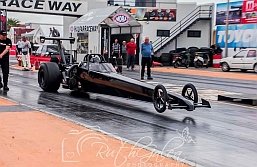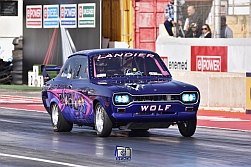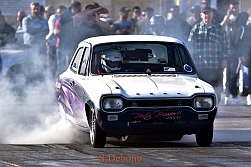 Pictured: Reuben Micallef (world's quickest Cosworth dragster at 6.48/203mph), Juan Mula DeBono (PS Champion), Christian Pace (Escort champion). Photographers: Ruth Galea, Simon DeBono.

The class structure, unique to Malta, allows for European and Japanese types of car to be used, also catering for the types of car which traditionally run at Hal Far. Our high level summary of classes follows, for full regulations and mandatory safety equipment go to the MDRA web site at www.maltadragracing.com.

Capacity classes are as follows:
Up to 1850cc
1851cc-2100cc
2101cc – 2400cc
2401cc-4000cc
4001-6500cc
6501cc and over
There are capacity factors for multi-valve engines (x1.1), power adders NOS (allowed in classes 4,5,6)/Turbo/Supercharger (x1.4 each). These rules apply to the PS, SS, SM, CA and D categories below:

Production Series (PS): Original body with lightening, production engine only with original type power adders. Free transmission and axle, only chassis back halving permitted. 2019 Champion: Juan Mula DeBono (Class 4).

Escort (Class 2 and 3): No external modifications, interior can be removed, any OED engine can be used, no injection or power adders, manual gearbox, suspension free (leaf springs original mounting), Same capacity brackets as SS. 2019 Champion Christian Pace (Classes 2 and 3).

Super Street (SS): Stock body, chassis, engine of original material in original location, manual transmission, any suspension (leaf springs original mounting) 2019 Champion: Insufficient entries.

Super Modified (SM): As Super Street but stock body can be modified for engine or gearbox location, any rear axle allowed and chassis is only to be altered for rear axle, no wheelie bars, any transmission is allowed with firewall mods for it to fit. 2019 Champions: Glenn Caruana (Class 3) Reuben Pirotta (Class 4).

Open: Class 1 for stock body and chassis up to 3500cc (subject to penalties for power adders), Class 2 for stock body and back halved chassis up to 3500cc any power adder allowed with no penalties. Classes 3 to 5 are for any type of body and tube chassis with capacity limits of 3000cc, 6500cc and unlimited. Class 6 is for T-buckets, funny cars, dragsters, suspension not mandatory and unlimited engines. FWD and diesel classes. 2019 Champions: Paul Fenech (Class 1), George Zarb (Class 2), Clint Fenech (Class 3) Mario Borg (Class 6), Marvic Galea (FWD class), Sven Piscopo (Diesel class).

Outlaw Front Wheel Drive: One class for cars with same engine and body make of up to 6 cylinders. Minimum weight and weight breaks for capacity, multiple power adders, automatic transmission, single cam and nitrous only. Max turbo size 76mm. Lightweight body panels allowed, tyres 10.5" max. 2019 Champion: Renald Farrugia.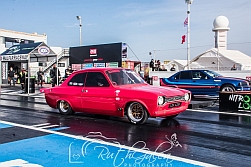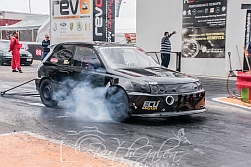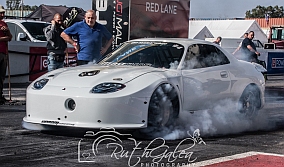 Pictured: Paul Fenech (Open class 1, in HPE Motorsport car), Marvic Galea (Open FWD Champion), Renald Farrugia (Outlaw FWD champion). Photographer: Ruth Galea.

Extreme: Class 2 for 2 rotors (rotary engines), 4 cylinder or 5 cylinder up to 2.9liter. Class 3 for 3 rotors (rotary engines), 6 cylinders in straight, V6 up to 4.1liter. Both classes allow any type of body and tube chassis with weight limits of 1900lb or 2000lb with tube chassis. 2019 Champion: Clint Catania (Class 2).

Classified Altered (CA): free in all respects, silhouette body to be used, any fuel allowed. 2019 Champion: Anthony Vella (Class 6).

Dragster/Alcohol Dragster/Fuel Dragster (D/DTA/DTF): free in all respects, includes open wheeled vehicles, funny cars in class 4 and 5, any fuel allowed. 2019 Champion: Antoine Schembri (Classes D4 and D5).

Junior Dragster: rules as in UK. 2019 Champion: Xavier Camilleri.

Motorcycles: classes are Street (64" wheelbase normally aspirated), Street Modified (64" wheelbase power adders but no slider/lockup clutches), Super Street 2 (68" wheelbase normally aspirated), Super Street 1 (68" wheelbase, power adders and slider/lockup clutches permitted), and Open (no restrictions) 2019 Champion: Briegel Micallef (SS1 and Open).

In addition, index and bracket racing is in brackets based on ET in half second increments between 8.00 and 13.50. 2019 Champion: Leslie Said (8.50 index class).

With such a range of classes, many vehicles compete in more than one class. So for this coming weekend there are 83 drivers and 152 class entries. Championships require a minimum number of competitors of three, and a competitor must compete in at least two events to be awarded a title.

The history of Malta drag racing is documented at Portatree's site. Racing started at Ta' Qal airfield in 1977 but organised quarter mile racing commenced at Hal Far in May 1989. The Malta Drag Racing Association was formed to handle the organisation of the sport and became a member of the Malta Motorsport Federation. A few years ago the Maltese government handed over the track permanently to the Malta Drag Racing Association who have continued to develop the facilities and sport there.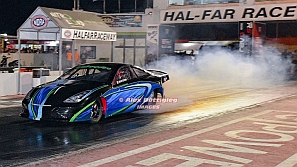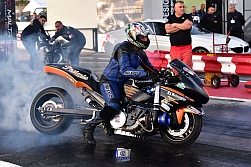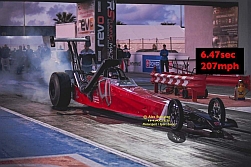 Pictured: Clint Catania (Extreme class 2 Champion), Briegel Micallef (SS1 and Open Motorcycle Champion), Miguel Montebello (DTA class 5). Photographers: Alex Buttigieg, Simon DeBono.

A contingent of European racers, media and fans have travelled to Malta, most to visit the November event which, as the championship finals, also falls outside the UK season. In 1991 Knut Soderquist visited with a Top Fuel Dragster and Funny Car. Outlaw Anglia and Super Street Bike racer Mark Pointer took his Hooligan Fordson van and kept it there for a few years. Kev Jenkins with his Fraudster Escort in an earlier incarnation visited in 2008,2009 and 2015 with other members of the Old Skool Ford club. Two years ago Ian Merryweather and Roy Wilding with their teams took over their Banzai and Hellzapoppin' altereds.

This year, the visitors would have included Outlaw Anglia racer Colin Millar, announcer Luke Stevenson and our Kieran with his cameras. Sadly, the current UK Covid 19 restrictions prevent overseas visitors from attending. But we anticipate 2021 will see a resurgence in visitors, with the great climate, a great range of vehicles and the competitive spirit of the Maltese.

Swift snippets.
12th November: The final race in the Panhellenic Dragster Championship on 21st-22nd November has had to be postponed due to a national lockdown as a result of the Covid-19 pandemic. Organisers Pro Action Racing are looking at dates in December for the race.

Drag racing historian Nick Pettitt has posted to his Youtube channel another three of his Time Travel videos, from archive cine film and slides from the 1950s to the 1970s. Time Travel 25 is from cine film taken by John Hutchinson, Chris Mod and Martin Pierson at Santa Pod, North Luffenham and York Raceway 1970 - 79, Time Travel 26 comprises Roy Cockrill's cine film at Santa Pod from 1973-1977, whilst Time Travel 27 features Ken 'Flathead' Cooper's cine film and pictures from 1959-1969.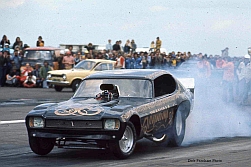 Feature: 1975 Wroughton Tor Line FC Championship.
9th November: In 1975, RNAS Wroughton hosted the National Drag Racing Club, who organised an international race including the Tor Line Funny Car Championship. Three Funny Cars and several altereds and doorslammers came over to compete, and today's historic feature describes the track and details the competition that took place. Thanks go to Jerry Cookson, Nick Pettitt and Jon Spoard for contributing material as well as the original photographers.

You can see our feature, supported by Lucas Oil Products here or by clicking the features, interviews, tributes link from the main menu.

Photo of Hazze Fromm in Ragnarok Capri FC courtesy Dick Parnham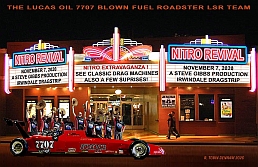 Nitro Revival poster offer.
6th November: Land speed racer Geoff Stilwell, sponsor on behalf of Nitro Revival has kindly provided a number of signed posters for the now-postponed November 2020 event at Irwindale Dragstrip which we offer to the first ten readers to make a request, with postal address included, via the e-mail address shown on today's Eurodragsterholics Facebook post.

We will be pleased to send by mail a copy of the poster designed by Toby Denham, who has been the brains behind the incredible graphic designs for Nitro Revival, which you can see by going to their web site or Facebook page. Look out for a revised date for Nitro Revival in due course.

Swift snippets.
6th November: Thanks to Pascal Koch from Germany at Youtube channel European Drag Racing Videos for drawing our attention to his excellent collection of in-car and spectator-side videos from major drag racing events since 2013. Pascal started shooting footage from the stands for Youtube at the 2013 NitrOlympX and got a trackside pass in 2014. He posted his first videos from Santa Pod Raceway in 2015 progressed to onboard from a variety of cars and bikes from 2018. Continuing in 2020, he has posted from Clastres Dragway and Zerbst's Test & Tune recently. A big innovation this year is 360 degree videos with the viewer able to control the angle.

Diana, Kirstie, Julian, Kieran and Simon would like to wish retired Eurodragster.com News Editor, Race Reporter and Photographer Tog a very happy birthday for tomorrow (Saturday). Have a great day buddy, and many happy returns.

Flame & Thunder highlights video.
5th November: Kieran has posted a video of on-track highlights from Flame & Thunder Lite 2020. You can see the wide variety of vehicles involved, from a motorised wheelie bin all the way to a Top Fuel Dragster and several jets. The video is indexed so you can go to your favourite category easily.

Kieran says "Flame & Thunder is the annual season finale in the UK and being held at the end of October it can be prove to be a bit of a hit or miss with the weather. There were a few passes in the morning but the heavy rain came in and we waited 6 hours whilst the track crew worked tirelessly to get the "track open again!

There were two Top Fuel Dragsters on site, multiple Jet Cars and some fantastic drag cars & bikes putting in demo passes". You can enjoy Kieran's video by going to this link and subscribe to his channel which is now heading towards 50,000 subscribers.

Web site updates.
5th November: The Mad Welshman has uploaded to his Flickr account an album from the recent Dragtastic 3 event at Melbourne Raceway. Mad says "This was our first ever visit to the Northern strip and we were impressed with the new track which bodes very well for the future! Who'd have thought a few months ago that we'd have any events in 2020 let alone being able to go to a brand new track; fingers crossed for a much improved 2021!" You can see Mad's photos by going to this link.

Pro Mod for sale - hardly used.
4th November: Sometimes you see a car for sale and think 'That's for me'. Norwegian racer Geir Bjønnes's '57 Shoebox Chevy is one such that leads many to such a flight of fancy. And if you've a shade under £50,000 then it can be yours.

Geir says 'The car was finished in 2008 and first came out in 2009'. The car has chassis, body and carbon wheel tubs by US Pro Mod constructor Tim McAmis. Mechanically it's complete with a BAE Series 6 engine, with spare rods and pistons, Veney/Newberry heads, Kobelco Superman supercharger, Lenco CS1 gearbox, Weld wheels, and lots of spares.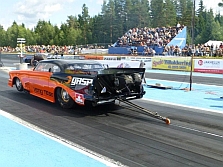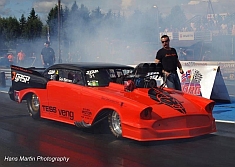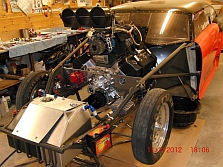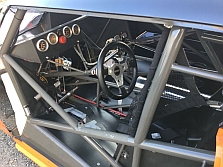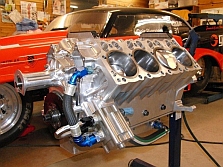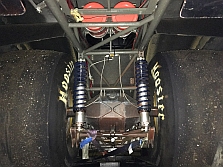 The car was bought for Top Doorslammer racing however it ran only in three events in 2009, three in 2011 and two at the end of 2012, qualifying just once despite the considerable potential. After deciding to quit the sport at that point, the car was then stored for eight years and is now offered for sale turnkey with all spares. It can be made Pro Mod legal with the necessary safety upgrades.

If you're interested you can see more detailed specs in our Jeff Bull Race Engines-sponsored Swap Meet and contact Geir at his e-mail gb@halden.net or on his phone +47 99513056.

Greek drag scene.
3rd November: Santa Pod Raceway announcer and owner of the European FWD Facebook page Luke Stevenson plans to travel to Agrinio in Greece to attend the final race in the Panhellenic Dragster Championship on 21st-22nd November. We looked at the site of the organiser Pro Action Racing and saw how far the sport has developed in Greece in recent years.

Locations for the sport include Agrinio (170 miles northwest of Athens, used for racing since 2017) and Tympaki Airport in Crete, the southernmost dragster track in Europe. These two are organised by Pro Action Racing, also known as ASI. The National Championship, is now shared between these two tracks and Serres, an eighth mile track that is part of a permanent circuit near Thessaloniki in the north of the country Lenoe Drag Racing are the organisers at Serres and run a track championship as well as being part of the National Championship. Thebes (Drag Park) 40 miles north of Athens hosted the first rounds of the national championship in 2017 with separate races for cars and for bikes as well as its own 'Drag Battle', the site closing in 2018.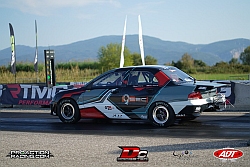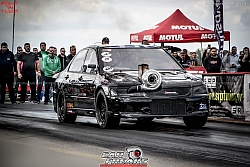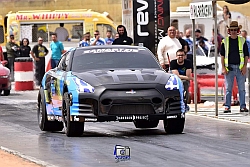 Street racing became a problem a decade or so ago and so a number of temporary airfield sites have been used for RWYB events or 'Drag Days'. These along with the National Championship events are regulated by motor racing regulator OMAE. There are several such sites, examples are Lamia Airport 130 miles northwest of Athens was licensed for use from 2012, and Elliniko just south of Athens was relicensed in 2013 for bikes, the licensing being handled by organisers ASI and motorbike sport regulators AMOTOE. A new venue at Epitalio near Pyrgos in the Pellaponese had its first race in 2014 and Drag Days returned in November of that year. In 2015 Messolonghi airport hosted a drag day. The use of a number of facilities for drag days can only be a good thing for the future of the sport in Greece as it avoids putting all eggs in one basket track-wise.

In November 2013 a special event took place at Tympaki which hosted Dragtimes supercars from Russia and Romania. The event was streamed on Russian drag racing site dragtimes.ru. From this start, live streaming of the Panhellenic Dragster Championship has been provided at sportaltv.gr (2013-16 highlights coverage was also provided by Speednation TV). Streaming of the sport is used as a platform for advertising and promoting the businesses supporting it.

As Pro Action Racing's web site says, "Drag Racing is the strongest motor sports championship in our country. It is on a good path and evolving despite not having permanent facilities like abroad".

Our photos show some of the quickest cars and bikes. They run in ET brackets or to an index. Cars are mainly European or Japanese with turbo and/or nitrous power adders. At the start of October, Vagelis Kantartzis (pictured above left) has claimed the quickest time in the world by a Mitsubishi Lancer Evo 9, at 7.688/180.9. Spyros Panopoulos (pictured above centre) who has been employed in the past by McLaren's road car arm, and founded local firm Extreme Tuners has an impressive background. As you can see from his web site he has innovated many components in auto engineering; on the track he has driven his Mitsubishi Lancer Evo 9 to 7.745/184mph; he also competes in Malta and Abu Dhabi, where he ran 7.708/156.61 at the permanent circuit there.

The quickest doorslammer in Greece is the Nissan Skyline GT-R VR38DETT of Gerasimos Filippatos (pictured above right) who has run a 7.190/201.5mph on the quarter These three are four wheel drive; there are quick rear wheel drive cars too. the Audi S2 (R30 Turbo) of Takis Vouros (pictured below left) who competes in Malta as well as his homeland has run 7.526/180mph. The Escort Mk2 2.3L Turbo of Stelios Geladakis whose best is 7.771/174.35. These two racers combine their engineering expertise to design the vehicles make parts where necessary and tune them for the track.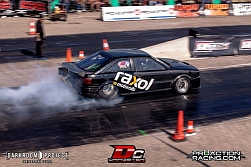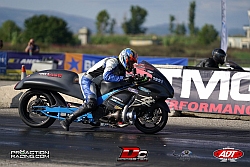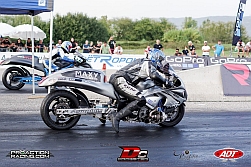 The Bike classes, not forgetting twice FIM-E TF Bike Champion Filippos Papafilippou, are largely dominated by Super Street Bikes with other types typically running in brackets such as Super Pro ET (yes, for bikes). Bike fields are often the majority of race entries and SSBs are invariably the quickest. DRDB lists seven bikes that run quicker than 7.50. Quickest of all is Nikos Stavropoulos (pictured above centre) at a record 7.153/193.1 – he has raced in the category for at least 10 years and is tuned by Proimadis Performance based near Athens. Nikos's main competition is Christos Agapidis (pictured above right) who has been racing even longer than Nikos and has recorded a best of 7.158/197.8 on his 1340cc Suzuki.

We'll be posting a link to the live stream of the race on 21st-22nd November in due course.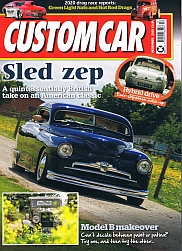 Magazine update.
2nd November: The December issue of Custom Car which goes on sale this week, includes a total of eight pages of race reports on both the STP Green Light Nationals and the NSRA Hot Road Drags held at Santa Pod Raceway both reports with plenty of photos from our own Julian. Also featured is a piece by Tony Thacker on Bonneville's Speed Week back in August including some vintage and nostalgia vehicles.

News includes some stocking fillers from Santa Pod Raceway and Lesley Wright's appointment as honorary chair at the British Drag Racing Hall of Fame. Buying a copy of CC may be a bit more difficult during the impending lockdown, so why not treat yourself to a subscription by going to shop.kelsey/co.uk/CCA20 and choose between the paper edition for £39.00 (discounted by £25.87 from newsstand price) or £37.99 for the online edition? This offer expires on 26th November.

Followers of motorcycle drag racing may be interested to know that the December issue of Bike magazine contains a rare venture into the quarter-mile sport, a two-page spread describing Hans-Henrik Thomsen's successful bid to set an electric bike world record during Santa Pod's recent Not The European Finals meet.

The feature, written by Bike's Deputy Editor, Mike Armitage, carries photos by the author and by Eurodragster.com's own Julian. The December issue is available now on magazine stands, price £4.50.

New web sites for Williams Bros.
2nd November: Williams Bros Racing have launched no less than three new web sites each dedicated to the profile of their respective specialities. The sites detail the services offered, show a gallery of completed projects and incorporate a web shop. A great number of parts, from engines through brake and suspension kits to car care products, are kept in stock and, with weekly air freight deliveries, even non-stock items can be quickly supplied.

The sites to go to are williamsbrosspeedshop.co.uk, ocspaint.com, and wbrraceengines.co.uk.

Flame & Thunder galleries.
1st November: As usual for the season finale at Santa Pod Raceway there was a big variety of vehicles making almost their last pass down the strip in 2020 (some stayed for today's Run What Ya Brung).

We are pleased, despite the amount of wet stuff that came down during the day to be able to post, with the support of John Woolfe Racing, galleries of track action and off-track shots courtesy of Julian and Diana.

See our event coverage page which you can reach by clicking this link or going via the John Woolfe Racing event coverage link in the main menu.

Dragtastic 4 cancelled.
31st October: Trevor Duckworth of Straightliners and Melbourne Raceway has announced that Dragtastic 4 which was scheduled to take place at Melbourne on 7th-8th November, has had to be cancelled:

"With regret Straightliners have had to cancel the Dragtastic 4 event due to be held at Melbourne Raceway on the 7th and 8th of November. This is due to the Covid 19 virus and a lot of our catchment area going into Tier 3 of Lockdown measures.

"We will be publishing our 2021 dates for Melbourne Raceway shortly and look forward to a full year of events at this rejuvenated track with probably the best support and following in our sport - it truly is the people's track.

"2021 will see a new raft of improvements with the paddock upgrade, a new gantry over the track for lane sponsorship, improvements to the paddock area and a new clubhouse for members to put their feet up and relax; we will have new classes and a vibrant race programme from RWYB to the Pro classes in 2021.

"Sponsorship opportunities exist for the full 2021 season at Melbourne Raceway with packages for any budget from a banner site, to lane branding and right up to full event branding for your company info from trevor@straightliners.co.uk.

Yours in sport.

SHRA Mantorp Winter Nats 2020.
30th October: A bonus event in Sweden, not on the original calendar, was held last Sunday 25 October when over 50 racers headed towards Mantorp Park for their Winter Nats - test and tune action on an eighth mile track in 13C temperatures.

Courtesy of Swedish photographer Cenneth Schiller we have been able to publish a selection of his shots of six of the vehicles taking part. The '69 Vette of Tommy Orest is part of the Swedish V8 Street Car Challenge also runs in Outlaw 10.5 and is capable of running tens in the quarter. Then there was the neat three window '33 Chevy coupe of Magnus Joelsson which runs a 408ci small block Chevy and Powerglide. Another classic was the Volvo 544 of Janne Blomé, also with SBC power and TH350 gearbox which has run mid 10s in the quarter.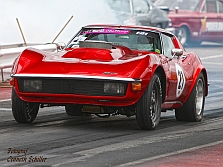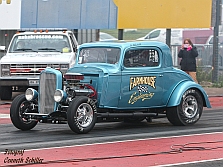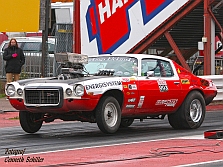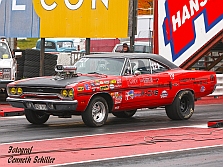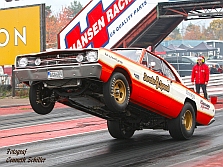 A couple of the supercharged cars included Roger Nilsson's second generation Camaro, which runs the Street Week event as well as Outlaw 10.5 on the track. Stefan Breiner has a supercharged Plymouth GTX with a 512ci Mopar engine running on methanol and Torqueflite gearbox. Finally we had pictures of a wheelstand by one of the quickest cars there, Joel Skoglund's Pro ET Dart which runs a 358ci Dodge engine with G Force gearbox.

The event went well and put the lid on a year when the pause button was pressed, events became possible but Swedish spectators were sadly unable to enjoy them. 2021 will be better.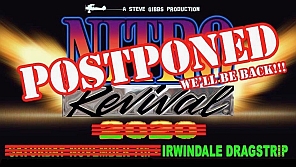 Nitro Revival postponed indefinitely.
30th October: When Nitro Revival, for which land speed racer Geoff Stilwell provides our sponsorship, was postponed from May to 7th November, UK fans relished the opportunity of going to the season ending racing events and this unique combination of car show, cacklefest and legends reunion at Irwindale Raceway, California. However the continued presence of Covid-19 put paid to the races, and now Nitro Revival has been postponed indefinitely. A future date will be determined once Covid-19 restrictions become clear and are less restrictive.

Geoff said "This is a sad situation and I can only hope that everyone involved in Nitro Revival is safe. We will be missing saying goodbye to Mike Kuhl as his Celebration of Life was due to be held there. I will also miss my friends Steve and Cindy Gibbs, Floyd and Sharon, Waterbed Fred, Snake, Ace and Harry Hibler. Condolences to Tony Thacker, Mick Jenkins and Donny Cummins who were going to be displaying my Lucas Oil 7707 Land Speed car at Nitro Revival with a lot of Lucas products. We will see you all on the salt in 2021".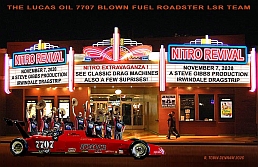 Geoff's plans to break his own speed record at Bonneville and be the first BB Fuel Roadster over 300mph were disrupted in August due to travel restrictions between the UK and US. However, plans to take the car to 2021 events have been hatched and the main focus will be on Bonneville Speedweek 7-13 August.

Fuel Altered legend Ron Hope has challenged Geoff to be the first over 300mph, Ron running his turbo methanol roadster.

Picture: design ace Toby Denham's rendering of Lucas Oil 7707 on show, now sadly postponed

Swift snippets.
29th October: We would like to say a big Happy Birthday to our good friend, British Drag Racing Hall of Fame Director and Motorsports UK Drag Racing Championship PR Robin Jackson. Have a great day Robin.

RRC Roger Moore build gallery.
28th October: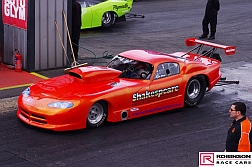 Bob Roberts has kindly sent a gallery of pictures taken by him whilst the build of Roger Moore's Pro Modified Dodge Viper took place at Eurodragster.com sponsor Robinson Race Cars.

Crew chief and Roger's brother Dave says: "The basic chassis rails and cage were built by Andy Robinson Race Cars, back in roughly 2006. The body, from a Billy Harper mould, was then shipped in from the States. The car then spent a couple of years at Roger's garage in Essex, with mega hours spent on it. It was a big learning curve for Rog and myself as we were a lot younger then. We got the 706ci nitrous motor from BA racing when they went blown. The car was painted and finally finished in 2008 just prior to the Euro Finals.

"We spent almost ten years in Pro Mod, a very tough game but the best fun ever, and the best teams in drag racing. The highlight was becoming the 2012 MSA championship. "The car was sold this year during lockdown, and was split three ways, rolling chassis, motor, Lenco and clutch.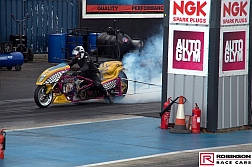 "We then bought the Yellow Metal Funny Bike from Bob Brooks and tested it this year which went well for Rog. There is lots to learn but that's the whole point of having a change to two wheels. We can also bring some of our Pro Mod experience into the bike game. The bike will be going through a winter re-build with a brand new paint job to make it feel like it's our bike, with a new team name. Watch this space, we plan to license and race with the big boys next season if all goes well".

You can see Bob's gallery in our feature in association with Lucas Oil Products by clicking here or go to our Features, Interviews, Tributes index via the main menu.


Walle's new Camaro.
27th October: German Supercharged Outlaw and Super Pro ET racer Walle Strobel has revealed he has bought an ex-Pro Mod Camaro to race in these classes in 2021.

His new, first generation, Camaro which ran low 6s with its previous owner, has a 526 ci AJPE 481X engine with Lenco Drive and a Coan converter.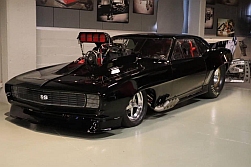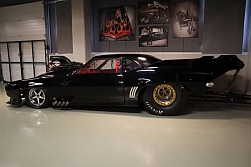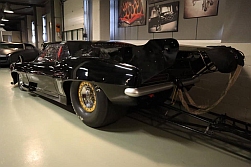 Walle says "This car ran a deep 6 sec run 12 years ago, but when I drive it into the sevens, I'll be happy. I will continue to race with the Supercharged Outlaws, or Extreme Outlaws as we are known in Germany, and sometimes in Super Pro ET. The Pro Mod series is a bit too expensive and too much work for me.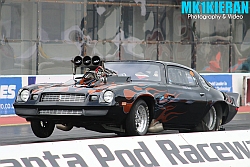 Walle has been racing since 1986 when he started in Competition with a Ford Capri 3100, then after a Competition dragster, ran a Top Methanol Dragster that met a fiery demise after an engine let go at the start.

His first Supercharged Outlaw Camaro, a 1973 model with 1974 front bodywork that he has had since 2016, is currently for sale with a 526ci AJPE engine with 14-71 blower running on methanol with Lenco drive gearbox; it ran a best time of 7.7s/185mph with an earlier engine setup.

He raced it at Dragstalgia over three years as well as running it in events in Germany and France. You can see the current specs and price of the car for sale at our Jeff Bull Race Engines-sponsored Swap Meet. You can see more photos of it at this link.

Dakota cash prize grudge race.
26th October: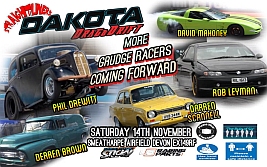 Dakota Raceway in conjunction with Straightliners, have announced a cash prize will be up for grabs at the last race of the year.

More drivers are coming forw,ard to race in the grudge race at Dakota Raceway on Saturday 14th November. Racers will place £25 in the hat and the winner can take up to £400, entry is online and spectators are allowed with advance booking and the usual Covid precautions required. Check out the info below:

The race will be a 1/8 mile no clocks car grudge race in six categories. All drivers enter online as normal at this link.

After you entered, send us a private message for attention of Lee, choosing your category. On the day each driver puts £25 in hat of their chosen category. There are sixteen places available in each category. Pairings will be determined by selection out of the hat. The process will start with eight pairs, then four pairs and down to two pairs and the final last pair is where the winner takes £400 based on 16 cars in each category. Categories are:


Pro AWD: Modified, competition tyres , interior removed
Street AWD: Factory appearance, full interior.
Pro rear wheel drive: Modified, competition tyres , interior removed.
Street rear wheel drive: Factory appearance, full interior.
Pro front wheel drive: Modified, competition tyres , interior removed.
Street front wheel drive: Factory appearance, full interior.
Don't forget it's also 1/4 mile run what you brung all vehicles welcome. Let's see what you got!

Web site updates.
26th October: Richard Smith has posted to his web site, hosted by Zenfolio, 275 images from Sunday at Dragtastic 3 held at Melbourne Raceway on October 10th-11th. You can check out Richard's photos at this link.

Snake book out 15 November.
25th October: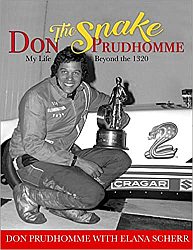 The autobiography Don "the Snake" Prudhomme: My Life Beyond the 1320 co-written with Elana Scherr (who we had the pleasure of meeting in July 2019 when she and Snake's friend "Hawaiian" Roland Leong attended Dragstalgia) is available in all good bookshops and online from 15th November for £26.25 advance discounted price plus postage.

The long awaited book was written with a huge amount of research and interviews over a period of more than two years. It reveals some facts about The Snake that have never come to light before including his family background and how he got into racing. The 192 page book has 250 illustrations, many from the files of National Dragster, whose editor Phil Burgess gave the book a glowing review a few weeks back.

To whet your appetite a video with a discussion between the co-authors about the content of the book has been posted by publishers Car Tech on Youtube.

Oh, and if you are asking "what has this got to do with European Drag Racing?", Don himself came to Santa Pod Raceway in 1980 for the World Finals, and after recording a 6.22 to qualify no.2, a damaged crankshaft effectively sidelined him for the rest of the event. Co-incidentally drag racing historian Nick Pettitt has just posted footage of this event, with a truly international 16 car Funny Car field, from his video Time Travel 20 on Youtube, with footage of Snake's qualifying run.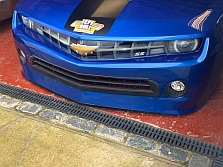 Swift snippets.
25th October: The latest spy picture to arrive at the offices of Eurodragster.com came with the words "Here's a package for you". If you know more, or would like to send your own spy picture, then drop us a line at editor@eurodragster.com.

Speedgroup have published a draft of the 2021 EDRS calendar. It comes with the caveats that dates may be affected by Covid-19 restrictions and the forthcoming FIA calendar. Even so, it's good to see a full season of racing planned.

Gary Colman of GJC Motorsport Media has posted a total of 735 pictures taken by him at September's NSRA Hot Rod Drags to the GJC Motorsport Media Facebook page. To see Gary's photos, click here.

JT smells the nitro.
24th October: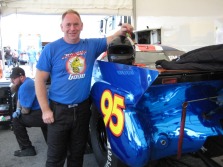 Pro Mod and Super Pro ET racer John Tebenham has been sharing his thoughts about the next level of his racing career:

I think I have only one more year in Pro Mod (pictured) but need another goal. I am looking to get my fuel license, I have always been a car guy, so probably will rent a Fuel Funny Car. I don't want to beat Liam up yet ...

We went 5.97 last year with Luke Robinson, and we were no.1 qualifiers for a bit as soon as Paul Marston got to grips with the Pop and he was really helping us to go rounds. If I can ever add a bit of advice for anyone new in drag racing, try to get a smart cookie. People in the know, know it's tough, but these sort of people who have the knowledge just make it so much easier.

I am keeping both my doorslammers as if I get too frightened I might have to come back. The blue car is ready and the white one is nearly in discussions with one of the best engine guys.

On another very fast note, I have a back up guy, don't know how good he will be but Barry (Sheavills) said he will be my man (bet he moans about my driving). Keep safe and go faster.

Video update.
24th October: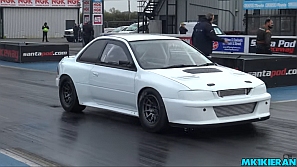 Our Kieran has posted four new videos to his Youtube channel. Full car specs are included in the description on each video.

The quickest is Garth Wong's 100e running a Chevy LSA Crate Motor and a TH350 Transmission and ran its first eights at 160mph, as reported on Tuesday in coverage of Santa Pod Raceway's Private Test Day. John Gamble's Ford Sierra Sapphire Cosworth which produces 913hp on race fuel with a Cosworth YB based custom built engine and 6 Speed sequential gearbox. This car is fully road legal and does mid 10s at over 130mph. Then there is Rich White's '98 Subaru Impreza Type-R (pictured) which runs mid-9s at over 140mph. Finally there is Paul Robinson's Vauxhall Astra Pickup which has not one but two Saab 2.3L engines making 500hp+ per engine, giving the car ten second performance at over 140mph.

Simon Letkey who runs the Veedub Racing Youtube channel has posted a video of the recent GTi Festival held at Santa Pod Raceway, including racing and show n' shine. He says "I thought it was about time I actually had a walk about at one of these shows, and shared with my audience what I saw. As well as the general public cars on display and racing, there was also a selection of cars from the VWDRC club, who were entering a one day heads up racing style event, so it was good to walk round the pits and talk to them as well". You can see the great end result of Simon's production, sponsored by Awesome GTI, by clicking here.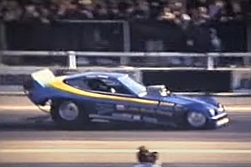 Drag racing historian Nick Pettitt has posted to his Youtube channel three of his Time Travel videos, from archive cine film and slides from the 1970s. Time Travel 17 includes the cine film of John Hutchinson and Pat Church plus Ken Robbins' slides from 1969-1970 and '74 covering events at North Luffenham, Elvington and Santa Pod. Time Travel 18 has the cine film of Les Sanderson from 1961-1979 covering events at Long Marston, Kemble and Santa Pod Raceway. Time Travel 19 uses cine film from 1979 at Santa Pod (Dennis Priddle's FC pictured), Blackbushe and New York Raceway. Several legendary meetings in the sport in the UK are covered in these videos which are highly recommended for those who want to see how it developed here in its early years.

Unusual positions vacant.
22nd October: Nigel Taylor has been in touch with a trio of great job opportunities offered via his Unusual Car Sales U.K. Facebook page:

"The page at the moment lists nearly 100 useful phone numbers, all in one place for all hot rodders, drag racers etc and is proving to be very helpful. The site is also listing three jobs vacant, all in the Hot Rod/Drag racing industry.

"The excellent Robinson Race Cars in Basingstoke (sponsor of Eurodragster.com) is looking for a welder/fabricator in their very busy race car shop , if it's something your capable of and would like To get involved, call Andy, Kate or Luke Robinson on 01256 880589 (full details here).

"Old Bones Fabrications here in Andover are booked up solid for 2021 already but they also need a welder/fabricator to help out with their workload so if you would like to be in the hot rod fabrication industry, call Steve Jones on 01264 772310 or head over to his Facebook/Instagram page and check out the whacky creations that they are doing.

"Valley Gas Speedshop also here in Andover are looking for a welder/fabricator and someone to help them get all the cars nearer to completion as they are also crammed with work and always taking on more, with lots of new show cars and award winning feature cars to their name. This is one awesome job for someone if you have the talent. Give Jimmy or Eloise Hibberd a call on 01264 353646.

"The unusual car sales U.K. site is more than just car sales, The site is aimed at the whole Hot Rod, yank, custom, classic and drag car scene to help out whereever possible, to promote Santa Pod and similar events, to help people find that dream car or to point you in the right direction when work is required on your car and much more, don't forget to join the group and invite your like-minded friends into it too."

6 Appeal feature.
22nd October: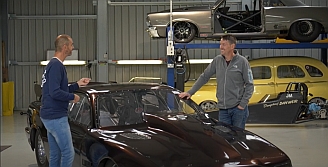 Self-confessed CarPervert and sometime Topspeed Automotive Street Eliminator racer Jonny Smith who runs The Late Brake Show Youtube channel, has produced a video feature which is a must-see for all fans of Mark Todd's 6 Appeal Aston Martin.

In the 33 minute production, Jonny talks to Mark about his concept behind the car and the Street Eliminator class in general. He compares Mark's '90s racing Virage to a road-going 2019 Aston Martin DBS and Mark describes in detail about racing 6 Appeal. There is footage from the car's runs at Santa Pod, and each drives the other's cars, Jonny even trying the six second car on a wet road.

To see the video feature click on this link. Jonny's channel, with its eclectic mix of vehicles, is well worth a subscribe.

Venom auction.
22nd October: Tony Betts of Venom Racing has set up an auction on the team's Facebook page. The Nostalgia Funny Car team are hoping to take some of the sting (geddit?) out of the rebuild cost, following their incident at Not The Euro Finals, by auctioning to racers or collectors various parts as seen, and to get the Venom back on track in 2021.

Parts include quarter sections of the carbon fibre body, headers, a fire bottle, pistons, valves, rods, fuel pipes, and a wheel with tyre. The auction ends midnight Saturday. Check out Venom Racing on Facebook where you can place your bid.

Tony also reported that Venom's chassis is all stripped and will be going to Dale Reardon at Helston Choppers for a full rebuild ready for a transformation for 2021.

National Finals ACU report.
22nd October: Many thanks to photojournalist Steve Moxley for letting us know his report of the bike classes from the STP National Finals is now on-line at the official ACU web site.

You can see Steve's report which includes some interesting snippets by clicking here.

Jolink building for the future.
21st October: Euroserie Super Twin Top Gas racer Herman Jolink from the Netherlands has revealed he is building a new bike to replace his trusty Ducati from 2003. Herman has ridden Ducati-based machines throughout his 45 year drag racing career.

He said "During lockdown I have been working on historic Ducati Bevel engines, mainly for customers using them on the road but one for a circuit racer who contracted coronavirus badly, he was in hospital for two months but after several days on oxygen made a good recovery and recently raced at Chambley (where we also drag raced for several years, organised by Donald Pottier) in France.

"My new frame was started in 2019 and is based on a Ducati Panigale. I have more machinery now, a milling machine and lathe, but it is difficult at 66 years old to get local help. My main help in building bikes has been Kees and Hans van der Starre since 1982 and more recently a friend who did 25 years road racing and lives 200 km away." Herman also gets advice on the phone from the legendary Larry McBride.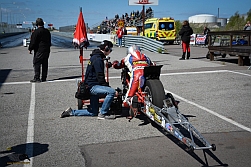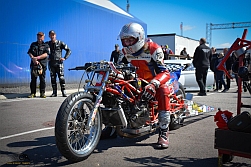 Pics: Herman racing at Malmö in 2019, © Kraaijmotorsportfotografie.

Herman's engine for the planned new bike is based on a Panigale one with original capacity of 1198cc but with a longer stroke crank to take it to 1408 cc. "First we will use steel home-made con rods, but we will later have upgraded internals including home-made titanium rods. Other parts including the cam chain are specially made. I stick to carburettors rather than fuel injection as my computer skills aren't enough for tuning fuel injection.

Herman has raced in Euroserie Super Twin Top Gas since 1994. The class was established well before then; some racers have gone on to race in the FIM-E series such as Job Heezen, Marc van den Boer, Gert-Jan Laseur, Anna Lena Asplund, Jaska Salakari, Roman Sixta, Günther Sohn and Jesper Thiel. Others like Herman have stayed in the series for years. Herman himself won the championship in 2010 and 2011 and has scored more points in the last 20 years than any other rider.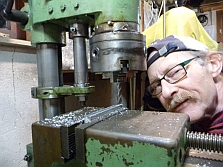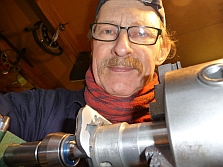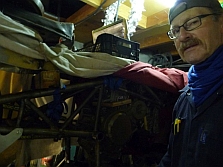 Pics: Herman with milling machine, with lathe and with new Ducati Panigale drag bike frame (all taken Jan 2020).

"But it is more important to enjoy the racing", he said. "The championship includes a lot of countries. Since 2004 we have raced in the Czech Republic on the concrete strips at Hoškovice and Bechyne, also at Kunmadaras in Hungary. Since 1998, we raced at Västerås and Malmö in Sweden, England three times, twice to Avon Park in the early 2000s and then to the Summer Nationals at Santa Pod Raceway in 2014 where it rained a lot. It's great visiting different tracks however my truck broke down once, and it is a strain on the budget.

"The class is at a peak now, we had 26 signed up for the 2019 championship. The most successful riders in recent years like Jörg Lymant from Germany who was champion in 2017-19 and Frederik Schack from Denmark who won in 2013-16 have bought special 2622c V-Twin Pro Stock Bikes built in the USA, also Cord Albers from Germany and Olaf Menzi ride Pro Stock bikes from the USA. But I hope my new bike can run in the sevens and be competitive".

"In 2019 we raced for the first time at Gardermoen, Norway. My crew chief there was a 17 year old guy, Jelle Duin. Jelle's now 18 and earlier in 2020 got his bike licence. He works at a Motor Cycle Shop near Alkmaar and also this year received his motor cycle mechanic diploma. His father was formerly the crew chief to Top Gas rider Harry van Schie, and his mother Petra Duin has helped me on the starting line".

Pictures courtesy Herman Jolink, who we thank for supplying Euroserie Super Twin Top Gas race reports over the years.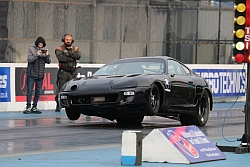 SPR Private Test Day gallery, results.
20th October: The final Santa Pod Raceway Private Test Day organised by Scott Lewry of Yam Yam Racing took place yesterday in sometimes sunny but cool conditions. There was an entry of just over 50 racers who paid a share of the track rental in order to make unlimited passes on the prepped track.

Thanks to Adam Bentley and David Anniwell of Santa Pod Raceway's timing team who, thanks to Adam's ETSlips.co.uk site has given us information to enable us to establish who were the Top 10 racers of the day by best ET: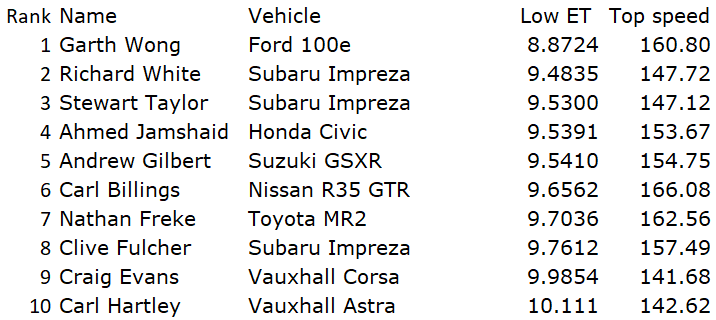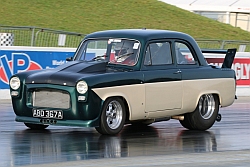 Many thanks to our Kieran who took photos at the Private Test Day, and we have posted galleries of his shots at our John Woolfe Racing-sponsored event coverage page which you can reach by clicking this link or going via the John Woolfe Racing event coverage link in the main menu.

The top time of the day by Modified 100e racer Garth Wong was a new PB of 8.8724/160.80 in his supercharged Chevy LS-powered machine, his first eight and 160+mph.

Former Street Eliminator racer Gary Gooding had a near miss when a skyward launch (see photo at top) ended with the car taking a sharp right turn towards the wall, but quick reactions resulted in no contact being made. We've posted a sequence of it in the gallery.

Announcer and VWDRC Chair Luke Stevenson commentated on the days racing, posting single-camera streaming video from his trusty iPad to Facebook in four segments: part 1, part 2, part 3 and part 4.


Dad v Grandad Junior Dragster Challenge.
19th October: Thanks to Junior Dragster mum Lynne Coulsell for sending details of an intruiguing competition at the forthcoming Flame & Thunder Lite event on 31st October:

"Wouldn't it be funny if Wild Bunch racer Mark Coulsell were to drive son Harley's Bandit 1 Junior Dragster against Outlaw Anglia racer Mick Taylor driving granddaughter Frankie's Banshee Junior Dragster at Flame & Thunder?

"Well, that's what those two gents were discussing at Hot Rod Drags, so why not?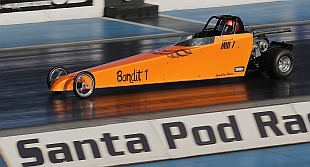 "It's just for a bit of fun but let's see if we can raise some money for the Air Ambulance while these 'boys' are enjoying themselves.

"Here's the thought, have a guess at what time either driver will run between 8.50 - 7.80 seconds (e.g. 8.5, 8.45, 8.40, 8.35 etc) and the closest, either under or over, will win some small prizes - chocolates plus some very cool bespoke items made by Piston Rings and Things & Back Up Girl Crafts. It will cost £5 per go, so if we fill all the available times (15 per driver), we should make £150 and of course any donations would be very gratefully received too.

"Come and find us in the pits at Flame & Thunder Lite or Facebook message MarkandLynne Coulsell or Mick Taylor to have a go!"

Final Covid Cup points.
19th October: Many thanks to Spencer Tramm for forwarding to us the final points standings in the Covid Cup.

You can check out the Covid Cup points on our OCS Paint-sponsored Points Standings Page by clicking here or clicking on the OCS Paint Points Standings link in the main menu of any Eurodragster.com page.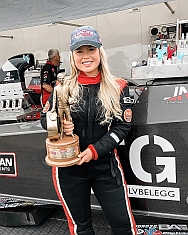 Julie wins Gainesville - at Motorplex.
18th October: Congratulations to Norwegian expat Top Alcohol Dragster racer Julie Nataas, now based in Santa Monica, California, for her second NHRA National Event Wally. The delayed Gatornationals final, originally scheduled to be run on 27th September, finally got wrapped up at the NHRA FallNationals at the Texas Motorplex in Ennis yesterday.

Julie ran a 5.177/280.60 in defeating Josh Hart in the final. She had originally qualified #6 in Gainesville with a 5.276/271.35 and defeated Joey Severance in the first round and Duane Shields in the quarter final. Julie's first NHRA National Event Wally was for the 2019 Carolina Nationals at Charlotte; she also won the 2019 NHRA North Central Regional championship with three event wins and the 2020 Lucas Oil Drag Racing Series at Beech Bend Raceway Park, Bowling Green, Kentucky.

Julie's Fallnationals race came to an end in the second round of eliminations as the throttle stuck on the burnout, and had to deploy the chutes to slow the car down, coming to a safe stop in the gravel pit.

Thanks to Chris Hobson for providing information.

RRC - Chris Orthodoxou build gallery.
18th October: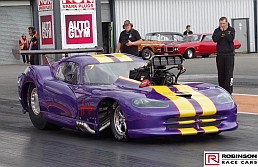 Bob Roberts has kindly sent a gallery of pictures taken by him whilst the build of Chris Orthodoxou's Apocalypse Pro Modified Dodge Viper took place at Eurodragster.com sponsor Robinson Race Cars.

Bob says 'This was not a ground up build but rather a rebuild of Chris's existing Pro Mod/Super Pro ET car to bring it up to current Pro Mod standards.

'This included making provision for a blown methanol engine and mounting a Mark Williams axle to handle the increased power. These upgrades meant there were many changes to both body and chassis as you can see in the pictures. The original body was modified with higher wheel humps and a new mould taken from it so a new carbon body could be made'.

You can see Bob's gallery in our feature in association with Lucas Oil Products by clicking here or go to our Features, Interviews, Tributes index via the main menu.

HARA keeps the faith.
15th October: In a year when programmes have been devastated by Covid-19 restrictions, Hanau Auto Racing Association (HARA) were able to take part in three test and tune/race sessions at Zerbst Airfield during Summer and early Autumn of 2020. The rules were set by local organising body AMC Dessau; only one team member per vehicle was permitted to accompany the driver, social distancing was used extensively and all tickets had to be purchased online, with registration being made at the entrance to the site.

Zerbst Airfield, midway between Leipzig and Berlin, was built in the late 1930s and was taken over by the Soviet Union in 1945 after which the runway was lengthened to 2500m. The Soviets withdrew from the airfield in 1992 and whilst the main runway became overgrown by grass and large areas are used for a solar power array, AMC Dessau (formed in 1990) used the Zerbst airfield for motorsport events since 2007, signed a lease agreement with local authorities in 2014 and approval as a motorsport facility was obtained in 2018. A sufficient area has been kept in order to allow drag racing and other motorsport events to take place.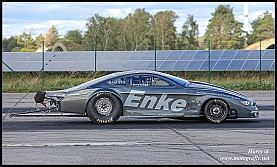 Pictures © Harry Czekalla: Bernd Rudolf (Comp Eliminator), Jens Könnecke (Super Pro ET)

The first test and tune in 2020 took place at Zerbst from 5th-7th June. The track was prepared by Micha Behrens who as organiser of the Jade Race carried out this role in previous years. A large proportion of HARA members attended. Amongst the racers were some known to UK audiences. Jens Könnecke drove more than 250 miles from his East Friesland base and many many runs in his Oldsmobile. Arndt Putzmann in his quick Beetle also ran but suffered a damaged inlet manifold. Gerd Habermann had a bit of a wild ride in his Black Beauty Camaro, then Then after a pause in Saturday's action due to rain Daniel Olic's Vega ran on Sunday and 'got to know the meadow' as the HARA report says. The result was an uninjured Daniel, but a badly damaged car and the meeting coming to an end.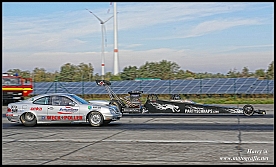 Pictures © Harry Czekalla, Clarissa Czekalla: Janine Petzold v Gerd Habermannn(Oct), Peter Städter (Pro ET)

On 17th-19th July, a second RWYB took place in sunny conditions. Armin Widmann tested his new Pro ET 70 Camaro, Sascha Hermann and Thomas Ranft scored PBs, Bernd Kaltenbach prior to Clastres and Gerd Habermann ran his two-seater. Following this event, several racers were able to travel to Clastres in France to take part in the race at the end of August.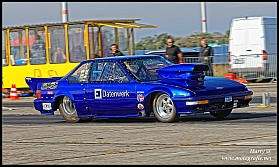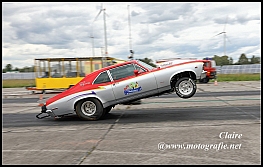 Pictures © Harry Czekalla, Clarissa Czekalla: Til Schöninger (Pro ET), Pascal Czieschowitz (Super Pro ET)

The last race of the season was carried out in the very best weather, without rain. However, there was sometimes quite a tailwind, which gave a couple of drivers grey hairs when specifying their dial-in, a few breaking out. However there were still winners and Gerd Habermann took 1st place in Pro-ET race, ahead of Björn Szczendzina.

So congratulations to HARA's committee, especially newly elected sports director Rene Kloss, and founding member Jerry Lackey who last November celebrated 50 years as a member of the club, for encouraging racers to attend and to AMC Dessau for carrying out the organisation effectively.

You can read about HARA at their web site, and galleries of photos can be seen at the Facebook site of Clarissa Czekalla, the web site of Harry Czekalla and Dragmag.de's FB page.


Melbourne media.
14th October: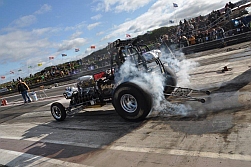 Dragtastic 3 took place on 10th-11th October at Melbourne Raceway and although there was some rain on Saturday, Sunday was clear and the RWYB cars and bikes took their turns to make runs down the still-fresh asphalt. There were three representatives from the Supercharged Outlaws, Keith Freeman's '32 five window coupe, Eurodragster.com Perfect ET Award sponsor Andy 'Fadster' Hadfield and Geoff Hawksworth's Na Wa Torquin slingshot dragster. Also a variety of other cars and bikes attended.

Photo galleries of the weekend's activities have been posted by Paul Fishwick Photography, Pudgeys Pictures and PW Pics photography. Full-resolution photos from Pete and Wendy at PW Pics may be purchased for a donation to their 2020 chosen charity The Yorkshire Air Ambulance.

Photo credit: Andy 'Fadster' Hadfield by PW Pics.

EDRS Champions profiled – bike classes.
14th October: Yesterday, we found that Finnish competitors had more opportunity to accumulate points than their neighbours in Sweden and Norway as a result of the pandemic restrictions in place. Accordingly, most EDRS champions in 2020 are Finnish and first time EDRS champions. Today, we examine the bike classes which had championships.

The EDRS Pro Series had to be cancelled as a result of the small amount of competition possible during the pandemic, so there was no championship in Super Twin Motorcycle, Pro Stock Motorcycle, Top Fuel Bike, and the Super Comp and Super Gas championships were limited to EDRS rounds only.

Junior Drag Bike: With 10-11 bikes at each of the three Kauhava rounds, there were more points able to be accumulated in Finland. Jone Kiljala (pictured below, left) from Reisjärvi, Finland, aged 12, of Racelake Racing Team became champion, followed in second place by older sister Jenniina. Jone rides a Honda CBR600F and it is both riders' second year in competition.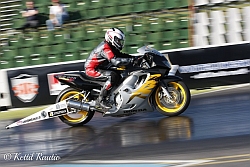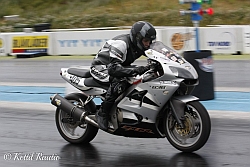 Street Bike: Two wins and a runner-up gained Miika Aaltonen (pictured above, right) the championship. Miika, from Numminen, Finland, aged 17, rides a Kawasaki with a 636cc engine This is Miika's first year in competition. Two wins and a runner up gave him the title with fields of seven bikes in all three events.

Super Comp Bike: Kimmo Rantala from Nousiainen, Finland (pictured below, left), a racer since 2001 in the Street class, and Street Bike champion in 2009, moved to Super Comp bike in 2016. In 2020 he went to the semi finals twice and was finalist once in fields of 7-9 bikes. Kimmo runs a BMW S1000RR as part of Rantala Racing, the team also fielding a Junior Drag Bike for Eemeli Helkalla.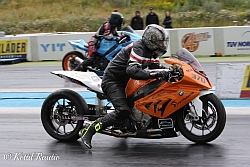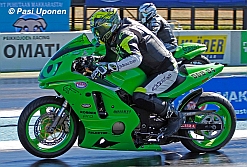 Super Gas Bike: Juha Komulainen from Kerava, Finland (pictured above, right) had two runners up and a win to become 2020 Champion. Juha has been racing since 2013 and ran Super Gas since 2017, running at one or two events in Finland only. His bike is a 2003 Kawasaki ZX12R with a 1287cc engine. Photo credits: Kettil Rautio.


EDRS Champions profiled - car classes.
13th October: We congratulate the Summit Racing EDRS Series Points Champions 2020. The championship was, of course, shorter with eight rounds compared with 20 in 2019 and much less travelling possible between countries due to pandemic restrictions. With a lower infection rate, however, Finland was able to host larger fields at Kauhava with the result that Finnish competitors had more opportunity to accumulate points than their neighbours in Sweden and Norway. Accordingly, most EDRS champions in 2020 are Finnish, and first time EDRS champions. You can see the final points at www.dragracingeurope.eu.

As many of the champions are new, we provide some information below on each champion and their background in the sport:

Junior Dragster: Tuukka Riekkinen (from Ruuhimäki, Finland, aged 14) won the champion with a semi-final and two quarter final places in fields of 15 cars in the first two events and 17 in the finale. Tuukka has raced since 2017 when she licensed and was 11th in last year's championship racing a 1998 Ranrace built short chassised dragster.

Pro ET: Rasmus Koivula (from Vantaa, Finland, aged 20) drives a team-built 1967 Plymouth Barracuda with the team title of Miami Vice Racing, with a best ET to date of 9.516/234kph. He won the title by winning the second and third events at Kauhava, both with seven car ladders. Rasmus has been racing since 2016. More information is on the team's web site at this link.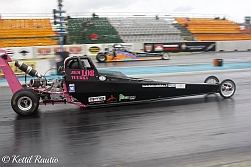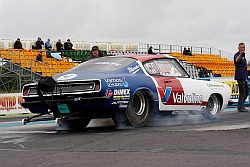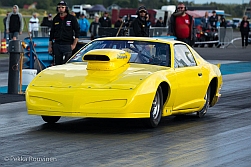 Super Pro ET: Janne Söderqvist (from Pori, Finland) drives a tube chassised Pontiac Trans Am with a naturally aspirated 565ci Dart-manufactured big block Chevy engine. A runner up and two wins gave Janne a big lead in the championship. Although he has raced since 1993, this is Janne's first year in the category.

Pro Street: Ossi Oikarinen (from Lahti, Finland) with the Double Zero Drag Racing Team races a '37 Chevrolet with nitrous assist. Ossi won all three events he competed in, although the fields were 3-4 cars compared with 20-30 in 2019.

Stock/Super Stock: Jarmo Grönman (from Porvoo, Finland) won his first championship in his Mountain Dew Mustang Cobra Jet with a 429 Ninja engine running in Factory Stock/C class. A win in the first race and semi final in the third race were sufficient for him to gain the title as there was only one round in countries other than Finland.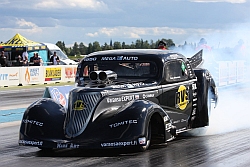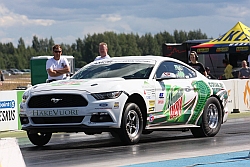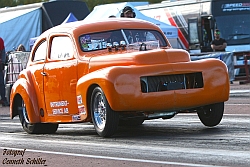 Street: Lars Erik Persson (from Ås, Sweden) runs a Volvo PV out of Sunsvall SHRA. The class was only contested in two rounds in Sweden, where Lars Erik won both. His Volvo PV with a fibreglass reproduction body has a Chevy small block 427ci engine for the 8.60 engined class.

Super Comp: This category was only ran at the second Tallhed race and the Gardermoen NDRS finals. Both only had single entries, the dragster of Mikael Nilsson and funny car of Celina Hanssen, and so they have earned equal points.

Super Gas: Longtime competitor Christer Uhlin (from Malvik, Noway), who has raced in the category since 2004, used trips to the Kauhava, Finland and Haapsalu, Estonia race to gain additional points to allow him to take the title which is his eighth. Christer drives a Ford Fairlane 500 with a naturally aspirated Ford 557ci engine.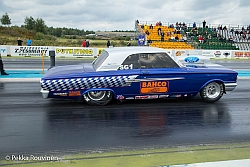 Super Street: Mika Patshijew (from Vantaa, Finland) was the champion in his first year in the category, and there was only one race for the title, in Estonia, where Mika was the winner over another Finn and seven Estonians. Mika drove a Plymouth Belvedere.

We'll look at the 2020 EDRS Bike champions in tomorrow's update.

Photo credits: Kettil Rautio, Pekka Rouvinen, Cenneth Schiller, Tõnis Uustalu.

Unusual car sales update.
13th October: As well as our Jeff Bull Racing engines sponsored Swap Meet pages, a lively forum for the sale of drag and custom cars in the UK is the Facebook Private Group Unusual car sales uk run by Nigel Taylor. Recent posts have included a number of well-known cars from the racing scene:

First shown is the Williams Bros 1962 Chevrolet Impala which was rebuilt in 2019-20 into a race car but can easily go back on the street. The engine is a 327 SBC output 600 bhp. Special suspension parts have been fitted and a brand new ATI Turbo Hydramatic 350 transmission, Webster race engineering 10.00 roll cage. The car has run 10.99 @ 120 mph and the price is £40,000.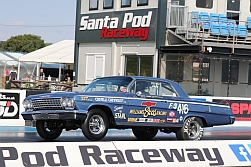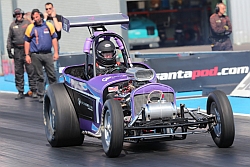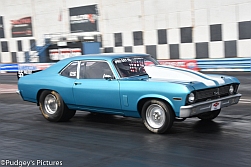 Second is Elaine Hancock's Pro ET/Wild Bunch altered, with its 383 Small Block Chevy Crate Motor and Powerglide gearbox, built for up to 1200hp. There are lots of new parts and the car ran regular mid-10s passes with the chassis last tagged in 2018. Buyers need to have a trailer but the car is turnkey for £14,000.

Third is John Parker's Pro ET '69 Chevy Nova which you can see in a Youtube video. It has a 468ci big block Chevy engine and Al's Glide. The chassis was set up at Zannetec and had new paint before John first brought it out in 2018. Since its four meetings in that year it has had further upgrades and a new prop shaft and transbrake. The mid 10s car can be put back on the street and the asking price is £21,995. You can message Nigel at his Facebook page if you are interested in being put in contact with any of the sellers.


Drag Racing Europe update.
12th October: Keith Bartlett, the Chairman of Drag Racing Europe AB (DRE), has sent the following memo:

A meeting of the DRE (Drag Racing Europe) board was held in Stockholm on 6th October. At that meeting, several matters were discussed regarding the 2021 FIA European Drag Racing Championship. It is the intention of DRE to publish the 2021 FIA Championship calendar dates soon after 3rd November 2020. What can be released is that there will be six rounds in 2021 with rounds in the UK, Sweden, Germany and Finland.

The intention is to have the calendar dates agreed and sanctioned at the FIA Drag Racing Commission meeting to be held on the 3rd November, at which Keith Bartlett will represent DRE.

Swift snippets.
12th October: A very happy birthday to Kathy Hileman, US correspondent and longtime supporter of Eurodragster.com, have a great day Kathy. (Ed.: apologies for the misinformation earlier)

In his latest instalment of his autobiographical blog, John Hunt writes about working with the late and much missed Terry Gibbs, and Tina Gibbs in establishing Obsession Motorsports and its Super Series held at Avon Park Raceway from 1998. You can read John's blog here or by clicking on Racer Blogs in the main menu. As an option, we have laid out John's blog in a first-to-last sequence which you can find by clicking here.

The Mad Welshman has uploaded 130 photos of the NSRA Hot Rod Drags to his Flickr page. To see Mad's photos, click here.

Drag racing historian Nick Pettitt has uploaded five more of his Time Travel videos to Youtube. Included are Time Travel 12, 13, 14, 15 and 16. The videos of events from 1963 to 1982 at tracks around the UK come from the collections of those closely involved with the sport in its early days in this country. Bob and Roy Phelps, Alan Allard and Eurodragster.com sponsor Dave Riswick contribute to Time Travel 15 which is particularly recommended for its footage of the 1963 at Silverstone and the 1964 DragFests. For a listing of Nick's videos go to this link.

Get Well Soon to expat Swedish Racer Adam Flamholc who contracted coronavirus following a trip to Europe and to Russia for the final of the Russian Drag Racing Championship and is now recovering in Sweden before travelling back to the US. Adam said " I hope I will get well in time to fly back to US for the ADRL World Finals in St. Louis in less than two weeks!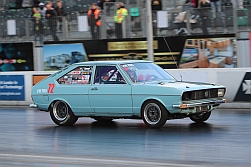 VWDRC Heads Up report.
11th October: Congratulations to Rob Carter, winner of the VWDRC Heads Up elimination at the GTi Festival at Santa Pod Raceway today who was handed £250 prize money courtesy of VWDRC. Dry conditions, despite marshals needing to dry a damp track first thing, allowed three qualifying rounds and a fifteen car ladder to be run. Rob was driving a VW Passat Mark 1 with Cosworth YB engine which he plans to replace with a supercharged Chevrolet LS3 for 2021.

Qualifying results were as follows: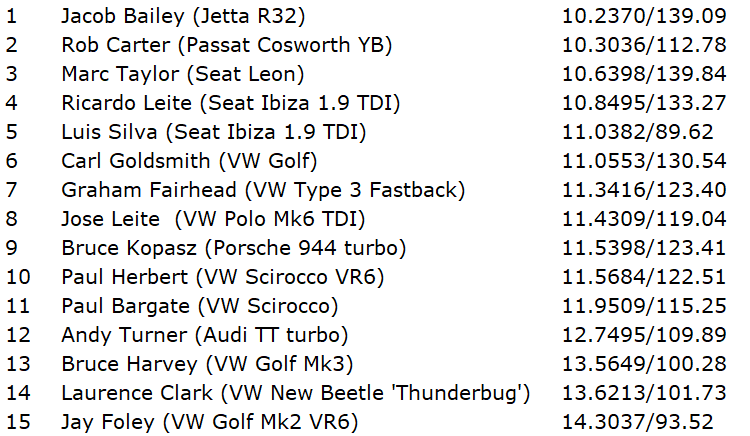 Eliminations went as follows: First round winners: Carl Goldsmith 13.77, Ricardo Leite, Graham Fairhead 11.25, Rob Carter 11.21, Marc Taylor 10.90, Jacob Bailey, Jose Leite, Luis Silva 10.49.

Second round winners: Jacob Bailey, Marc Taylor, Rob Carter 10.48/135, Riccardo Leite 10.60/134.

In the semi-final Marc Taylor defeated Jacob Bailer and Rob Carter defeated Riccardo Leite.

In the final, Marc Taylor was unable to make the call following a split inlet manifold in the semi-final.

A number of racers made new PB runs: in qualifying Jacob Bailey, whose Jetta was running with a new ECU, ran a 10.4209/138.21 in the second qualifying session and improved to 10.2370/139.09 in the third session that placed him first. Ricardo Leite ran a PB of 10.8495/133.27 in session no.2. Graham Fairhead ran new PBs of 11.3661/119.95 and 11.3416/123.40 in the first two sessions and improved this to 11.25 in round one of eliminations. Bruce Kopasz ran a PB of 11.5398/123.41 in session one.

Luis Silva also ran his first nine, a 9.96/134 in a rwyb run. Luis, driving Helder Pereira's Ibiza 1.9 TDI, suffered a blowout at the finish line in session 1 but kept control of the wayward car. Then in session 3 he suffered gearbox failure and managed to swap a gearbox over in under 45 minutes and make the race, beating Andy Turner for a place in the quarter finals.

Many thanks to Julian for braving the elements and shooting photos of both the show n' shine and racing. You can see Julian's gallery by clicking here or by going via the John Woolfe Racing-sponsored Event Coverage index in the main menu.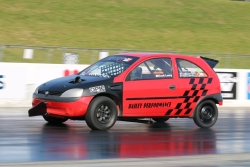 October private test day needs racers.
10th October: We reported on the Private Test Days organised by Scott Lewry of Yam Yam Racing on 14th September and 17th August. These days attracting 80 cars mostly Euro and Jap entries, were a great success and racers were able to make several runs each on a fully prepped track. Another Private Test Day is being organised for Monday 19th October and costs £85 for 1 driver and up to 5 crew members. Camping is also available on Sunday night for £10 per person.

This event will be limited to 75 vehicles so racers can get maximum track time on the fully prepped track. Contact Scott Lewry at Yam Yam Racing, or join the Santa Pod Private Track Day Group by clicking here. The cut off to get booked in is this Wednesday, 14th October.


Voodoo Hemi update.
10th October: Many thanks to Autosport.nl and Speedgroup photojournalist Remco Scheelings for sending us a news update on Pro Mod team Voodoo Hemi Racing led by 2019 Motorsport UK Pro Modified Champion Marck Harteveld:

After taking the Motorsport UK Pro Modified Championship in 2019, the team was in full preparation to compete in the full FIA European Pro Modified Championship for the first time. Five races in three different countries in the most competitive Pro Mod title fight in Europe. Until corona hit. One meeting after another was postponed or cancelled and the end of the song was that the FIA had to put a line through the entire championship. Without having driven a meter, the Voodoo Hemi Racing season came to an end. Now, sitting still is not exactly the strongest point of Marck Harteveld and his team, so they have continued to work hard in recent months.

It had been the team's wish for a long time to have a second engine ready. If something goes wrong with the engine during a race, repairs are possible, but not every damage can be quickly repaired on the spot. Especially in the battle for the FIA European Championship, as a driver you cannot afford to miss a run. Sometimes it is faster and easier to change the motor. You just have to have it ready in the trailer. From now on this is the case with Voodoo Hemi Racing. Via Post & Dros, the team was able to obtain an engine block with accessories and with the many spare parts that Voodoo Hemi Racing already had, a second engine has now been built. In the unlikely event that the situation arises that something breaks, you can now quickly change and continue the race.

Voodoo Hemi Racing may now have a second engine, but that does not mean that the engine that has been serving faithful service in the '70 Plymouth Superbird has not received any attention. The engine has been taken care of by Joeri Woudenberg and provided with various updates and new parts. Everything is also well attuned to each other. Woudenberg not only has a wealth of experience in the field of (racing) motorcycles, he has also guided several European Pro Modified riders to new personal records. At the end of last season, Woudenberg already advised Voodoo Hemi Racing a few times on and off the track and he will do this next season if all goes well.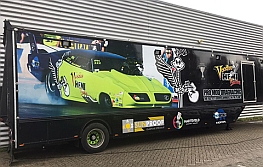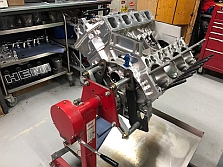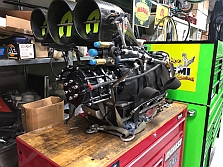 Text and photos courtesy and © Remco Scheelings and Autosport.nl. Top photo: Julian.

The blower is an equally important part of the engine and also subject to wear when the full 3,500 hp is used. The blower has also been overhauled and updated by Joeri Woudenberg and can therefore handle it again.

Even then, the list of activities is still far from complete. The complete Superbird has been checked from top to bottom, refreshed and parts replaced where necessary. This makes the Pro Mod look like new again, just like all tools and other team supplies.

The Voodoo Hemi trailer that transports the team and the Superbird to the circuits has always been an eye-catcher, but now it is even more so. Until recently, the team's previous car was on the side. So it was time for an update and that has happened recently. Jeroen Ritz of Mooi Reclamewerk made a new design based on the current '70 Plymouth Superbird. This was then printed by Kees van der Kruijk from Sunproof Glasfolie, who also wrapped the trailer afterwards. Michel Tooren and Pro Dutch Racing made the space available where this carefully to be performed job could be done. Voodoo Hemi Racing would like to thank everyone who contributed to this metamorphosis, because the result is impressive.

After winning the British Pro Modified title in 2019, Voodoo Hemi Racing planned to participate in all races of the FIA European Pro Modified Championship for 2020. Unfortunately, this was canceled due to the corona pandemic. Postponement will certainly not lead to cancellation, because Voodoo Hemi Racing has now postponed its plans to the 2021 season. Fortunately, the title fight does not start until the end of May. By then, much more will probably be clear about what can be done in Europe in terms of travel and events. Hopefully a vaccine will have solved the biggest problems and limitations by then. As it looks now, the event schedule will not differ from this year's planned one.

Voodoo Hemi Racing is supported by 6Pack Speed Shop, CL Coatings, Breed Advies, Baro Services BV, PPG, Aviboor, Qrien van Vliet, Elno Installatietechniek, Peet Hulisz, PP Solutions, Peet Komen Autoherstelwerken, Sunproof, Tom Otten Electrical Engineering, District 010, Mooi Reclame Werk, Fred Barendse, Breedveld Transport Rotterdam, Rob vd Kruk Maintenance Company, DW Hijsmiddelen and Gert and Leny Harteveld.

This weekend: two events in the UK.
9th October: Santa Pod Raceway hosts the GTI Festival on Sunday 9th October and this event is for enthusiasts of all VAG marques. Pre-booking for this and Saturday's rwyb is essential under Santa Pod's Covid-19 procedures and you must book on-line at this link. Standard admission is £15 and the track sign-on fee is £35. A Show & Shine Vehicle Pass is free with admission. The running order can be seen here, at which you can see there will be a VWDRC Heads-Up race with three qualifying sessions in the morning and four rounds of racing in the afternoon. 16 cars have entered and we will carry the results in Monday's news. Our Julian will be attending to take photos and will publish the gallery on Monday.

Meanwhile at Melbourne Raceway in Yorkshire, the track and Straightliners will be holding Dragtastic 3, a run what ya brung event for all categories on both Saturday and Sunday. All tickets must be bought in advance and the government rules regarding Covid-19 are expected to be adhered to regarding the rule of six, social distancing and wearing face coverings.

Supercharged Outlaws racer and Eurodragster.com's Perfect ET Award sponsor Andy 'Fadster' Hadfield, will be present at the Melbourne event to make noise and run down the eighth mile track.

Bike records broken at Clastres.
9th October: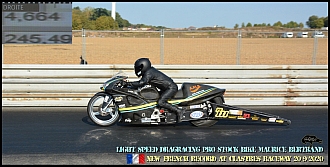 The first, and only, motorcycle drag race meeting in France in 2020 took place at Clastres Raceway on 18th-19th September as a run what ya brung. There were some special runs and records broken – we have two reports, the first from our bike pit note contributor Mike Kraaij: "The French Pro Stock Bike team Light Speed Drag Racing with rider Maurice Bertrand came to Clastres to set-up their new parts they bought for their Suzuki Pro Stock Bike with which he had become the first Frenchman to become FIM-E Pro Stock Bike Champion in 2018. The team, former multiple French Champions in this class, wanted their FIM-E title back after losing it to Fredrik Fredlund in 2019. After the arrival of Covid-19 in 2020, it was great that they could test at Clastres in their home country and after some issues during the weekend, it finally paid off for the team as they made a great 1/8 mile pass that resulted in a new French Pro Stock Bike record run of 4.664/245.50 kmh!

To say the team were pleased is an understatement. Maurice said "This team works really hard to make this happen and they really deserve this. Mike concluded: "Well done to all involved and hopefully in 2021 we can go back to normal and have a new great drag racing season with new PB's and record runs".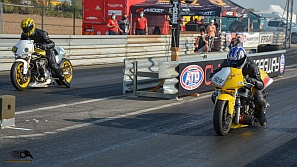 In the Super Street Bike ranks, RK Drag Racing – father and son team Eric and Yannick Richard – reported that they had brought along two Super Street Bikes. The team was able to complete a dozen runs with a Suzuki Bandit Turbo bike and a Hayabusa Turbo. Eric's first run on the Bandit was an 8.6 but the bike suffered a mechanical issue on Sunday which prevented him making further passes. Yannick made some good runs on Saturday and was looking good for Sunday.

French rider Jean-Luc Simoes, who was also at the event, held the previous French SSB record of 7.98, but Yannick was able to dip below this on Sunday with a 7.92s run. Within an hour, Jean-Luc had taken the record back with an excellent 7.81. Yannick's last run was 7.87.

Both Mike and RK Drag Racing Team thank Run Cap Sud and ATD for making this event happen and to make this local track so quick and fast.

Pictures courtesy and © Mike Kraaij

Clastres results, media.
9th October: You can see the full results of the 13th European Dragster - Speed Final at the Association Trophee Dragster's Facebook page.

Congratulations to the winners:

Super Pro ET sponsored by Dulamon Auto: Fabien Dubois, runner-up Billy Gane
Pro ET sponsored by La Bonne Bouffe: Jean-Luc Arnaud, runner-up André Nahler
Street Run sponsored by Nitro: Jean-Luc Jacot, runner-up Francois Peeters
Junior Dragster sponsored by Maisons Pierre: Cheyenne Visser, runner-up Sam Timmers

Coverage of the Clastres #13 race on the internet can be found at Mike Kraaij's motorsport page, Dragmag.de for which photos were taken by Roland Schenker, at Olivier Houllier Photographe's albums and Lowered Kulture's albums.

Hodson returns - and wins.
8th October: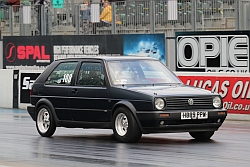 VWDRC racer, and now six times VWDRC VW Pro champion, James Hodson tells us that he is glad he made a return to racing in 2020:

"After having five years off to start a family I was excited to return in 2020. Covid put a stop to that so when it was revealed that there would be a mini Covid Cup, the excitement returned. Testing at the VWDRC Drag Days went well. Both the car and me soon got back in the swing of it, and the Greenlight Nationals beckoned. I got to the final but they were rained off. That hurt. Would we have another washed out season?

"Fortunately, we were able to run the final at VW Breakout which I won. But being a second round loser at Breakout which dropped me to second in the championship.

"To the National Finals and after qualifying, I was now just 10 points behind. I met points leader Carl Goldsmith in the first round and luckily won that and with it, the VW Pro championship. I managed to go rounds and get to the final, and also won that. So a great short season for me. I cannot wait to do it again next year, hopefully starting a bit sooner.

"I would like to thank everyone in the VWDRC for being so awesome and especially Santa Pod Raceway, for all the effort that they put in to get us all back on track. It was very much appreciated".

James will be at this weekend's GTi Festival at Santa Pod Raceway, although at this event his role will be as a crew member.

Race report: Mälardalen Open #4 at Kjula Dragway.
8th October: Held on 19th-20th September, the Mälardalen Open #4 at Kjula Dragway was, in terms of competitor numbers, the largest race in Scandinavia this year with 174 signed on. As with other races, the racing was held without spectators present and was limited to the sportsman ranks.

Car classes contested were: 4to6 Pro, ET Pro, Junior Dragster, Pro Street, Real Street, Stock-Super Stock, Street and Vintage. Bike classes were Junior Dragbike, Pro Street Bike, Street Bike, Super Comp Bike, and Super Gas Bike. There was also test n' tune action. The race was able to be run to completion under sunny skies.

Pro Street was the quickest class with six cars contesting with the usual 7.60 index. #1 spot went to Eva Widgren in a fourth generation Camaro at 7.6680 followed by Christian Lundin in a 64 Ford Fairlane Sport Coupe running a 7.7160. It was Christian who won the final against Robin Johannesson in his Opel Kadett, a 2019 trophy winner of Streetweek Sweden, a competition similar to Hot Rod Dragweek. Christian's winning times were 7.648/286.30kph to Robin's 8.319/266.70.

Street (8.60 index) was contested by 13 cars and the no.1 qualifier, in a matt black Chevelle, was Mauritz Rådberg at 8.6221/ 241,94. In the final Mauritz was up against no.2 qualifier Benny Wallenbro in a Chevy Nova who ran 8.6314/253.16 in qualifying. Times in the final were 8.648/252.20 for Benny to a holeshot win for Mauritz at 8.660/235.70.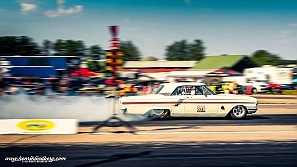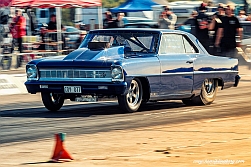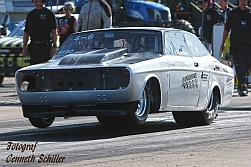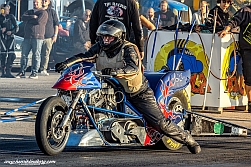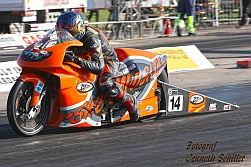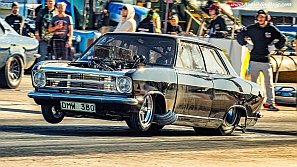 Pictures (clockwise): Christian Lundin (Pro Street), Stefan Flodell (Test n' Tune), Björn Lundin (4to6), Robin Johannesson (Pro Street), Tim Christensen (Test n' Tune), Mats Larsson (Test n' Tune). Photos courtesy and © Henrik Lindberg Photography and Cenneth Schiller.

4to6Pro, for cars with those numbers of cylinders, was led in qualifying by Björn Lundin's nitrous turbo Volvo 240 which ran 8,2512/ 264,90 however the failure of a nitrous solenoid led to a damaged cylinder head, which was unable to be repaired before eliminations. After others experienced mechanical woes in eliminations, Robert Hellsing in a street driven Audi Quattro ran an easy 14.9s pass having run a best of 9.579/244.00 in qualifying. In Test n' Tune, the best car runs were by Stefan Flodell, who was in a gasser at Dragstalgia a couple of years back, but here was in a nitrous boosted Nova owned by Anders Fredriksson, recording a best of 8.1126/266.57.

Pro Street Bike was won by no.1 qualifier Peter Rundstrom who ran 7.919/266.60 against no.2 qualifier Jens Karlsson's 7.985/272.80. Best Test n' Tune bike runs were by Peter Andersson at 7.3994/307.17, and Jan Malmberg at 7.7295/257.79 on their respective Funny Bikes. Former Junior Drag Bike racer 15 year old Tim Christensen was testing the Pro Stock Bike previously campaigned by Kenneth Holmberg.

Full results for qualifying and eliminations can be seen on dragracing.eu. Videos of the finals can be seen at Youtube.

Tierp applies for 2021 FIA events.
7th October: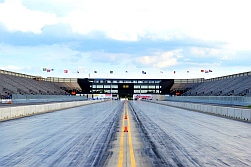 Not officially announced, but posted in the news blog of Speedgroup and Netherlands Autosport web site by our good friends Lena Perés and Remco Scheelings, Tierp Arena has, with the support of organising body NDRS, applied to the FIA for two dates in 2021.

We reported back in June that Tierp Arena was for sale by its owners. However, with a sale apparently not forthcoming, the owner of Tierp Arena in conjunction with the organising club NDRS has applied to hold two races for the FIA European Drag Racing Championship at the track in 2021, one in June and one in August. The dates are yet to be confirmed, and it appears that the August date is under discussion because the sole date already set, 20-22 August for the 2021 NitrOlympX at Hockenheim, is only a week away from the desired Tierp date. Usually the calendar for the FIA Drag Racing Championship is published in October.

Other events are being considered for the 2021 EDRS Scandinavian calendar and Speedgroup stated planning for the 2021 season continues with the hope that they can publish dates as soon as everything is in place.

Tierp Arena has been owned by Sånna Förvaltning, a company which has interests in the hotel and conference sector, and also owns the Sturup Raceway in the south of Sweden, since 2014.

Tallhed #2 EDRS race report.
7th October: Despite a small field of entries, the Swedish part of the Summit Racing EDRS Series ended in bright sunshine at Tallhed Dragway on the weekend of 12th-13th September, writes Lena Peres in the DragracingEurope.eu blog. "Around 50 drivers gathered in Orsa to take points in the reduced series. The atmosphere was good, and the organizer carried out the competition in the best way based on the conditions they had."

Qualifying and eliminations took place in Junior Dragster, Super Pro ET, Pro ET, Pro Street, Street, Super Gas, Junior Dragbike, Super Comp Bike and Super Gas Bike, with single entries in Super Comp and Super Street also eligible for winners' cups. In Super Pro ET 2019 Champion Mikael Nilsson won the best of three competition, running a 7.79/277.3 kph (171mph) when competition Tommy Abrahamson failed to show for the second round. Other results can be seen at the dragracing.eu results page.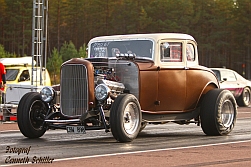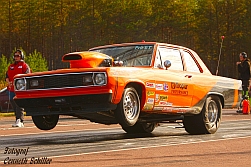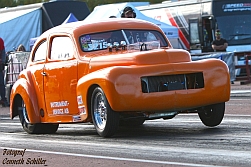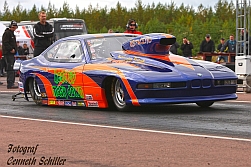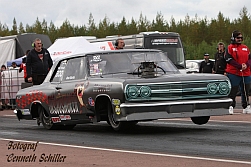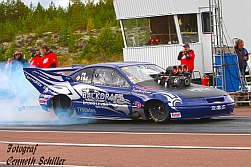 Clockwise: Robert Väliste, Janne Lithell (both Pro ET), Lars Erik Persson (Street), Ken Gustavsson, Anna Knutes, Michael Maderer (all Pro Street), All pictures courtesy and © Cenneth Schiller.

"This time the Summit Racing EDRS Series centre and staff could be on site to join the event. It was a great opportunity to meet some of our drag racing family before the season got to an end. And to hand out some goodie bags from Summit Racing Equipment. Saturday was interrupted by rain in the afternoon and it didn't want to stop in time, so the qualifications had to be cancelled for the day. But later you could enjoy a starry and magical evening and night which later turned into a sunny Sunday. Two qualifying rounds were made before all the hard-working staff started the elimination.

"Two competitors who doubled their chances of winner cups was Christer Gustafsson who raced in both Super Street and Pro ET and Mikael Nilsson who did both Super Comp and Super Pro ET. Both Christer and Mikael brought home two winner cups each. Congratulations guys!

A great end to a very odd season. Thank you to everyone involved for a well-conducted event. Now we hope for a more racingfrekvent season 2021. A Facebook stream of the event can be seen here.

Gardermoen Drag Finals report.
6th October: Thanks to Lena Perés for posting a report on the Dragracing Europe blog on the NDRG Drag Finals, a round of the Summit EDRS racing series, which took place at Norway's Gardermoen Raceway on 11th-13th September. Competition took place in all sportsman classes together with runs in Top Fuel Bike, Super Twin Top Fuel Bike.

With a few weather interruptions on Saturday, the competition ended in sunshine on Sunday. Annelie Johnsen reported after the race "The crew at Gardermoen managed to get two classes done before a storm with hail as big as peas broke out on Saturday. But after rain comes sun, and so it did this time. We continued racing until 7.30 pm and the track was fantastic.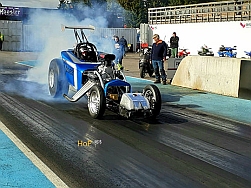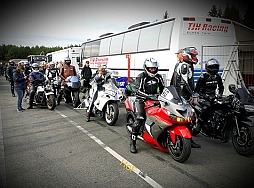 "Sunday started with two qualifying rounds before the elimination. The competition ended in sunshine at 6.30 pm and half an hour later the award ceremony could start. Apart from Saturday's storm, it was a very good event. Everyone was positive and happy with everything and we got a lot of credit. We say thank you for that. It was a big job to get this through with all restrictions, but we made it. There were many personal best times made and new records were set. The pit area was closed to the public and the recommendations were strictly followed to minimize the spread of Covid-19 with a smaller depot, extra toilets, hand sanitizer, etc, plus many Covid-19 guards.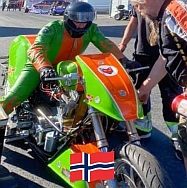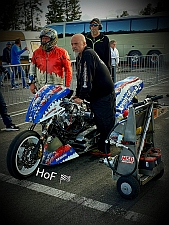 All praise to the organizers with staff who, despite the current situation, managed to carry out a good event. Now we can all hope for a better season 2021".

Super Twin Top Fuel Bike saw Hans Olav Olstad qualify #1 with 7.724/222.48, followed by licensee Jan Erik Klausen (pictured left) at 9.322/170.05 and Trond Høiberget (pictured right) at 9.848/217.17. Top Fuel Bike provided low ET of the event by Jan Sturla Hegre at 6.534/344.43 and Sverre Dahl also made a run.

For details of the event you, can see at the following links the entry list, the event results and streaming video.

Pictures © Hans Olav 'Turborider' Fangan.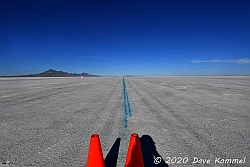 Bonneville 2021, here we (and maybe you) come!
6th October: Landspeed racer and Eurodragster.com sponsor on behalf of Nitro Revival, Geoff Stilwell has been in touch with an update on his 7707 Lucas Oil Products Landspeed team and plans for 2021:

With 2020 Landspeed Racing being virtually ruined because of Covid, the SCTA (Southern California Timing Association) went beyond what anyone thought they could do in August. With the support of the Utah Assembly, special permits were granted for Bonneville Speedweek and the Bonneville World Finals which took place last week.

Unfortunately, due to the current rules and regulations no Brits were allowed into the US unless specifically agreed. Sadly, despite many racers trying to help, apparently motor racing does not count as a special reason to get entry, but golf and tennis do! So, sadly, no-one from the 7707 Lucas Oil Landspeed Team could attend. However, and as is typical of these situations, the salt was in fantastic condition and numerous records were reset. Speed Demon, driven by George Poteet, went 481mph which made it the fastest piston-engined car on the planet. The World Finals held last week, with around 100 racers attending, had around 48 records reset. My good friends at Vintage Hot Rods running the 911 car went 302mph in a Model B Roadster. Seeing these cars and bikes at these speeds is really something, especially at 7am, which is when the back up runs are made.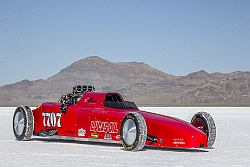 For anyone in Europe who would like to attend Speedweek in 2021, it will be held from August 7th-13th. That's 7 solid days of racing from 7am to 6pm every day. Wendover is the nearest town, approx. 10 minutes' drive from the salt, and if you have an RV there is camping at "Dead Mans Curve" on the main entrance to the Speedway or you can stay in one of the many hotels in Wendover. Soak up the atmosphere with Rod shows most nights in town. The hotels start releasing the rooms from February 1st 2021. Do not leave it to the last minute. Usually there are about 500 plus teams running and with the crews it quickly fills up. For those flying in, you can fly to Salt Lake City and then it's a two hour drive west, or flying to Las Vegas and its about five hours, or LA/San Francisco about eight to nine hours.

The 7707 Landspeed team will again be working with Lucas Oil during 2021 in our quest for 300mph and hopefully to reset the class record during Speedweek. There are normally numerous European, Asian, Kiwi and Aussie Teams running making it a truly international event and it's something you will never forget.

This event is not to be missed, especially looking down the track at 7am watching the sun rise and looking at the curvature of the earth. So, if you are thinking of a US trip in 2021, then come and spend some time on the salt supporting the 7707 Blown Fuel Roadster and you never know who you might meet. Finally, I need to thank the Teams at Lucas Oil in Corona, USA, Beech Underwriting, Mick's Paint (Pomona), Rat Trap Racing, Tony Thacker, Kiwi Steve, Mickey Larson, Paul Rivera, S & S Engineering (Azusa), for all their help plus, the SCTA and everyone who helps at the Landspeed Events.

Geoff can be contacted on 07764 222232 for further information.

Pictures © Dave Kommel (top), Andy Willsheer (middle).

Storm Drag Bike requires crew.
6th October: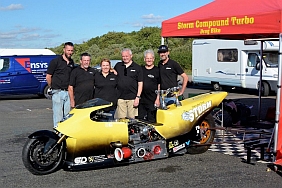 If you live the West London/Surrey area, have a passion for motorsport and want to become more involved in a hands-on and practical way the Storm Drag Bike team would like to hear from you:

Following the passing of Barry Eastman in 2019 and with the rest of the team not getting any younger, we need someone for the 2021 season and beyond to help run the UK's quickest Funnybike deep into the 6s at over 220mph. This is a voluntary role.

Duties will include helping to build and prepare the bike at our workshop in Chertsey, Surrey (approx 1 day or 1 evening per week to suit you). Loading and unloading the bike and equipment into/from our van before and after meetings (6 or 7 times a year). Helping at National and European meetings at Santa Pod, race bike pushing/towing and maintenance between rounds.

You'll get to learn all about operating one of the quickest and fastest turbo bikes on the planet and, if you want to, the boost, fuel and clutch control systems we use including AMS1000, AMS2000 and Motec M800.

You'll need energy, some mechanical aptitude, a good sense of humour and endless patience. Maybe you already know one of us and want to help? Or maybe you're studying motorsport and just need some practical experience. We only race at Santa Pod so this usually means camping overnight during race meetings.

Contact Mick Hand on 07947 802309 or handbell@btinternet.com or Lorcan Parnell on 07947 569920 or lorcanparnell@gmail.com.

STP National Finals bike notes.
5th October: We caught up with social media posts from the winners of bike classes at the STP National Finals:

Leeks Landscapes Funny Bike: Covid Cup winner and event winner Louis Davies (below, left) had a PB of 7.50 before racing started in 2020. At Not The Euro Finals this was reduced to 7.2681 and a speed of 172.42 and Louis won the event. This performance was carried over to the National Finals where he won the event and the Cup. The team said "Well done Louis Davies & The Wicked Wench, National Finals Winner, taking 2 event wins and a second place to win the Santa Pod Funny Bike Covid Cup. Big thanks to all the Santa Pod crew for making it possible to get any racing in this season".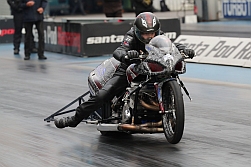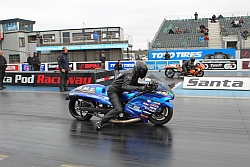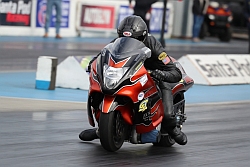 Taylors Trophy Super Street Bike: Steve Venables (above, centre) passed up on the opportunity to race his new home built bike in the three race Covid Cup series in favour of his E-85 fuelled D.M.E. Wins at Not The Euro Finals and National Finals clinched the championshship. But Stephen Mead (above, right) ran him close in the final of the National Finals, running a PB of 7.0254/198.13 to Ven's 6.8801/210.95. Stephen's crewman Kostas Giannopoulos said: "what a great performance. Massive thanks to Harold Finklemyer of ECS Performance for top class tuning as always, Tim Hays (Hays) for the best clutches out there! Many thanks to Joe Elliott, Mark Dainty, Hazel Gulliver, Juliette Durrant, Mark Lemis and the rest of the gang for all the help."

NMCM 8.50 Bike: Ross Morrison (below, left) won the Covid Cup Title whilst Dad Alan Morrison (below, right) won the event. Ross and Alan were both supported by Jake Mechaell's JKE Race Works. In the first qualifying session Ross had a near-vertical wheelie which he managed to control and avoid disaster. He said "Tried to ride it out but she kept climbing. I didn't want to waste the run as it was going to be the guide for eliminations. I finally gave up...We managed to complete the meeting without any obvious damage, losing out to the old man in the final after starting to spray water on the back wheel when under load. The full strip down starts now!"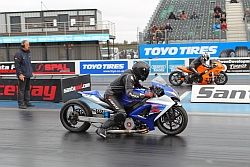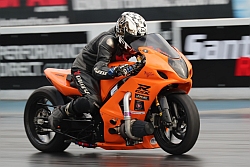 Atlantic Fluid Tech 9.50 Bike: Martin Hallett (below, left) won the Covid Cup in a down-to-the-wire race in the final. Martin said "We went into the last championship meeting of the year in second knowing we needed to go one more round than our JKE Race Works and friend Craig Wright. We had brother-in-law Alan Morrison Jnr in the semis for the first time in competition, then meet Craig in the final for a winner takes all shoot out. We came out on top in what's been a back and forth championship taking two out of three wins. Thanks to all the team Ross Morrison (8.50 champ), Alan Morrison, Alan Morrison Jnr, Jonny Hines and a massive shout to Jake Mechaell".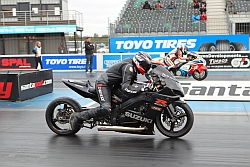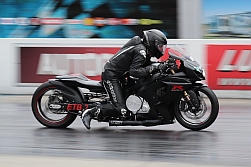 Accelerate for a Cause & a Cure ET Bike: Paul Adams (above, right) won both the title and the event. Suze Morris of the ET Bike Facebook group wrote: "Congratulations to Covid-Cup winner Paul Adams on an outstanding weekend at the National Finals, claiming the #1 spot in qualifying with an 8.8600 on an 8.86 dial-in, then going on to take the #1 spot on the podium. Congratulations also to Michael Gooding on being so consistent, running PBs along the way. Gary Hester and team were overjoyed to send their gremlins packing, running their first 8 second pass. Philip Pratt picked up the win from the rain affected Greenlight Nationals, but then popped a red light in the first round of National Finals eliminations. There was disappointment for Peter Harrison who sadly had mechanical problems first thing Sunday meaning he couldn't join us for the day. It's been an odd "season"... it's been hot, cold, wet, windy and, above all, short... let's hope 2021 will bring better things".

STP National Finals car notes.
4th October: We caught up with social media posts from the winners of the STP National Finals and a couple of others:

Comp Eliminator sponsored by Secret Worx: Winner and Covid Cup winner Lloyd Perkins (below, left) said: "It weren't the prettiest but will take a win on my first race. I was waiting for Kev to storm pass me the whole run". However Kev Slyfield in his Pro Mod Thunderbird had his own problems, the blower belt going at about 60ft.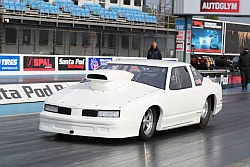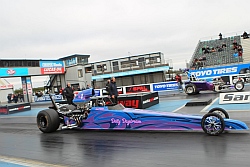 Super Comp sponsored by B Fast R: Event winner Leah Kellett (above, right) said "We had an absolutely awesome working car again, made it to the finals and won. We were fighting gusty winds and trying to set my old throttle stop back up with hardly any runs due to the weather as my old stop had broken. I was absolutely flying down that track and boy did it feel so good! I never thought I would get past first round if I'm honest, let alone to the end". Leah thanked Eurodragster.com sponsors Jeff Bull, Scott & Geoff Hauser for their help as well as her family and everyone else who lent a hand.

Dave Grady Super Gas: event and Covid Cup winner Dave Fulton (below, left) said "this car has tested my patience every meeting but always come good on race day, thank you to all that are involved and help out". Runner up Andy Harrison (below, centre) said "I was looking forward to a really good race as always but was a bit too keen and red lit but can't complain as I'm home with a smile on my face and a car in the workshop in one piece". Andy thanked Paul Brown, Ruaridh Hart, and Rachel Harrison on his team.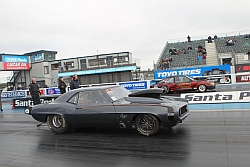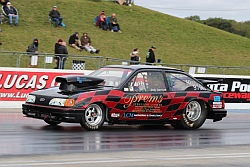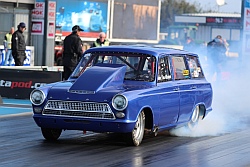 Super Pro ET sponsored by Another Small f: Covid Cup winner Tom Atkinson (above, right) said "congratulations to Daniel Giles today for the event win, Daniel was right on his A game, and to Scott Hauser for runner up, talk about coming down to the wire! I'm so grateful to everyone at SPRC and Santa Pod Raceway that we actually got a chance to come out for a play this year, a short season but most definitely sweet!" It was great to see Eurodragster.com sponsor Peter Walters (below, left) back in his Super Pro Dragster after crew chief and Dad Richard had an injury. Peter said "we had severe tyre shake on Saturday morning and it shook the kill switch off so we stopped just after 60ft. I overcame the tyre shake issue pm Sunday by launching off idle in the first round against Daniel Giles. Unfortunately it worked too well and we broke out running out best ever run of 7.66 with two pedals! but we were still happy and congrats to Daniel for taking the overall win. We'll be back for the full (hopefully) season next year.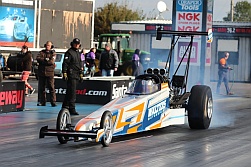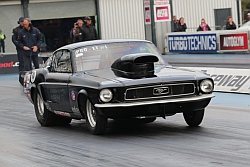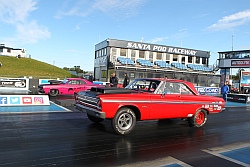 Modurstang Pro ET: Covid Cup winner Lee Huxley (above, centre) said "The weekend didn't start brilliantly because we broke out twice in qualifying, putting us near the bottom of the field. In eliminations we had a couple of close races against Chris Newsome and William Clark. We then had a bye given by Sean Law as he didn't make the start and a bye into the final. Unfortunately on the semi-final bye run looks like we dropped a valve. Well done to Victor Parsons for winning the event and thanks to all of our family and team especially Andy Walker and to our great sponsors!"

UK Nostalgia Superstock sponsored by NEM Plant: event winner Vic Parsons (above, right) said "I'm over the moon, got to both Pro ET and Nostalgia Superstock finals. I'm over the moon, it's a dream come true, I never imagined I could get to both finals and win! Unbelievable, thanks Santa Pod staff and marshals for working so hard to make it the best track in Europe, and thanks to everyone that's helped especially Dave Billadeau and Christine.

Editor's note: If you have a post STP National Finals report, we'd love to hear from you at news@eurodragster.com. Bike quotes will be published tomorrow.

Sjödin aims for 2021.
3rd October: Top Doorslammer racer Andreas Sjödin has been in touch with an update on Sjödin Motorsport / ÅBM Racing in this strange 2020. The headlines are little testing, trailer work and 10 year anniversary with the team's Chevelle.

The one and only outing in 2020 for Sjödin Motorsport/ÅBM Racing was the test weekend at Hudik Raceway 21-23 of August. And what a great place to be at, nice crew, good track and what more can you ask for? I am really impressed what the crew at Hudik Raceway have accomplished in such a short time! This test wasn't planned at all, we started to service the Chevelle one week before and we hadn't touched it since the last pass at the Main Event in 2019. I felt I needed to do something fun and also get prepared for the 2021 season! The main thing is that it is 10 years ago since I made my first pass in the car, and I could not just let it sit in the shop and not make any passes at all this year, we must have some fun too!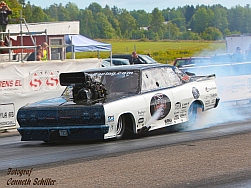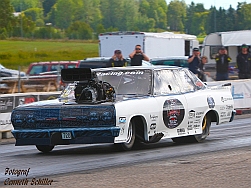 Hudik Raceway photos courtesy and © Cenneth Schiller.

The first pass out directly from the trailer was 0.9987 60ft, and 4.0255 @ 289.23km/h (179mph) to the eighth! This was actually the first pass in 451 days, yes, the last pass I made with the Chevelle was our record setting 5.88@ 242mph at Santa Pod in May 2019! So I must say that this simple first pass felt really good and I was back in the car again and it felt really awesome!! And I was amazed about the track, I mean I went out checking it so I knew what to do about my tune, but still it was even better than what I thought! You can see what it was like from this video. You can read the whole story of our test on on our homepage. I want to take the opportunity to say thank to everyone involved this year, team, partners and friends than been helping out in some way!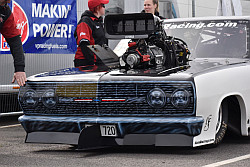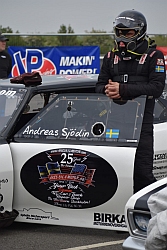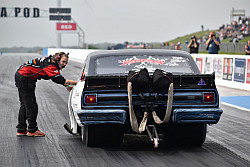 About 2021, to be honest I really don't know what to do in 2021 or what it have to give to us, all I can say is that we are going to England and Santa Pod Raceway for the Doorslammers and Main Event if we get the opportunity to do that, I am more than sure I will go to Hudik Raceway for some testing or maybe even some real racing! Of course testing and just driving the car is fun but I miss to compete against someone else, that's the real fun part of racing! And then we got the Top Doorslammer series and Pro Extreme Challenge series and I really don't know what will happen with those two to next year?

But I do know one thing, Sjödin Motorsport/ÅBM Racing are looking for new partners for the 2021 season! We need all the help we can get and we got a lot of different options and fun things we can do together and for your company! Are you interested in more info about that? Don't hesitate to contact Andreas Sjödin at andreas@abmracing.se and we will work out something great together!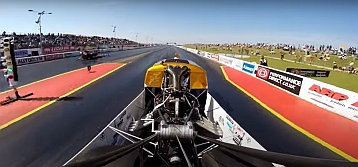 Mental Breakdown on video.
3rd October: Thanks to Chris Chambers-Smith for letting us know that he has posted a 13-minute documentary video on Wayne Allman's Mental Breakdown VW Type 2 pickup, the world's quickest split-screen VW with 2000hp at Wayne's command, running a quarter mile in 7 seconds and producing 2 Gs in force.

The well-produced video includes Wayne describing his background and interviews with wife Helen, Mum Gladys and team member Marcus Bennett. You can see Chris's documentary by going to this link.


Stig Olsson.
2nd October: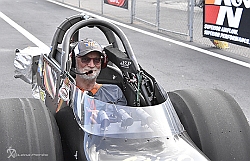 We were very sorry to hear of the passing of Stig Olsson at the early age of 65 from cancer. Stig was from Strömstad in Sweden where he lived for much of his life. He first got into drag racing in 1976 when he had a nitro-fuelled slingshot dragster bought from Krister Johansson which had a Dodge 242 engine and ran in Competition Eliminator, the category that he ran in for his entire career.

By the early 1990s his dragster had a Buick 317 engine and ran mid sevens. Around this time Stig founded StigO Transmissions which specialised in preparing Powerglide gearboxes for mainly drag racing applications and gearboxes prepared by him were used over Europe and in the US. His innovations included developing a dual transbrake that was capable of operating in first or second gear, and pairing a Powerglide gearbox with an electric engine.

His slingshot dragsters were sponsored by longtime supporters Norrlands Custom speed shop and he was not averse to changing classes if he felt the index was favourable. Running a six in 2008, from 2010 to 2014 he ran in lower classes with a smaller engine, but still ran sixes, setting European records and winning Competition Eliminator championship in the EDRS Central series in 2012.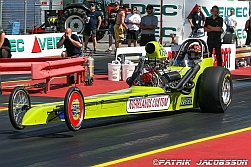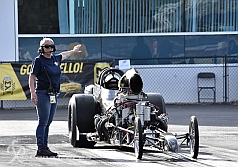 Photo credits: Patrik Jacobsson (above, left) and Lena Perés (top, and above right)

His first trip to the US, in a rear engined dragster, was on the NHRA tour in 1989. He was attracted back to the US and made a return to racing across the pond when he sold his slingshot in 2017 to Swedish racer Johan Pripp and bought a new Neils & Parks car which he campaigned in 2018, 2019 and 2020 until the Gatornationals were closed down by the pandemic. In March 2019 he set a new NHRA National Record in the A/DA class of 6.54s (compared with his best time in Europe of 6.481 in 2015). During his time in the US as well as being helped by wife Bente (a winning racer from the 1970s too) a number of Swedish racers crewed for him.

He was generous, offering to lend his Norwegian holiday home to US teams in return for their hospitality to him and was involved in supporting Daniel Jedborn in FIA races driving the A/Fuel car Stig had bought from Stefan Gunnarson, and in sponsoring a Pro Street Shootout at the Mantorp Nitro Revival in 2020. His favourite saying was "Money talks but all mine ever says is goodbye".

We send our deepest condolences to Bente, their two children and their family and friends.

Time Travel originals on Youtube.
2nd October:
Drag Racing historian Nick Pettitt has posted to his Youtube channel a copy of his Time Travel 11 video. Nick says 'It's a video I produced in 1998 from Nobby Hills' cine film and pics from 1964 - 1978 plus some of my own video of his later Funny Cars at the start of the video". You can see the video by clicking here.

Nick has also posted Time Travel 24 a video featuring the early days of British Drag Racing 1963-1968 using the slides and cine film of Brian Sparrow and Geoff Martin.

Time Travel 23 featuring the early days of Allan 'Bootsie' Herridge from 1962 – 1965 was created by Nick using Brian Sparrow's cine film and slides, and also some from Bootsie's own collection kindly lent to him by newly appointed BDRHoF Honorary Chair Lesley Wright.

Nick's collection of photos and links to other videos can be seen at timetraveldvds.blogspot.com, one of the most comprehensive sources of UK drag racing memorabilia to be found on the web.

Swift snippets.
2nd October: Santa Pod Raceway have cancelled this weekend's Saturday Night Special and RWYB events, citing the adverse weather forecast, coupled with COVID-19 procedures which make the event unviable.

Photographer Paul Bryan has posted 203 photos from the STP National Finals to a Flickr album. Paul says "I had a brilliant day, there was plenty of action and great times and speeds for many, given the windy conditions. Thanks once again to everyone involved at Santa Pod for giving us a great track and a Covid-19 compliant venue for all of us to enjoy. It's been a short season but everyone packed as much into it as they could. I'm looking forward to 2021".

British Drag Racing Hall of Fame names new Honorary Chair.
1st October: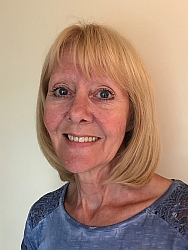 The directors of the British Drag Racing Hall of Fame are pleased to announce that Lesley Wright (formerly Lesley Digby) will serve as the organisation's new Honorary Chair, succeeding founding chairman, the late Stuart Bradbury.

Lesley has enjoyed a long and distinguished association with British drag racing. Having served on the BDR&HRA committee, she documented late-1980s racing tours to the USA in publications of the time. Returning to the UK, she helped to promote the Super Gas Drag Racers Association, gaining sponsorship for the class.

She joined the newly formed Santa Pod Racers Club committee and as full-time SPRC secretary in the mid-1990s, she masterminded its formation into a limited liability company for the protection of members, and worked with the SPRC's Technical Committee to revise the rule book and introduce SFI safety measures to Europe. She also helped found the Hall of Fame itself, later stepping aside. In recognition of her influential contributions to the sport she was elected a Member of the Hall of Fame in 2017, and subsequently joined the organisation's advisory group.

Lesley assumes the Honorary Chair role with immediate effect. She comments: 'I am in complete shock at being asked to be the Chair of the BDRHoF. It is such an honour to follow in Stu's footsteps and I only hope that I can do the role justice, as he more than did. I look forward to everyone's continuing support and enthusiasm, so that together we can ensure the ongoing success of the organisation and the recognition of all the great people in our sport.'

Owing to Covid-19, the Hall of Fame has postponed this year's annual Gala Awards Dinner until November 2021. Awaiting induction on that occasion are 2020's six selected membership candidates: Top Fuel Bikers Jeff Byne and Ian King; Swedish Top Fuel Dragster duo P&G Racing, Pelle Lindelöw and Gunnar Elmqvist; Top Methanol Dragster champion Dave Wilson; engineer, doorslammer and Fuel Altered campaigner Nick Davies; and commentator/presenter/broadcaster John Price. It is unlikely that further membership selections will be made until 2022.

The British Drag Racing Hall of Fame's official website is www.britishdragracinghof.co.uk.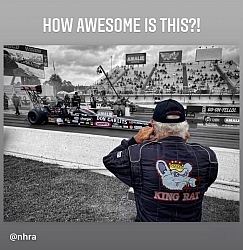 BDRHoF Member returns to NHRA winner's circle.
1st October: It was almost like old times last weekend as a distinguished Member of the British Drag Racing Hall of Fame stepped once more into the Top Fuel Winner's Circle at NHRA's rearranged Gatornationals at Gainesville, Florida. 'Big Daddy' Don Garlits was not actually driving the winning car but spectators and television viewers around the world would be forgiven if a shiver of déjà vu swept over them.

Current NHRA champion Steve Torrence had decked out his Top Fueler in a 1970s-era Garlits livery as a Gatornationals tribute to the great man, intending to unveil it on the race's original date in March. No sooner was the car unloaded, however, than it was packed away again when the Florida governor's Covid-19 edict brought an abrupt end to the event after just a morning's preliminary Sportsman qualifying.

The race was eventually completed this past weekend before a socially-distanced crowd and Torrence carried the Garlits colours (any colour you like so long as it's black – pace Henry Ford) all the way to victory, with Garlits himself there on the start line to watch each round before joining the winning crew in the post-race celebration.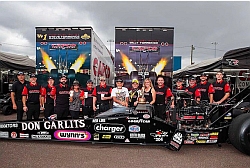 Don Garlits was inducted into Membership of the British Drag Racing Hall of Fame in 2014, marking the 50th anniversary of the 1964 International Drag Festival when Sydney Allard and NHRA's Wally Parks brought Garlits and a host of American stars to race on airfield sites around England. The tour set the sport in motion in Britain and Europe for the next half-century and beyond, with Santa Pod Raceway opening two years later.

For anyone attending future editions of the Gatornationals, a visit to the Don Garlits Museum of Drag Racing is a must. The museum is located at Ocala, alongside the I-75, just an hour's drive south of Gainesville.


Earlier news